Rochelle McLain, Associate Information Specialist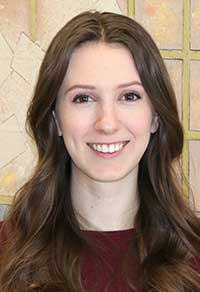 Rochelle McLain is an Associate Information Specialist for the Rural Health Information Hub.
In this role, Rochelle reviews and updates topic and state guides, adds new resources to the RHIhub website, and provides customized assistance through our Resource and Referral Service. This position allows Rochelle to combine her desire to learn with her dedication to improve population health. Her focuses are on chronic disease, healthcare access, hunger/access to food, human services, transportation, violence and abuse, schools and health, rural health disparities, and public health agencies. She also acts as the liaison for states in the Central United States.
Rochelle received her Bachelor of Science in Psychology from the University of North Dakota. Upon graduation, Rochelle began working with our parent organization, UND's Center for Rural Health, as a temporary web content assistant, indexing resources for a federally funded website addressing rural substance abuse. Her passion for aiding underserved populations translates perfectly to her work at RHIhub.
Contact Rochelle at 701.777.5874 or by email at rochelle@ruralhealthinfo.org.