RHIhub Publications & Updates
Receive email updates with the latest news, funding opportunities, publications, model programs, new Rural Monitor articles, and more:
More ways to keep current
This RHIhub publication features rural health issues, from physician training to ongoing funding and policy challenges.
Upcoming and archived webinars hosted by the Rural Health Information Hub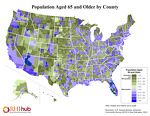 Maps on key rural topics. A great resource for grant writing, presentations and reports
Get updates on new information added to the Online Library and RHIhub's Topic and State Guides
Help us let stakeholders know about RHIhub's free resources and services.