Hands of Hope In-School Prevention Program
Summary
Need: To reduce and prevent abuse and violence in rural Grant County, Indiana.
Intervention: A prevention program uses age-appropriate materials to teach children from Head Start through high school about topics like healthy relationships and nonviolent ways to deal with anger.
Results: Surveys show that teachers appreciate the presentations and that students learn more about these topics, strategies they can use in violent situations, and available resources.
Description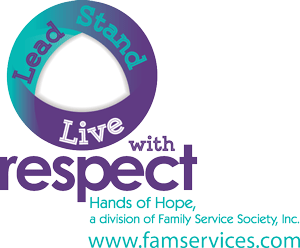 Hands of Hope, a division of Family Service Society, Inc., provides prevention and intervention services on domestic violence, sexual violence, and stalking in Indiana's rural Grant and Wabash counties. Hands of Hope developed an in-school prevention program to teach children from pre-kindergarten through high school about strategies they can use to address their emotions and recognize healthy relationships.
Hands of Hope also will work with any groups outside of school that are interested in the prevention program. Examples include church groups and Boys and Girls Clubs.
Family Service Society, Inc., as a sub-grantee to the Indiana Coalition Against Domestic Violence, received funding from the CDC's DELTA FOCUS program. Depending on funding availability, other funding for the prevention program has come from the regional Department of Child Services, Indiana Criminal Justice Institute, and local contributions.
Services offered
The presentations are free for the participating schools. Here are the following topics by grade level:
Pre-kindergarten: "hands are not for hitting." Each Head Start class received a 20- to 25-minute presentation, which includes a story, puppet show, and strategies that students can use if they feel angry or upset.
Kindergarten: Kid-ability (a curriculum developed by Girls Incorporated of Omaha). Students receive a two-day presentation about safety. For example, students learn different strategies they can use if they get lost in a store. Through puzzles and a puppet show, students also learn about body safety: not to touch others' private parts and what to do if someone touches them inappropriately.
1st grade: the Golden Rule. The presentation reiterates what the students learned in kindergarten and discusses the importance of treating others with kindness and respect.
2nd grade: "hands are not for hitting." Students read stories about anger and domestic violence and learn what to do if abuse or violence is occurring in their homes. Students learn 10 strategies they can use when they're feeling angry.
3rd through 4th grade: bullying. Students learn the definition of bullying, based on state law. Students learn and practice 5 strategies they can use if they become a target or victim of bullying. Since children tend to think that bullying is physical violence, the presenter role-plays with a student to show how yelling and name-calling often come first and can lead to a physical fight.
5th through 6th grade: bystander intervention. The presenter teaches students how to move from a bystander to an "upstander," and students practice strategies they can use if they witness bullying.
7th through 8th grade: healthy relationships. Students learn to recognize the signs of an unhealthy friendship or dating relationship. The presenter has what are called Gr8 traits, which are 8 characteristics that all healthy relationships have.
High school: dating violence. Due to scheduling constraints, students only receive one presentation during their high school career, usually during health class. Students learn about the definition and signs of dating violence. The presenter gives the teacher an infographic that lists resources like websites and hotlines. Teachers post the infographic in their classrooms.
Peaceful Bus Program
Another initiative is the Peaceful Bus Program, which Mississinewa Community Schools adapted from the Hazelden Betty Ford Foundation Peaceful School Bus Program. The bus drivers receive training on ways to prevent or address disciplinary issues on the bus and are encouraged to come to school and eat lunch with the students on occasion.
Bus drivers receive 30 minutes of training at the beginning of the school year. Students receive age-appropriate training three times per year on what respectful behavior on a bus looks like. Students also have the chance to share with staff what problems they're seeing on the bus. This feedback will help the training move from addressing general problems to school-specific issues.
Administrators are also encouraged to ride the school buses. These steps help the students build relationships with school staff and better inform the staff on student issues. Often, younger students are meeting and building positive relationships with high school staff before they even start attending that school.
Results
After body safety presentations, occasionally students have approached the presenter or teacher to say that they have been inappropriately touched. These presentations and conversations have resulted in better situations for children who have been affected.
After each presentation, students and teachers fill out a survey. The majority of students report that the program increases their knowledge of bullying and strategies to address it. High school students report that they're better aware of the signs of unhealthy relationships and available resources. Teachers report that they appreciate the presentations and can tell that their students have benefited from the information.
Peaceful Bus Program
In its first semester, the Peaceful Bus Program saw a 50% reduction in bus referrals at one elementary school. Currently, administrators and teachers ride the school buses four times per year. In the future, staff members hope to increase usage to at least twice a month.
Other schools in the county have been asking for more information about this program, so Mississinewa staff will meet to write a Peaceful Bus Program manual.
Challenges
When the number of attendees in some health classes started to diminish, the presenter reached out to the principal at that school and was able to move the presentation to other classes so most if not all students are still able to receive the information.
Peaceful Bus Program
This program involves a lot of communication with various stakeholders. Program coordinators needed buy-in from these stakeholders before they could move forward with developing the program, and stakeholders' input often changed how the program would look.
Replication
Before approaching the school about a prevention program, determine all the details of your program, like the length of the presentations and your goals. That way, you'll be better prepared when you meet with the schools and better able to answer their questions.
Figure out who is best to talk to, depending on the school. The program presenter often starts with the health teachers about fitting these presentations into their middle school or high school curriculum. Some health teachers say yes right away, while others talk to their principals first and then say yes. With elementary schools, the presenter often talks with the principal or the school's counselor or social worker.
Peaceful Bus Program
Write everything down so that you and your stakeholders can remember your decided-on plans for training and procedures. Organization is crucial to program success.
Contact Information
Linda Wilk, Director
Hands of Hope, a division of Family Service Society, Inc.
765.662.9971, Ext. 123
lwilk@famservices.com
Topics
Abuse and violence
Children and youth
Schools

States served
Indiana
Date added
May 18, 2018
Date updated or reviewed
April 26, 2021
Suggested citation: Rural Health Information Hub, 2021. Hands of Hope In-School Prevention Program [online]. Rural Health Information Hub. Available at: https://www.ruralhealthinfo.org/project-examples/1009 [Accessed 31 March 2023]
Please contact the models and innovations contact directly for the most complete and current information about this program. Summaries of models and innovations are provided by RHIhub for your convenience. The programs described are not endorsed by RHIhub or by the Federal Office of Rural Health Policy. Each rural community should consider whether a particular project or approach is a good match for their community's needs and capacity. While it is sometimes possible to adapt program components to match your resources, keep in mind that changes to the program design may impact results.