Collective Impact Model
A central concept commonly used in coalition development, collective impact emphasizes the importance of bringing together a variety of stakeholders to tackle complex issues often so deeply-rooted in communities that no single policy, government department, organization, or program can independently solve it.
The aim of this approach is to make sustainable social change by pulling together stakeholders from multiple sectors who may appear to have conflicting approaches, but agree to set aside their personal or organizational agenda for the purpose of accomplishing an agreed-upon goal.
The 2012 article Channeling Change: Making Collective Impact Work detailed five conditions that are generally practiced when using the Collective Impact Model: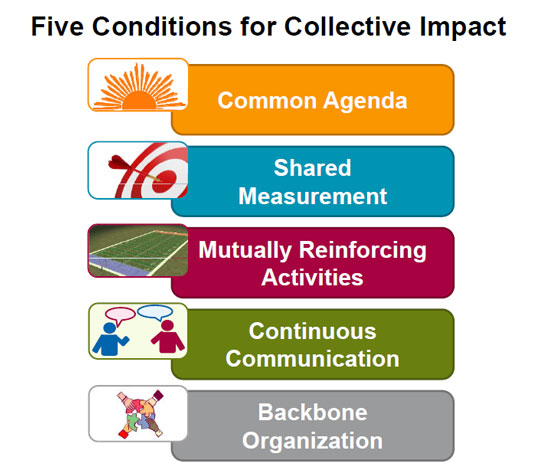 Examples of rural health networks and initiatives using collective impact include Healthy Places NC, Alliance for a Healthier South Carolina, and Communities that Care.
Resources to Learn More
Collective Impact Forum
Website
Support network for groups practicing Collective Impact. Provides examples of existing initiatives, as well as tools, training and other support materials.
Rural Health Hubs Framework & the Collective Impact Opportunity
Website
Series of resources developed and used by a committee in Ontario that assembled to address concerns around healthcare access, care coordination, and healthcare quality improvement in rural communities.
Organization(s): Tamarack Institute