Rural Border Health
The United States-Mexico border region is defined as the area of land being 100 kilometers (62.5 miles) north and south of the international boundary. It stretches approximately 2,000 miles from the southern tip of Texas to California, as set forth by the La Paz Agreement signed in 1983. This agreement not only defined the border region; it also permitted the federal environmental authorities in the United States and Mexico to undertake cooperative initiatives focused on environmental problems of the area.
U.S.–Mexico Border Region and Rural Areas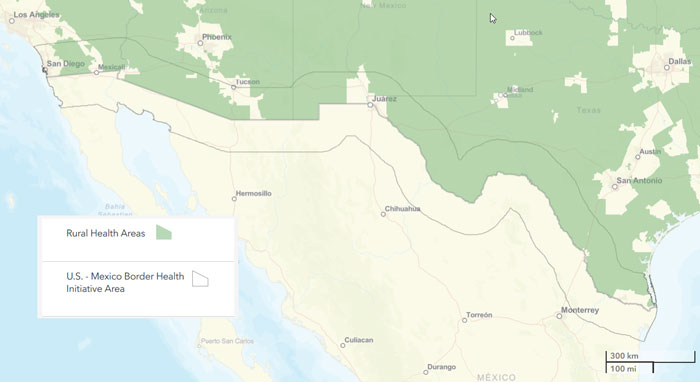 According to American Community Survey (ACS) data, the counties with the most concentrated Hispanic population are located along the southwestern border of the United States in Texas, New Mexico, Arizona, and California. Of the 44 counties located within the border region, 31 counties are rural areas, designated as either noncore or micropolitan by the Office of Management and Budget. According to 2021 U.S. Census Bureau data, just over 8 million people reside in the U.S.-Mexico border region, with 356,133 living in nonmetro counties. The resident population in the border region has experienced a population growth rate of 6.5% between 2010 and 2021, with much of the growth occurring in the region's 13 metropolitan counties. Between 2010 and 2021, the region's rural counties saw a 9.6% population decline, on average, with only 5 rural counties seeing a rise in population over the 11-year period. The shifting population, along with the continual movement of individuals across the border, places numerous burdens on the economic, social, and health infrastructure of the region, taxing communities already faced with ongoing health and socioeconomic challenges, such as:
High rates of poverty
Linguistic and cultural barriers
Limited access to healthcare
Lack of health insurance
Restricted water supply
Shortage of healthcare workers
High rates of unintentional injuries and poisonings
Lack of suitable housing, clean water, and appropriate sewage systems
According to data.HRSA.gov, the majority of counties within this region qualify as Health Professional Shortage Areas (HPSAs) and/or Medically Underserved Areas (MUAs) for primary medical care. This region is associated with high rates for communicable diseases including tuberculosis, hepatitis, and HIV, as well as high rates of non-communicable diseases and other causes of death such as cancer, diabetes, liver diseases, homicide, and motor vehicle accidents.
In spite of these health and social issues, there are favorable health outcomes seen in the Hispanic border population, such as lower rates of heart disease and stroke according to AHRQ's Healthcare Cost and Utilization Project (HCUPnet).
Frequently Asked Questions
---
Where can I find specific information about border health in my state?
Each border state operates a state office of border health, which can be contacted for state-specific information and resources.
Arizona
Robert Guerrero, M.B.A., Chief
Office of Border Health
Arizona Department of Health Services
4400 E. Broadway, Suite 300
Tucson, AZ 85711
Phone: 520.770.3110
Email: guerrer@azdhs.gov
California
April Fernandez, Chief
California Office of Binational Border Health
California Department of Public Health
5353 Mission Center Road, Suite 215
San Diego, CA 92108
Phone: 619.688.0263
Email: april.fernandez@cdph.ca.gov
New Mexico
Travis Leyva, Director
New Mexico Office of Border Health
New Mexico Department of Health
1170 N. Solano, Suite L
Las Cruces, NM 88001
Phone: 575.528.5154
Email: travis.leyva@state.nm.us
Texas
Ronald J. Dutton, Ph.D., Director
Office of Border Health
Texas Department of State Health Services
PO Box 149347
Austin, TX 78714-9347
Phone: 512.458.7675
Email: Rj.dutton@dshs.state.tx.us
---
What key organizations are working to address the healthcare problems in the U.S.-Mexico region?
The United States-México Border Health Commission (BHC) was created as a binational health commission in July 2000, with the signing of an agreement by the U.S. Secretary of Health and Human Services and the Secretary of Health of México, and is located within the Office of Global Affairs (OGA) at the Department of Health and Human Services. The mission of the BHC is to provide international leadership to optimize health and quality of life along the U.S.-Mexico border. Strategic actions addressing the healthcare issues of the region can be found at the BHC Initiatives section of its website.
Arizona, California, New Mexico, and Texas all have state offices working to address border health issues at the state level. Please see Where can I find specific information about border health in my state? for a listing of state border health offices.
The Centers for Disease Control and Prevention (CDC) Binational Border Infectious Disease Surveillance (BIDS) program is a binational infectious disease surveillance system for the U.S.-Mexico border region. The BIDS program works with the 4 border states facilitating local, state, and federal collaboration to enhance the detection, reporting, and prevention of infectious diseases having binational significance. Some examples of the program include surveillance for respiratory illnesses in border crossing populations, monitoring for the Zika virus among border residents seeking healthcare in Mexico, and an assessment of the rise of Rocky Mountain spotted fever within the border region. Also, the BIDS program promotes regular communication among partners, including Mexico's Ministry of Health, and supports preparedness for infectious disease outbreaks.
The Good Neighbor Environmental Board (GNEB) was created in 1992 by the Enterprise for the Americas Initiative Act, Public Law 102-532. The GNEB advises the U.S. President and the Congress on the need for the implementation of environmental and infrastructure projects including projects affecting agriculture, rural development, public health, and human services to improve the quality of life for residents living within the United States along the U.S.-Mexico border.
---
What are the living conditions like for border populations and how do those conditions impact their health?
Typically, rural border populations live in settlements called colonias. Although they may be thriving communities where the members support each other, colonias often exhibit substandard living conditions. Prior to the 1990s, in Texas, where most colonias are located, landowners could sell land — usually land that was not tillable and often located on a flood plain — to low-income individuals and families seeking affordable housing. These lands were frequently sold on a contract for deed without any infrastructure improvements, such as potable water and wastewater systems. Often these properties did not have electricity, and there were no building codes in place to prevent the rapid expansion of substandard housing.
In Arizona, California, and New Mexico, the colonias are much older. In New Mexico, colonias date back to the 1800s. In Arizona and California, they developed in the first half of the twentieth century. These colonias evolved from old mining towns and in retirement communities where infrastructure and services were in place. However, the current infrastructure is aging and in need of upgrade.
One of the greatest public health concerns in these communities is the lack of wastewater systems and potable water. Many colonias do not have any type of sewer or drainage system. During heavy rains, sewage can collect in pools on the ground, causing a health hazard. Colonia residents who do not have potable water may rely on water drawn from unsafe wells or buy water in buckets from unknown sources, increasing their chances of exposure to a health hazard.
Other living conditions that impact health include unpaved roads that create dust, causing respiratory problems, as well as homes built in flood-prone areas that experience frequent flooding, which can contaminate the potable water systems. For additional information about the population living in colonias, the impact these settlements have on their health, and what is being done to improve the living conditions within the Texas colonias, see Las Colonias in the 21st Century: Progress Along the Texas-Mexico Border.
---
What are the economic and social conditions that affect access to healthcare for the border population?
Several economic and social conditions affect access to healthcare for the residents of border colonias. Residents of colonias often experience poverty, work low-wage jobs without health insurance, and lack the legal documentation needed to obtain health insurance. The inability to access and pay for healthcare is a significant barrier. The shortage of healthcare providers significantly impacts access to healthcare by this population group. Often residents of rural border colonias have to travel long distances to healthcare facilities, and fear losing wages for time spent away from work. In addition, inconvenient healthcare clinic hours and the lack of knowledge of what programs are available also restrict access to healthcare. For additional information about the conditions that affect access to healthcare for the border populations, see NRHA's policy brief, Addressing Health and Health Care Needs in the United States-México Border Region: Full Report.
---
What types of health conditions and concerns are found in the border region?
---
What are some strategies that have been used to improve access to care in rural border communities?
One of the more successful approaches to improving access to healthcare in the rural border region is for healthcare facilities to use the community health worker (CHW, also known as promotora de salud) model. CHWs facilitate education and advocate for healthy change. CHWs act as a bridge for the border community to the providers of healthcare and human services. For additional information about CHWs see Community Health Workers in Rural Settings and Community Health Workers Toolkit.
Another approach is to support and develop Health Center Program grantees, often called Federally Qualified Health Centers (FQHCs) or community health centers (CHCs), that are federally funded through the Bureau of Primary Care, as authorized under section 330 of the Public Health Service Act. Health Center Program grantees serve underserved communities or special populations including migrant and seasonal farmworkers, persons experiencing homelessness, and residents of public housing. Most importantly, they provide healthcare to everyone regardless of their ability to pay out-of-pocket expenses, or whether they have health insurance by supporting an income-based sliding fee scale.
Also, school-based health centers (SBHC) operate in the border region as a partnership between the school and a community health organization, such as a community health center or FQHC. SBHCs enable children with acute or chronic illnesses to attend school, but also work to improve their overall health and wellness of all school children through health screenings, health promotion, and disease prevention activities. Both FQHCs and SBHCs are actively working to address healthcare issues that are found in the border region. For additional information about Health Centers, see HRSA's What is a Health Center? and RHIhub's topic guide Federally Qualified Health Centers.
---
Are there recruitment incentive programs available to primary care physicians and other healthcare professionals who work in the United States in the U.S.-Mexico border region?
More than half of the counties located in the U.S.-Mexico border region are federally designated as Medically Underserved Areas (MUAs) and/or Health Professional Shortage Areas (HPSAs), making a large portion of this region eligible for participation in the National Health Service Corps (NHSC) program. The NHSC offers scholarships and loan repayment programs for primary care medical, dental, and mental or behavioral health professionals in exchange for a 2-year obligation to work in an approved NHSC site that is a HPSA or MUA. For more information about the NHSC and other types of loan forgiveness and loan repayment programs for students and healthcare professionals willing to work in rural and underserved areas, see RHIhub's topic guide Scholarships, Loans, and Loan Repayment for Rural Health Professions.
The Conrad State 30 Program addresses physician shortages in rural areas by allowing U.S. state health departments to request J-1 Visa Waivers for foreign physicians who agree to work in federally designated Health Professional Shortage Areas or Medically Underserved Areas. This program is only available to international medical graduates who have completed their residency or fellowship in the United States. It waives the 2-year home residency requirement allowing the physician to stay in the U.S. See the RHIhub's topic guide Rural J-1 Visa Waivers.
States in the border region may offer specific funding programs to support the recruitment of physicians and/or other healthcare providers to rural communities, including border areas, by granting student loan reimbursements, scholarships, or stipend payments to eligible professionals. For a list of these programs, see the Funding & Opportunities section for each state in the border region.
---
What kinds of funding programs are appropriate for the ongoing development of healthcare programs and services in the U.S.-Mexico border region?
The border region faces many challenges restricting access to healthcare, not only due to the shortage of providers, but also due to several adverse social determinants of health. These adverse factors include:
Poverty
Limited English proficiency
Inadequate housing
Lack of nutritious food
Poor sanitation
Limited water supply
Funding programs focused on addressing these challenges and/or reducing or eliminating the social factors that contribute to poor health would be most appropriate in effecting change in this region. Visit the following topics within RHIhub Funding & Opportunities section for programs that address key social factors:
For a list of state-specific programs see the Funding & Opportunities by State section for each state in the border region.