RHIhub This Week - November 29, 2017
| | | |
| --- | --- | --- |
| New in the Rural Monitor | | |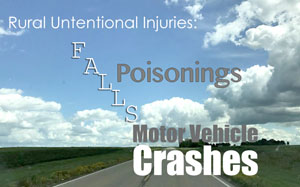 Rural Unintentional Injuries: They're Not Accidents – They're Preventable
by Kay Miller Temple, MD
The Centers for Disease Control and Prevention's 2017 MMWR Rural Series has featured several reports highlighting rural unintentional injuries as one of the top 5 leading causes of death. What are these "unintentional injuries"? How often are rural residents killed by them? Here's a look at the three leading causes of rural unintentional injuries.
| | | |
| --- | --- | --- |
| Updated RHIhub Topic Guide | | |
Rural Health Disparities
This guide has been updated with new information, including a table on potentially preventable deaths for leading causes of death and new Frequently Asked Questions on regions with high levels of rural health disparities & finding programs that are using best practices to provide health services in disparity areas.
New in Our Online Library
| | | |
| --- | --- | --- |
| Recent News | | |
Federal Register Notices from the Health Resources and Services Administration Amid Rural Hospital Crisis, One Georgia Hospital Thrives
Nov 27, 2017 -- Highlights the successes of a rural Georgia hospital that was close to closure ten years ago. Recognizing their perilous position, the hospital gambled by investing in more programs rather than cutting back. Their nursing home began a ventilator care program. The hospital invested in specialized equipment and staff, opened a pharmacy, worked to offer more services to reduce emergency room visits, and used social workers to help uninsured, disabled, and homeless patients find insurance coverage.


Source: 90.1 FM WABE



Industry Voices—the FCC's Rural Health Care Fund Is a Victim of Its Own Success
Nov 27, 2017 -- The Federal Communications Commission (FCC) has issued a proposal to increase the $400 million annual cap on the Rural Health Care Fund. Among other things, this proposal would target funding to rural and tribal healthcare providers and prioritize the distribution of grants based on remoteness, type of service requested, whether the funding will come from the Telecom Program or the Healthcare Connect Fund, and the economic need of the provider's population.


Source: FierceHealthcare



North Carolina Seeks to Widen Medicaid Network by Paying Docs' Debt
Nov 27, 2017 -- North Carolina has amended their pending Medicaid waiver request which would shift the program from fee-for-service to managed care by 2019. The amendment would allow the state to offer loan repayment to physicians who accept Medicaid patients, a move expected to improve access for Medicaid beneficiaries by increasing the number of physicians they can see. It would also require Medicaid enrollees to be employed or actively searching for work and would impose premiums of 2% of a beneficiary's income for those with incomes at or above 51% of the federal poverty level. (May require registration for full article.)


Source: Modern Healthcare



RUS: Distance Learning and Telemedicine Loan and Grant Programs
Nov 27, 2017 -- Final rule from the Rural Utilities Service (RUS) designed to streamline, revise, and update the Distance Learning and Telemedicine (DLT) Grant Program. The DLT Program works to encourage and improve telemedicine and distance learning in rural areas through the use of computer networks and other advanced technologies. Included changes seek to reduce the regulatory burden of applying for the grants and ensure funds are awarded to projects with the most demonstrable need. Provisions of the rule take effect December 27, 2017.


Source: Federal Register



Paiute Tribe Elders Navigate a Faltering Health Care System
Nov 23, 2017 -- Details the difficulties in accessing healthcare faced by elders on the Fort McDermitt Paiute and Shoshone Reservation on the Nevada-Oregon border. Because of the remoteness of the location, tribal members are often faced with long drives to access services. But with 46% of the residents living in poverty, this challenge can seem insurmountable, especially as they age and have greater need for services.


Source: High Country News
| | | |
| --- | --- | --- |
| Funding & Opportunities | | |
HUD Section 242: Hospital Mortgage Insurance Program
Loan and mortgage insurance program to help acute care hospital facilities with remodeling, expansion, modernization, equipment, refinancing, and acquisition.
Geographic coverage: Nationwide
Applications accepted on an ongoing basis
Sponsors: Federal Housing Administration, U.S. Department of Housing and Urban Development
| | | |
| --- | --- | --- |
| New Resources | | |
Coordinated Whole-Person Care that Addresses Social Determinants of Health
Presents approaches used and lessons learned from five projects funded by Data Across Sectors for Health (DASH) - an initiative to align various health-related sectors and promote the collection, sharing, and effective use of data. Each DASH project is working to develop the infrastructure necessary to support cross-sector data sharing, enhance care coordination, and address social determinants of health. One of the five projects is based on the White Earth Indian Reservation in rural northwest Minnesota.
Sponsoring organization: Data Across Sectors for Health
Date: 09/2017

Emerging Strategies to Ensure Access to Health Care Services: Virtual Care Strategies
Discusses opportunities to use telehealth to improve healthcare access and delivery to vulnerable rural and urban communities. Includes recommendations from the American Hospital Association Task Force on Ensuring Access in Vulnerable Communities and details the benefits of telehealth services and potential policy solutions such as reimbursement, interaction of state and federal laws, broadband access, and federal research.
Sponsoring organization: American Hospital Association
Date: 11/2017

ESRD Facility Characteristics by Rurality and Risk of Closure
Profiles rural end-stage renal disease (ESRD) facilities, especially the ones at greatest risk for closure. Examines the facilities' characteristics, quality of care, and distance their patients would need to travel if the facilities should close. Features statistics with breakdowns by urban and rural locations.
Sponsoring organization: South Carolina Rural Health Research Center
Date: 11/2017

Grantee Directory: Small Health Care Provider Quality Improvement Program, 2016-2019
Provides contact information and a brief overview of the 32 initiatives funded by the Federal Office of Rural Health Policy through the Small Health Care Provider Quality Improvement Grant Program in the 2016-2019 funding cycle. The program supports rural primary care providers implementing quality improvement activities, with the goal of promoting the development of an evidence-based culture and delivery of coordinated care in the primary care setting.
Sponsoring organization: Federal Office of Rural Health Policy
Date: 2017

Independent Grocery Stores in the Changing Landscape of the U.S. Food Retail Industry
Examines the performance of independent U.S. grocery stores in 2015, and reports on changes in the prevalence and performance of these stores between 2005 and 2015. Highlights the important role of rural independent grocery stores as employers, tax generators, and sources of healthy and specialty foods.
Sponsoring organization: USDA Economic Research Service
Date: 11/2017

Network Spotlight: Wright Health Partners
Describes the network characteristics, key learnings, challenges, and accomplishments of Clarion, Iowa-based Wright Health Partners, a rural healthcare consortium that works to address health issues in the area. Originally started as an agreement between two Critical Access Hospitals, Wright Health Partners has grown to include schools, an ambulance service, an orthopedic practice, and other partners. Members of Wright Health Partners share an electronic medical record (EMR) system, technical assistance resources, and program funding.
Sponsoring organization: National Rural Health Resource Center
Date: 12/2017

Pain in the Nation: The Drug, Alcohol and Suicide Crises and the Need for a National Resilience Strategy
Presents a report on the causes, costs, and potential solutions to the drug, alcohol, and suicide crisis in the U.S. Includes national report, as well as state-level reports and other materials aimed at addressing the prevalence of suicide and drug and alcohol addiction across the country.
Sponsoring organization: Trust for America's Health
Date: 11/2017

A Public Health Perspective to Rural Transportation Safety
Webinar recording discusses a public health approach to motor vehicle related injury and death prevention. Details public health policy interventions that aim to prevent injury, such as primary seat belt laws, speed and red light cameras, and sobriety checkpoints, among others.
Additional links: Webinar Slides
Sponsoring organization: National Center for Rural Road Safety
Date: 10/2017

Rural America in Crisis: The Changing Opioid Overdose Epidemic
Discusses the history of the opioid epidemic and its effect on rural communities, as well as key functions of public health programs that can help prevent opioid overdoses. Lists several resources regarding opioids and overdose prevention.
Sponsoring organization: Centers for Disease Control and Prevention
Date: 11/2017

Staff Sharing Arrangements for Local Public Health
Describes several case studies of local public health organizations' arrangements for sharing health directors, physicians, nurses, inspectors, social workers, or administration staff. Includes descriptions of such arrangements in public health agencies in rural areas of Webster County, Iowa and in three adjacent northwestern Oregon counties with a mixture of urban, suburban, and rural areas.
Sponsoring organizations: Center for Sharing Public Health Services, Center for State & Local Government Excellence
Date: 11/2017

Telehealth Services Proposed for Medicare Part B Reimbursements, 2018: Fact Sheet
Identifies the five conditions that a telehealth service must meet in order to be covered by Medicare Part B, provides an overview of how telehealth services get added to Medicare's reimbursable list, and outlines proposed services that may be added for calendar year 2018.
Sponsoring organization: Congressional Research Service
Date: 11/2017
| | | |
| --- | --- | --- |
| Upcoming Events | | |
Tell Us How RHIhub Has Impacted You
The Rural Health Information Hub is seeking your comments on how our services have helped you in your efforts to improve healthcare and population health in rural communities. Have the RHIhub services helped you to stay informed, get a grant, find the proper federal agency contact or other expert, or otherwise changed your life?

Please send an email telling how RHIhub has impacted you to kristine@ruralhealthinfo.org. Your stories may be used in testimony, budget documents and presentations concerning the Rural Health Information Hub.