RHIhub This Week - November 16, 2022
| | | |
| --- | --- | --- |
| New in the Rural Monitor | | |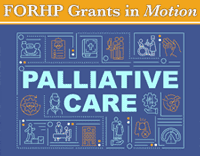 Increasing Knowledge of Palliative Care in South Dakota
Palliative care, designed to treat the symptoms of a serious illness at any stage of diagnosis, is associated with better outcomes like higher patient satisfaction. Despite these benefits, many people in rural communities cannot access these services or don't know what palliative care is. The South Dakota Palliative Care Network is working to increase knowledge of palliative care among rural healthcare professionals, nursing students, and community members.
| | | |
| --- | --- | --- |
| New RHIhub Toolkit | | |

Rural Emergency Preparedness and Response Toolkit
Created in collaboration with NORC Walsh Center for Rural Health Analysis, this newly released toolkit features practical guidance, funding, case studies, and resources for communities developing emergency plans and procedures.
Tomorrow is National Rural Health Day!

Tomorrow, November 17th, is National Rural Health day. Look back at our social media channels as we showcased great things that rural communities have accomplished all month long in honor of this day.
New in Our Online Library

Information from around the web
| | | |
| --- | --- | --- |
| Recent News | | |
Call for Nominations: Improving the Health and Wellbeing of Children and Youth through Health Care System Transformation
Nov 15, 2022 -- Announces an ad hoc panel that will examine innovations to child and adolescent healthcare, addressing systemic inequities and disparities in access to care, as well as issues related to payment models and workforce development. Offers an overview of the areas of expertise that the National Academies are seeking for the panel, with an invitation and form for nominee submissions by November 21, 2022.


Source: The National Academies of Sciences, Engineering, and Medicine



Caring For the Whole Rural Veteran
Nov 15, 2022 -- Highlights initiatives through the VA's Office of Rural Health (ORH) to support holistic health for rural veterans, including services to aid the transition to civilian life, TeleYoga, and healthy lifestyle coaching.


Source: VA News



Instead of Making Patients Come to Him, Traveling Oral Surgeon Meets Small-Town People Where They Live
Nov 15, 2022 -- Highlights the work of an oral surgeon to increase access to specialized dental care in rural areas of upstate New York and western Connecticut by traveling to provide services in other dentists' offices. Describes rural disparities in oral healthcare access and health problems linked to lack of oral healthcare


Source: The Daily Yonder



State Offices of Rural Health Address Health Equity Through Collaboration
Nov 11, 2022 -- Describes the role of State Offices of Rural Health (SORHs) in relation to state Primary Care Offices (PCOs), highlighting New Hampshire's Office of Rural Health and Primary Care. Discusses collaboration between SORHs and other state offices and the unique challenges of supporting rural health.


Source: Association of State and Territorial Health Officials




Federal Register
CMS: Medicare Program; Request for Nominations to the Advisory Panel on Hospital Outpatient Payment
Nov 15, 2022 -- Notice from the Centers for Medicare and Medicaid Services (CMS) seeking nominations to fill vacancies on the Advisory Panel (the Panel) on Hospital Outpatient Payment (HOP). The purpose of the Panel is to advise the Secretary of the Department of Health and Human Services and the Administrator of the Centers for Medicare & Medicaid Services on the clinical integrity of the Ambulatory Payment Classification (APC) groups and their associated weights, supervision of hospital outpatient therapeutic services, and hospital outpatient prospective payment system (OPPS) APC rates for covered ambulatory surgical centers procedures. Comments are due by February 13, 2023.


Source: Federal Register
| | | |
| --- | --- | --- |
| Funding & Opportunities | | |
Bill Finerfrock Health Policy Fellowship
A 4-week fellowship in Alexandria, Virginia for mid-career professionals to learn leadership skills for becoming grassroots advocates and champions for rural health.
Geographic coverage: Nationwide
Application Deadline: Jan 2, 2023
Sponsor: National Association of Rural Health Clinics

Affordable Connectivity Outreach Grant Program
Grants to support eligible governmental and non-governmental partners in conducting a wide range of innovative outreach activities to raise awareness of the Affordable Connectivity Program and increase enrollment among eligible households.
Geographic coverage: Nationwide and U.S. Territories
Application Deadline: Jan 9, 2023
Sponsor: Federal Communications Commission

Innovation Award: COVID-19 and Health Equity (U01) Clinical Trials Not Allowed
Funding for innovative projects that will strengthen and advance COVID-19 health equity research. Areas of interest include studies that support the evaluation of outcomes FDA-approved products and advance understanding of long COVID by demographic data including, but not limited to, ethnicity, race, age, disability, and geography.
Geographic coverage: Nationwide and U.S. Territories
Letter of Intent (Optional): Dec 6, 2022
Application Deadline: Jan 16, 2023
Sponsors: Food and Drug Administration, U.S. Department of Health and Human Services
| | | |
| --- | --- | --- |
| New Resources | | |
2021 National and State Healthcare-Associated Infections Progress Report
Examines progress on reducing healthcare-associated infection rates for 6 types of infections in Acute Care Hospitals, Critical Access Hospitals, Inpatient Rehabilitation Facilities, and Long-term Acute Care Hospitals. Compares observed versus expected infection rates using 2015 baseline data. Includes national and state data tables on infection-specific standardized infection ratios (SIRs) and standardized utilization ratios (SURs) for each facility type.
Additional links: Data Archive
Sponsoring organization: Centers for Disease Control and Prevention
Date: 11/2022

2022 National Healthcare Quality and Disparities Report
Provides a comprehensive summary and data analysis of healthcare quality and access in the U.S. Addresses access to healthcare, patient safety, person-centered care, care coordination, effective treatment, healthy living, and care affordability. Includes a discussion of rural hospital closures and the impact on the distance required to access selected healthcare services.
Sponsoring organization: Agency for Healthcare Research and Quality
Date: 11/2022

Advancing Rural Health Equity: Fiscal Year 2022 Year in Review
Summarizes Centers for Medicare & Medicaid Services (CMS) activities in fiscal year 2022 to advance health equity for people living in rural, tribal, and geographically isolated communities. Covers 10 priority focus areas: Medicaid and the Children's Health Insurance Program (CHIP), Medicare, Marketplace, the rural health workforce, payment and delivery system models and demonstrations, long-term services and supports, maternal health, mental health and substance use disorders, quality, and COVID-19.
Sponsoring organization: Centers for Medicare and Medicaid Services
Date: 11/2022

Advisory Committee on Interdisciplinary, Community-Based Linkages (ACICBL) Meeting Minutes, August 26, 2022
Summarizes the Advisory Committee on Interdisciplinary, Community-Based Linkages (ACICBL) meeting held on August 26, 2022. Includes updates from the Bureau of Health Workforce and a discussion on the Geriatric Academic Career Award program (GACA) and Geriatric Workforce Enhancement Program (GWEP). Includes rural references throughout.
Sponsoring organization: Advisory Committee on Interdisciplinary Community-Based Linkages
Date: 08/2022

CMS Framework for Advancing Health Care in Rural, Tribal, and Geographically Isolated Communities
Report outlines the Centers for Medicare & Medicaid Services (CMS) plan for improving health equity and health outcomes across the U.S. for rural, tribal, and geographically isolated communities. Details a 6 priority framework emphasizing the application of a community-informed geographic lens; the collection and use of standardized data; support for healthcare professionals; the optimization of medical and communication technology; the expansion of access to comprehensive healthcare coverage, benefits, and services and supports; and innovation and value-based care. Highlights examples of activities CMS is undertaking in support of each priority and recent CMS efforts that align with each priority.
Sponsoring organization: Centers for Medicare and Medicaid Services
Date: 11/2022

Council on Graduate Medical Education Meeting Minutes, September 12, 2022
Summarizes the Council on Graduate Medical Education (COGME) meeting held on September 12, 2022. Includes discussions on underrepresented in medicine (UIM) groups within graduate medical education (GME), Health Resources and Services Administration (HRSA) Data Warehouse Pages, and updates from the Bureau of Health Workforce. Include rural references throughout.
Sponsoring organization: Council on Graduate Medical Education
Date: 09/2022

Exploring Multi-Sector Collaboration: A Playbook for New Rural Healthcare Models of Investment
A webinar recording highlighting a May 2022 report discussing how healthcare organizations can collaborate with economic stakeholders to improve population health. Discusses how to build partnership models by exploring case studies that use upstream health interventions in rural areas.
Author(s): Samantha Borow, Colleen Flynn, Ashley Hernandez, Rebecca Lemmons
Date: 2022

A Global Equity Model (GEM) for the Advancement of Community Health and Health Equity
Provides an overview of existing and emerging payment systems and their roles in promoting community health and health equity. Proposes a global payment model for health systems' inpatient, emergency department (ED), and outpatient sites of care with community health and health equity as its organizing features. Includes information on the Pennsylvania Rural Health Model, the ACO REACH model, and other rural-relevant payment models.
Sponsoring organization: National Academy of Medicine
Date: 11/2022

Health and Health Care for Indigenous People
Fact sheet comparing data on healthcare and population health for American Indian and Alaska Native (AIAN), Native Hawaiian or Other Pacific Islander (NHOPI), and White populations based on 2021 American Community Survey, Behavioral Risk Factors Surveillance System Data, and other national data sources.
Sponsoring organization: Kaiser Family Foundation
Date: 11/2022

Health Care Access and Use Among Adults With and Without Vision Impairment: Behavioral Risk Factor Surveillance System, 2018
Analyzes insurance status, access to usual source of care, healthcare utilization, and unmet healthcare needs due to cost among adults with vision impairment. Utilizes 2018 Behavioral Risk Factor Surveillance System data to examine 426,302 adults by age, sex, race/ethnicity, poverty level, health status and behaviors, disability type, U.S. region and territory, and metropolitan or nonmetropolitan status.
Author(s): Qi Cheng, Catherine A. Okoro, Isabel Mendez, et al.
Location: Preventing Chronic Disease, 19
Date: 11/2022

Measuring Rurality in Health Services Research: A Scoping Review
Analyzes peer-reviewed journals between 2010 and 2020 to provide a scoping review of the different methods of rurality defined and used in health services research. Examines 103 full-text studies across various journals to observe different measures of rurality. Includes discussion about the benefits and drawbacks of the respective measures of rurality and how inconsistent use of measures impacts federal funding and the study of rural health disparities.
Author(s): Robin Danek, Justin Blackburn, Marion Greene, Olena Mazurenko, Nir Menachemi
Location: BMC Health Services Research, 22, 1340
Date: 11/2022

National Advisory Committee on Rural Health and Human Services Meeting Summary, Lawrence, Kansas, September 14-16, 2022
Summarizes the 90th meeting of the National Advisory Committee on Rural Health and Human Services (NACRHHS), which was held in Lawrence, Kansas. Presents an overview of national and state perspectives on Programs of All-Inclusive Care for the Elderly (PACE).
Sponsoring organization: National Advisory Committee on Rural Health and Human Services
Date: 09/2022

Patterns of Health Care Use among Rural-Urban Medicare Beneficiaries Age 85 and Older, 2010-2017
Policy brief examining how rural and urban Medicare beneficiaries age 85+ differ in terms of their socioeconomic and health characteristics that may inform healthcare use. Features statistics on trends in healthcare use, including inpatient and emergency department care, outpatient and prescription services, specialists and dentists, and home health and durable medical equipment, with breakdowns by urban and rural location.
Sponsoring organization: Maine Rural Health Research Center
Date: 11/2022

Rural America at a Glance: 2022 Edition
Provides an overview of social and economic factors affecting rural America, with a focus on economic sectors, the labor force, and job growth. Examines population trends, impact of COVID-19 on workers, and rural versus urban labor data.
Sponsoring organization: USDA Economic Research Service
Date: 11/2022

Rural-Urban Disparities in Health Care in Medicare
Examines rural/urban differences in the quality of healthcare received by Medicare beneficiaries in 2021, with breakdowns by race and ethnicity. Focuses on patient experience and clinical care measures, including screening for and management of health conditions and medication-related issues.
Sponsoring organization: Centers for Medicare and Medicaid Services
Date: 11/2022

Supporting Rural Grocery Stores Across the North Central Region
Webinar recording describing 3 programs that work to support rural grocery stores as locations for food security as well as community and economic vitality. Discusses programming and strategies to support rural groceries. Transcript can be accessed by clicking the 3 dots below the video.
Sponsoring organization: North Central Regional Center for Rural Development
Date: 11/2022

System-Affiliated U.S. Rural Hospitals
Infographic presenting data on rural hospital and Critical Access Hospital (CAH) system affiliation using data from the American Hospital Association's Annual Survey Database for fiscal years 2016 through 2021. Includes information on investor-owned and non-government, nonprofit hospitals.
Sponsoring organization: American Hospital Association
Date: 11/2022

Teledentistry Trends in the United States During the COVID-19 Pandemic
Reviews the use of teledentistry during and following the COVID-19 pandemic in California, Maine, Pennsylvania, and Wisconsin, and examines reimbursement issues and supports needed to enhance dental care in a post-COVID-19 world. Mentions rural throughout.
Sponsoring organization: Oral Health Workforce Research Center
Date: 10/2022

U.S. National and State Estimates of Children Living with Parents Using Substances, 2015– 2019
Estimates of the number and percentage of children whose parents engage in problematic substance use. Presents data by substance type; by child demographic characteristics, including age, race, and urban/rural residence; and by state.
Sponsoring organization: HHS Office of the Assistant Secretary for Planning and Evaluation
Date: 11/2022

Veterans Community Care Program: VA Needs to Strengthen Its Oversight and Improve Data on Its Community Care Network Providers
Describes how the U.S. Department of Veterans Affairs (VA) monitors contractor compliance with the Veterans Community Care Program network adequacy standards and related requirements. Examines the extent to which the VA's contractors are meeting network adequacy standards. Discusses the experiences of VA medical facility officials when scheduling routine appointments for veterans. Offers recommendations to ensure that contractors report complete performance data and increase the accuracy of community provider information.
Additional links: Full Report
Sponsoring organization: Government Accountability Office
Date: 11/2022

Maps from USDA Economic Research Service, November 2022
| | | |
| --- | --- | --- |
| Upcoming Events | | |
No Equity Without Sovereignty: Indigenous Resistance Through Data
Time: 5:00 p.m. Eastern
Center for Indigenous Health (CIH), Johns Hopkins Bloomberg School of Public Health, Office of Inclusion, Diversity, Anti-Racism & Equity (IDARE)
2022 Annual National Rural Health Day
National Organization of State Offices of Rural Health
ashleym@nosorh.org
HHS Leadership Panel
Time: 3:00 - 4:00 p.m. Eastern
Federal Office of Rural Health Policy
Rural Health Open Door Forum
Time: 2:00 - 3:00 p.m. Eastern
Call-in: 888.455.1397
Passcode: 5109694
Centers for Medicare and Medicaid Services
RuralHealthODF@cms.hhs.gov
Tribal Health and Adaptation Peer-Learning Roundtable Webinars
Time: 10:00 a.m. - 12:00 p.m. Pacific
Sessions available monthly from November 17, 2022 to October 19, 2023
Pala Environmental Department
760.891.3515
sgaughen@palatribe.com
National Indian Health Board (NIHB) Post-Election Analysis Webinar
Time: 12:00 p.m. Eastern
National Indian Health Board
dbenjamin@nihb.org
Corn, Cattle, and a Flask of Whiskey: Understanding Stress and Substance Use in Agricultural and Rural Populations
Time: 3:00 - 4:00 p.m. Eastern
National AgrAbility Project
800.825.4264
agrability@agrability.org
Telemedicine and Increasing Access to MOUD Care
Time: 12:00 p.m. Pacific
Greater Southern California Node (GSCN), National Institute on Drug Abuse, Pacific Southwest Addiction Technology Transfer Center (PSATTC)
Talking About Ticks: Lyme Disease
Time: 12:00 - 1:00 p.m. Central
AgriSafe Network
Tell Us How RHIhub Has Impacted You
The Rural Health Information Hub is seeking your comments on how our services have helped you in your efforts to improve healthcare and population health in rural communities. Have the RHIhub services helped you to stay informed, get a grant, find the proper federal agency contact or other expert, or otherwise changed your life?

Please send an email telling how RHIhub has impacted you to kristine@ruralhealthinfo.org. Your stories may be used in testimony, budget documents and presentations concerning the Rural Health Information Hub.