Frontier Community Health Integration Project (FCHIP)
Demonstration ended July 2019. Five-year extension period to begin July 1, 2021.
The Need for an Integrated Model in Frontier
Frontier areas are sparsely populated rural areas that are isolated from population centers and services and therefore face challenges in providing access to health services. Many frontier counties lack a hospital and frontier counties without healthcare professionals or hospitals are often clustered together which compounds the distance residents must travel to reach a hospital. Those frontier counties that do have hospitals may face higher costs than non-frontier hospitals, due to the lower volume of patients served. Because of these challenges, there is a need for integrating frontier systems of care in order to increase efficiencies and better coordinate patient care.
Project Purpose
The purpose of the demonstration was to develop and test new models for the delivery of healthcare services in frontier areas through improving access to, and better integration of, the delivery of healthcare to Medicare beneficiaries. The primary focus areas of the demonstration were to:
explore ways to increase access to, and improve the adequacy of, payments for acute care, extended care, and other essential healthcare services provided under the Medicare and Medicaid programs in frontier areas; and
evaluate regulatory challenges facing frontier providers and the communities they serve
Legislation Authorizing the FCHIP Demonstration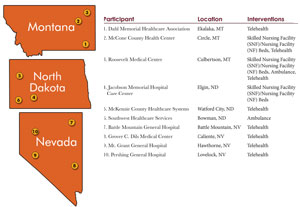 The Frontier Community Health Integration Project (FCHIP) demonstration was authorized under Section 123 of P.L. 110-275, the Medicare Improvements to Patients and Provider's Act of 2008 (MIPPA), and amended by Section 3126 of P.L. 111-148, the Patient Protection and Affordable Care Act (PPACA). The 5-year extension of FCHIP was authorized by Section 129 of P.L. 116-260, Consolidated Appropriations Act, 2021.
FCHIP Demonstration Participants
The Centers for Medicare & Medicaid Services (CMS) announced participants in the Frontier Community Health Integration Project Demonstration in August 2016. The 10 participating Critical Access Hospitals and the interventions they focused on:
Participants
Interventions
Dahl Memorial Healthcare Association
Ekalaka, MT
Telehealth
McCone County Health Center
Circle, MT
Skilled Nursing Facility (SNF)/Nursing Facility (NF) Beds
Telehealth
Roosevelt Medical Center
Culbertson, MT
Skilled Nursing Facility (SNF)/Nursing Facility (NF) Beds
Ambulance
Telehealth
Jacobson Memorial Hospital Care Center
Elgin, ND
Skilled Nursing Facility (SNF)/Nursing Facility (NF) Beds
McKenzie County Healthcare Systems
Watford City, ND
Telehealth
Southwest Healthcare Services Bowman, ND
Ambulance
Battle Mountain General Hospital
Battle Mountain, NV
Telehealth
Grover C. Dils Medical Center
Caliente, NV
Telehealth
Mt. Grant General Hospital
Hawthorne, NV
Telehealth
Pershing General Hospital
Lovelock, NV
Telehealth
Eligibility to participate in the demonstration project was defined in the authorizing legislation and limited to "eligible entities". CMS interpreted the eligible entity definition as meaning Critical Access Hospitals (CAHs) that receive funding through the Medicare Rural Hospital Flexibility Program. The statute limited the demonstration to no more than four States and restricted eligibility to CAHs in States in which at least 65 percent of the counties had six or fewer residents per square mile. CMS selected participants from Montana, Nevada, and North Dakota (though eligible to apply, CAHs in Alaska and Wyoming did not apply).
Partners
In fiscal year 2010, Congress appropriated funds to the Federal Office of Rural Health Policy (FORHP) for the FCHIP demonstration. FORHP funded an 18-month cooperative agreement award to the Montana Health Research & Education Foundation (MHREF) to provide information and data to CMS as they develop this demonstration. In order to identify and communicate the challenges and solutions MHREF hoped to convey to CMS, a Framework Document and subsequent topical white papers were prepared.
FORHP also provided funding to the Medicare Rural Hospital Flexibility Program in North Dakota, Alaska and Wyoming to respond to the framework document and white papers produced by MHREF and provide CMS any additional regulatory proposals not addressed in the original framework or white papers.
More Information on the FCHIP Demonstration
FCHIP Program Contact:
Sarah Heppner, Federal Office of Rural Health Policy
sheppner@hrsa.gov
301.443.5982