Use the Am I Rural? Tool to find out if a location is considered rural based on various definitions of rural, including definitions that are used as eligibility criteria for federal programs.
Learn about issues that impact rural health in RHIhub's Topic Guides. Recently updated: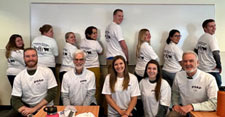 Thomas Jefferson University Program Reflects on Nearly 50 Years of Producing Rural Doctors
Since 1974, the Physician Shortage Area Program has recruited and supported medical students from rural backgrounds who want to practice in rural communities.

Check out our latest podcast episode, Availability of Behavioral Health Providers and Services in Rural Areas. New episodes are released the first Tuesday of each month.
Resource and Referral Service

Need help finding information? RHIhub can provide free assistance customized to your needs.
1-800-270-1898
info@ruralhealthinfo.org