Discover the latest funding and opportunities to support rural health. Browse all funding opportunities.
Use the Am I Rural? Tool to find out if a location is considered rural based on various definitions of rural, including definitions that are used as eligibility criteria for federal programs.
Learn about issues that impact rural health in RHIhub's Topic Guides. Recently updated:
Find rural project examples in Rural Health Models and Innovations and proven strategies for strong rural programs with toolkits like the Prevention and Treatment of Substance Abuse Toolkit in the Rural Community Health Gateway.
Learn how to locate and use data in the Finding Statistics and Data Related to Rural Health topic guide and this chart of Data Sources & Tools Relevant to Rural Health.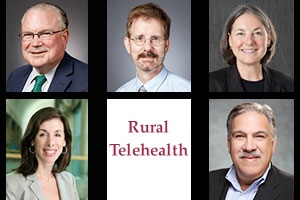 Achieving Telehealth's Promise for Rural Health: Insights from Telehealth Leaders
Telehealth can be a virtual solution to reaching rural residents with healthcare, but its integration into mainstream medicine is taking longer than expected. Five leaders working to advance telehealth for rural areas articulate their thoughts on this delayed integration and the changes needed to make telehealth common practice.
Rural Tobacco Control and Prevention Toolkit
This new toolkit provides resources and information that organizations can use to develop, implement, evaluate, and sustain rural tobacco control and prevention programs. Includes evidence-based examples, promising models, and program best practices.
New in the Online Library
Resource and Referral Service
Need help finding information? RHIhub can provide free assistance customized to your needs.
1-800-270-1898
info@ruralhealthinfo.org