Use the Am I Rural? Tool to find out if a location is considered rural based on various definitions of rural, including definitions that are used as eligibility criteria for federal programs.
Learn about issues that impact rural health in RHIhub's Topic Guides. Recently updated: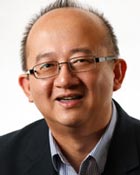 Philanthropy, Cross-Collaboration, and the Ecosystem That Is Rural Healthcare Delivery: Q&A with Dr. Shao-Chee Sim
As vice president for research, innovation, and evaluation at Texas-based Episcopal Health Foundation, Shao-Chee Sim, PhD, discusses how philanthropic organizations can make small rural research investments — and, in particular, leverage cross-funder collaboration — that impact not only funders themselves, but also healthcare delivery systems and the rural Americans they serve.


Rural Health Literacy Toolkit
Our NEW Health Literacy Toolkit can help you discover resources and model programs for improving personal and organizational health literacy in rural communities.
New in the Online Library
Resource and Referral Service

Need help finding information? RHIhub can provide free assistance customized to your needs.
1-800-270-1898
info@ruralhealthinfo.org