Use the Am I Rural? Tool to find out if a location is considered rural based on various definitions of rural, including definitions that are used as eligibility criteria for federal programs.
Learn about issues that impact rural health in RHIhub's Topic Guides. Recently updated:
The Targeted Rural Health Education Project: Newspaper/Medical Student Collaboration Bringing Health Information to Rural Communities
In our latest video, UND School of Medicine and Health Sciences students use the Targeted Rural Health Education (TRHE) program to bring plain language health education to the communities they serve.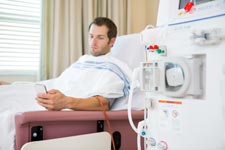 Staving Off One's Mortality: Rural Kidney Health and Its Disparities
For the 240,000 rural Americans with complete kidney failure, it's likely that very few knew they even had kidney disease. According to the Centers for Disease Control and Prevention, kidney disease is usually silent; 90% of people with kidney disease don't know they have it. With research pointing to the high costs of kidney disease for pediatric and adult patients alike — mostly covered by Medicare — experts and researchers discuss rural disparities around access to disease-stabilizing treatment and to renal replacement therapies.
Resource and Referral Service

Need help finding information? RHIhub can provide free assistance customized to your needs.
1-800-270-1898
info@ruralhealthinfo.org