Discover the latest funding and opportunities to support rural health. Browse all funding opportunities.
Use the Am I Rural? Tool to find out if a location is considered rural based on various definitions of rural, including definitions that are used as eligibility criteria for federal programs.
Learn about issues that impact rural health in RHIhub's Topic Guides. Recently updated:
Find rural project examples in Rural Health Models and Innovations and proven strategies for strong rural programs with toolkits like the Services Integration Toolkit in the Rural Community Health Gateway.
Learn how to locate and use data in the Finding Statistics and Data Related to Rural Health topic guide and this chart of Data Sources & Tools Relevant to Rural Health.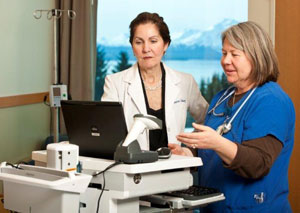 Cybersecurity: How a Rural Alaska Hospital is Safeguarding Its Patients' Information
Due to barriers like cost and staffing, many rural healthcare facilities' information systems are susceptible to malware attacks such as ransomware. South Peninsula Hospital, a Critical Access Hospital in Homer, Alaska, uses an IT staff of six to monitor threats and train coworkers on how to safeguard their hospital's information.
Top 10 Rural Monitor Articles of 2016
Articles on the opioid epidemic, new service delivery models, and a variety of innovative approaches to support health all made it onto the year's most-read list.
News Headlines
New in the Online Library
Resource and Referral Service
Need help finding information? RHIhub can provide free assistance customized to your needs.
1-800-270-1898
info@ruralhealthinfo.org