Stay current on rural health news, funding opportunities, research, and more with RHIhub's email updates.
Read the latest issue of RHIhub This Week.
Discover the latest funding and opportunities to support rural health. Browse all funding opportunities.
Use the Am I Rural? Tool to find out if a location is considered rural based on various definitions of rural, including definitions that are used as eligibility criteria for federal programs.
Learn about issues that impact rural health in RHIhub's Topic Guides. Recently updated:
Find rural project examples in Rural Health Models and Innovations and proven strategies for strong rural programs with toolkits like the Services Integration Toolkit in the Rural Community Health Gateway.
Learn how to locate and use data in the Finding Statistics and Data Related to Rural Health topic guide and this chart of Data Sources & Tools Relevant to Rural Health.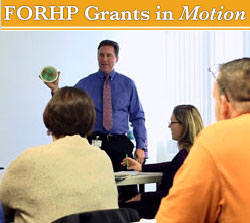 Change from the Inside Out: Ohio Wellness Program Inspires Healthy Bodies Through Healthy Minds
A unique wellness program in rural Ohio has impacted nearly 2,000 adults. Participants of Trinity Hospital Twin City's Fit for Life program have reversed their diabetes, lowered cholesterol, lost weight, and are even sleeping better. The secret lies in Dr. Timothy McKnight's curriculum that centers around a change of mindset to spur long-term physical health.
Talking Rural Opioid Use at the United Nations: Q&A with Holly Andrilla
Rural health researcher Holly Andrilla offers an international perspective on rural substance abuse issues based on her experience presenting to the United Nations Office of Drugs and Crime in Vienna, Austria.
New in the Online Library
Resource and Referral Service
Need help finding information? RHIhub can provide free assistance customized to your needs.
1-800-270-1898
info@ruralhealthinfo.org