Use the Am I Rural? Tool to find out if a location is considered rural based on various definitions of rural, including definitions that are used as eligibility criteria for federal programs.
Learn about issues that impact rural health in RHIhub's Topic Guides. Recently updated: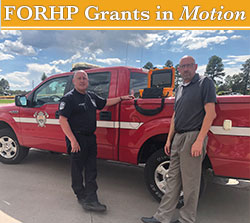 Mobile Telehealth Units and Care Coordinators Improve Emergency Care Services for Rural Arizona Patients
To address rising ER readmissions, an Arizona healthcare system and network partners adapted an unconventional EMS telehealth service to help rural patients. Coupled with care coordination, mobile telehealth units are saving the healthcare system money while better meeting patients' healthcare needs.
National Program Helps Older Adults in Rural Maine and Hawaii Feel More CAPABLE
CAPABLE is a national model that connects low-income seniors with an occupational therapist, registered nurse, and home repair services. Program coordinators from Hawaii and Maine share their successes and the challenges of helping rural residents age safely in place.
News Headlines
New in the Online Library
Resource and Referral Service

Need help finding information? RHIhub can provide free assistance customized to your needs.
1-800-270-1898
info@ruralhealthinfo.org