Use the Am I Rural? Tool to find out if a location is considered rural based on various definitions of rural, including definitions that are used as eligibility criteria for federal programs.
Learn about issues that impact rural health in RHIhub's Topic Guides. Recently updated:

Rural Emergency Preparedness and Response Toolkit
This NEW toolkit on Rural Emergency Preparedness and Response provides practical guidance, case studies, and resources to support organizations with disaster and emergency planning, response, and recovery efforts in rural communities across the United States.

Check out our latest podcast episode, Health Insurance in Rural Communities. New episodes are released the first Tuesday of each month.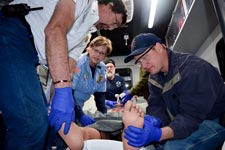 Aiming For 'Real and Accessible': EMS Simulations Give Rural Providers Hands-On Experience
Rural EMS providers have fewer chances to practice their skills on the job, but simulation tools can help small agencies prepare for high-stress calls.
Resource and Referral Service

Need help finding information? RHIhub can provide free assistance customized to your needs.
1-800-270-1898
info@ruralhealthinfo.org