Discover the latest funding and opportunities to support rural health. Browse all funding opportunities.
Use the Am I Rural? Tool to find out if a location is considered rural based on various definitions of rural, including definitions that are used as eligibility criteria for federal programs.
Learn about issues that impact rural health in RHIhub's Topic Guides. Recently updated:
Find rural project examples in Rural Health Models and Innovations and proven strategies for strong rural programs with toolkits like the Rural Aging in Place Toolkit in the Rural Community Health Gateway.
Learn how to locate and use data in the Finding Statistics and Data Related to Rural Health topic guide and this chart of Data Sources & Tools Relevant to Rural Health.

Rural Food Access Toolkit
This new toolkit is designed to guide you through creating a sustainable program for improving access to healthy food in rural areas from development through evaluation. Created in collaboration with the University of Minnesota Rural Health Research Center, this toolkit includes resources, model programs, and more.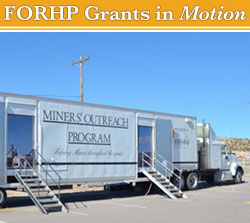 New Mexico Mobile Screening Program for Miners Brings Care to the Patients
Miners in rural New Mexico may forego care when they have to drive a long distance to see a primary care provider or specialist. The New Mexico Mobile Screening Program for Miners travels to 12 locations in the state to bring needed care to patients.
New in the Online Library
Resource and Referral Service
Need help finding information? RHIhub can provide free assistance customized to your needs.
1-800-270-1898
info@ruralhealthinfo.org