December 9, 2015
Assessing Program Outcomes: A Lesson in Evaluation Planning
by Kate Menzies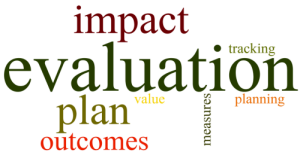 During the course of a grant-funded project, results and deliverables need to be measured to reflect the project's success or failure. An evaluation plan can do just that, by highlighting key measures and goals the program wishes to meet.
"I like to see it as a roadmap—it helps you figure out where you want to go and how to get there," said Linda Kwon* of the Federal Office of Rural Health Policy (FORHP). "During the course of the journey, adjustments will need to be made based on the progress."
Evaluation plans will best serve programs if they are developed early in the grant period, in order to better track the results of the program.
"At the beginning, you can focus your resources better and prioritize what is important, enabling you to make better decisions," said Debbie Ferguson, Director of the Central Mississippi Residential Center.
Sally Buck, of the National Rural Health Resource Center, added, "Setting up tracking methods early allows you to tweak processes as the project matures to align with desired results."
Working the Plan
Evaluation activities are also useful in engaging stakeholders. Asking for feedback shows that your organization is concerned about whether it's meeting their needs, both now and in the future.
This information can then be used to see what modifications might be necessary to improve the outcome of the program.
"[Following] the evaluation plan gives you feedback on what is or isn't working," said Ferguson. "It identifies areas that you are struggling with to help you reach your goals."
"It also helps to communicate the value of a program," said Kwon. "A powerful story can be told based on the data collected."
Overcoming Challenges
If a program has a limited budget and little knowledge on how to create an evaluation plan, there are resources available to help.
Kwon recommends fostering relationships with local universities/colleges. "This would be a good learning opportunity for students who are seeking practicum experience."
"However, getting an outside evaluator is definitely worth it if the budget allows," said Ferguson. "It provides for an objective point of view and helps garner support from outside organizations."
One of the biggest challenges in creating an evaluation plan is determining measures on which the organization can collect consistent, accurate data. Data collected needs to be objective and reliable in order to be statistically relevant. Staffing challenges also pose a barrier, as some may lack the knowledge or ability to properly create and follow an evaluation plan, much less interpret results.
Additionally, the complexity of a program may hinder an evaluation plan's development. "If a program provides numerous services it may be challenging to create a plan that can effectively evaluate the outcomes and impact of those services," said Kwon.
To be successful, programs need to be vigilant in tracking and measuring processes and outcomes throughout the course of a grant period. That information can inform needed changes to improve the program over time.
Proving Results to Funders
Create an evaluation plan that will help you communicate an impactful story about the investment made into your program.
The results of the program are ultimately examined by funders, so they can determine their return on investment.
"Funders are interested in knowing how their money is being spent," said Kwon. "Create an evaluation plan that will help you communicate an impactful story about the investment made into your program."
"Ultimately, evaluations show if a program has increased knowledge, changed behaviors, or changed the environment of rural areas," said Buck.
Program evaluation data is essential for HRSA and the Federal Office of Rural Health Policy (FORHP), as successful programs can be used as a template to help rural areas across the nation.
"It is important to evaluate rural health programs because it helps us know whether the program is working, how it is working, and why it is working," said Kwon. "We can then share this data with other rural communities who want to adapt or learn from others who have used similar models."
As with any project or initiative, outcomes are important. An evaluation plan is necessary to determine whether or not program outcomes are worth the money invested. If it is a positive investment, the potential for more grant funds increases. This, in turn, can help create better health outcomes for the residents in rural communities.
* Linda Kwon left the Federal Office of Rural Health Policy in November 2015