Mar 15, 2017
Community Health Workers Get Trained to Reduce Oral Health Disparities
by Jenn Lukens
Although dental professionals recommend a visit to the dentist at least once a year, barriers like distance, road conditions, lack of insurance coverage, and poverty make it difficult for many rural residents to do so.
"We definitely want to make changes. We don't want to just put a Band-Aid on the problem," said Community Health Worker Malissa Savage, who serves rural clients in western Maryland. For many of her clients, a trip to the emergency room for a toothache is more common than a preventive trip to the dentist. "It's just a matter of education and letting them know about the resources available," added Savage. "A lot of them have dental benefits, but I just don't think they know how to utilize them."
That's where Savage comes in. She is part of the Regional Oral Health Pathways project that uses Community Health Workers (CHWs) to educate patients on dental hygiene and oral health. This is just one of many alternative dental workforce models that states are exploring to help reduce oral health disparities in rural America.
Addressing Misconceptions in Appalachia
CHWs are usually employed by local healthcare agencies and spend the majority of their time on the ground with clients, connecting them to healthcare resources and local social services while educating them in good health practices.
Traditionally, CHWs earn certifications in primary care topics like diabetes, chronic disease, and smoking cessation. The recent spotlight on gaps in rural dental access has encouraged the creation of oral health training programs for CHWs in multiple states.

Savage was one of the first to get certified in oral health through Maryland Area Health Education Center West. Her training was a part of Allegany HealthRight, a program funded by the Federal Office of Rural Health Policy that provides oral health education and access to dental treatment.
Since graduating from the 10-week course in 2014, Savage covers Allegany and some of Garrett County, located on the edge of Appalachia, where poor oral health practices are largely the result of misconceptions passed down from previous generations.
A lot of people here think that it's fine to take pliers to pull out their teeth because they don't know about the resources that are there.
"A lot of people here think that it's fine to take pliers to pull out their teeth because they don't know about the resources that are there," explained Savage. Among her clientele, dentures are in high demand, not just from the elderly population. Savage has spoken with 19-year-olds who would rather replace their remaining teeth with dentures than seek dental care. "They have this misconception that this is the route to take – the sooner the better – to prevent a headache from occurring later down the road." Savage said that educating young people is a vital part of her attempts to reverse generational bad habits.
Savage applies the techniques she learned during training to presentations that she gives several times a month. Object lessons and visuals, like children's toys, can help an oral health principle stick. To communicate the importance of flossing, she squeezes Play-Doh between two Lego pieces, comparing it to the plaque that builds up from lack of flossing.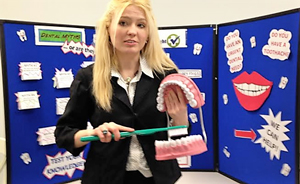 One of her biggest takeaways from her training is how to be understanding of each client's situation. Through motivational interviewing, she helps clients set realistic oral health goals for themselves, like cutting back on sugar.
Savage spends most of her time on the road traveling to rural areas where resources are scarce. Clients at senior citizen centers, food pantries, and clinics benefit from her frequent presentations and one-on-one counseling. Since transportation is a common barrier for rural residents, she carries gas cards and taxi vouchers to give to clients who need them.
Western Maryland has already experienced the ripple effect from Savage and Regional Oral Health Pathways' work in oral health improvement. Allegany County hospitals have noticed a decrease in emergency room admissions for dental care. Dental patient evaluations show an improvement in general oral health practices. In all, 350 clients have benefited from Savage's individualized counseling. Her hope is for more federal funding for Maryland hospitals to house future oral health trainings for CHWs. "It's slow-going, but I think that we've proven our worth," Savage humbly suggested.
Smiles for Life in Navajo Nation
In Arizona, similar efforts are underway to address the significant oral health disparities of Navajo Nation, where eighty-six percent of children between one and five have tooth decay. Given the severity of dental issues in Navajo country, the no-show rate at some dental clinics for appointments is very high.
…if we build an understanding that oral health is integrally linked to other chronic health conditions and work closely with our oral health delivery system, we can take better care of our people when we help them take control of their oral health.
Mae-Gilene Begay, program director at the Navajo Department of Health, is one of the masterminds behind a training program for Navajo Nation's CHWs, who are referred to as Community Health Representatives (CHRs). "Navajo has suffered from the highest oral disease rate in the country. The concept is if we build an understanding that oral health is integrally linked to other chronic health conditions and work closely with our oral health delivery system, we can take better care of our people when we help them take control of their oral health," said Begay.
As a first step, Begay worked with the Arizona American Indian Oral Health Initiative and recruited Dr. Rick Champany to train Navajo CHRs in oral health literacy. Champany was an obvious candidate. A dentist by trade, he has worked in various public health dental positions across the Navajo Nation for nearly 30 years, including Navajo Area Indian Health Service as a dental consultant.

Over the course of two days, Champany trained 80 CHRs in the Smiles for Life curriculum – a free, online resource. The curriculum consists of eight oral health courses that cover topics like periodontics, pediatric and geriatric oral health, and fluoride varnish.
Having a history with the Navajo people helped Champany gain his class's trust. "I don't pretend to know the whole culture, but I know about the Navajo culture. So I've learned that there are certain things you want to minimize, because it's culturally not good to talk about," explained Champany. "If there is something they don't understand, they feel comfortable to stop me and ask a question or to clarify certain things."
This Smiles for Life program is just the start of the Navajo Department of Health's dental improvement efforts. Five CHRs are currently undergoing training as Community Dental Health Coordinators at Central New Mexico Community College to expand their oral health knowledge and credentials in dental case management. Begay sees the positives of both models. "Community Dental Health Coordinators can work side-by-side with other CHWs who work in the diabetes program, the cancer program, and the smoking cessation program. It's a win-win for our people," she said.
Integrated Care for Texas Colonias
About one thousand miles to the southeast, another Smiles for Life training for Community Health Workers took place in Harlingen, Texas in early 2017.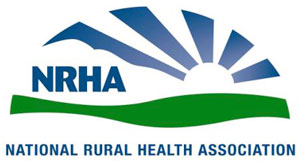 The National Rural Health Association (NRHA) collaborated with the DentaQuest Foundation, Texas A&M's National Community Health Worker Training Center, University of Texas Rio Grande Valley, and South Texas College to put on the training as part of the National Rural Oral Health Initiative.
Although NRHA had hosted previous CHW trainings through the NRHA's Rural Community Health Worker Training Network, Harlingen's was the first on oral health. It was also new for many of the CHWs present. Amy Elizondo, NRHA's program services vice president, noted this was the first time one participant received oral health training during her 30-year-long career as a CHW.
The majority of the attendees work in colonias, or Hispanic-populated communities along the U.S.-Mexico border. This area experiences similar barriers to Navajo Nation regarding accessing dental care. Lack of insurance, distance, and a shortage of dental workforce make it difficult to get timely dental care.
Because one of National Rural Oral Health Initiative's goals is service integration, the training was also open to primary care and dental providers. Sessions were specifically designed for each audience. Elizondo believes this convening of all three professions helped start conversations about each one's contribution to the oral health effort. "Having improved oral healthcare is something that can help ward off other diseases, so it's great to be a partner and provide this kind of training for those on the front lines of oral health," relayed Elizondo.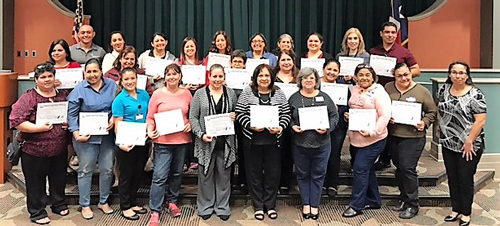 Although it is still too soon to measure the impact of NRHA's training, Elizondo believes other regions can successfully duplicate this model, especially underserved places like Appalachia, the Delta Region, and Alaska. NRHA is currently working to extend the training to other states; another CHW oral health training is set for June 2017.
Why it Works
They are from the community, and they know the community…It's a friend and a neighbor; it's somebody that they know and respect. So that's what excited me about it. It's a community that's growing their own.
Champany remains an avid supporter of equipping CHRs to be ambassadors of oral health. "They are from the community, and they know the community. That's just so important – to be seen as a community member. It just gives you a little more credibility…It's a friend and a neighbor; it's somebody that they know and respect. So that's what excited me about it. It's a community that's growing their own."
Elizondo points out that a critical piece to improved oral health is knowing your audience: rural communities of Texas's colonias have different needs than those in the Alaskan tundra. "It all varies, so adapting this curriculum or working with local partners to help fit the appropriate needs of the community and audience is pretty vital."
Savage has personally experienced the difference a CHW can make on the openness of a patient. While she doesn't get too many questions from her audiences during presentations, one-on-one conversations with clients is when vulnerability comes out. "Some have needed an extra push. It's kind of like being a coach," she expressed. "It takes following up and letting them know that someone cares. That makes all the difference in the world."