Feb 26, 2015
Healthy Clinic Program Helps Colorado Rural Clinics Build Stronger Foundations
by Jami Schumacher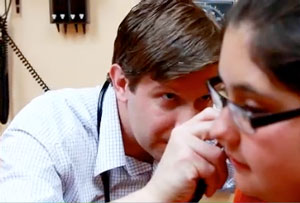 The Healthy Clinic Assessment (HCA) program is helping rural clinics build stronger foundations and focus on quality improvements, according to Jennifer Dunn, director of programs for the Colorado Rural Health Center (CRHC), which runs the HCA.
This voluntary and free process begins with on-site interviews of clinic staff and partners. The HCA looks at basic business operations (telephone protocol, check-in, check-out, visit preparation, accounts receivable and accounts receivable follow-up), compares current clinic operations to industry-accepted best practices, and identifies gaps in operations. At the end of the workday, CRHC staffers provide a debriefing about what they have heard and learned.
Later CRHC staffers return with findings. "We put together an action plan on where they need to make improvements, and what they are doing well," explained Michelle Mills, CRHC CEO. "This strengthens the foundation of the clinic and allows them to focus on bigger, greater things like quality improvement, collecting data in disease registries or working on gaining Patient Centered Medical Home status."
The Patient Centered Medical Home (PCMH) model seeks to replace episodic care with deliberate and coordinated care. The aim is a care model that is patient-centered with more effective, efficient, coordinated and personalized care.
Of the 104 clinics that have gone through the HCA process, two of them have gained PCMH status. Yuma District Hospital and Clinics was one of those, despite having little knowledge about PCMHs prior to working with CRHC. Yuma CEO John Gardner said that achieving NCQA Level 2 Medical Home certification took considerable work and significant changes to organizational culture. Gardner went on to say, "This has been a great opportunity for our two clinics. I am thankful that CRHC invited us to participate in the project."
Once the HCA action plan—a report customized to a clinic's individual needs—has been presented, the clinic decides its next course of action: do nothing with it, execute the action plan, seek to gain PCMH status or partake in the CRHC's iCare (Improving Communication and Readmission) program.
"HCA is just a stepping stone so rural clinics are not quite as worried about just keeping their doors open," Dunn said.
Mendi Choat, clinic director at the Mt. San Rafael Hospital Clinic in Trinidad, Colo., said that the hospital found the HCA so helpful that it has gone through the process several times. They used the first HCA as an opportunity to set improvement goals for the year. "One of the primary reasons for undergoing it every year was to see if we had made improvements in the areas identified the prior year," Choat said. This allowed the clinic to determine if their new processes were working or if adjustments were needed. The HCA then provided an action plan for the upcoming year.
As a result of the HCA, Choat said, there were "opportunities to improve systems and processes in billing and registration." Specifically, Mt. San Rafael Hospital Clinic staff worked on patient flow, scheduling, scripting for registration team members, upfront collections, assignment of billing duties, and educating providers on how to match time spent with patients with their corresponding provider coding levels.
"I would highly recommend this process to another clinic," Choat said. "It essentially provided us with access to a free consultant. It also provided us with education on best practices. As a rural health clinic, we otherwise would not have had access to this expertise and feedback."
The HCA supports the Institute for Healthcare Improvement's Triple Aim for health systems to focus on improving the experience of care, improving the health of populations and reducing the per capita costs of health care.
As the focus on reporting for quality and outcomes continues to increase in the healthcare industry, rural clinics are positioning themselves successfully for the future. CRHC has the goal of having all Colorado rural clinics achieve 90 percent or higher on the HCA, indicating efficient and sound operations.
"Our hope is that the clinics will want to move forward for the betterment of the clinic and the community," Mills said.
---
Back to: Winter 2015 Issue