Jan 20, 2016
Medical Transportation Service is a Lifesaver for Rural Missourians
by Jenn Lukens
Learn more about HealthTran in RHIhub's Rural Health Models & Innovations.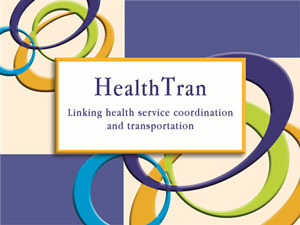 Bob Bowen and his wife recently settled in backwoods Missouri near Simmons. The quaint log cabin and acreage they purchased certainly had its draw, but the rural location also put some distance between Bowen and his monthly healthcare exams in West Plains, about 45 miles from his new home. A long battle with glaucoma had temporarily impaired his eyesight, and heart troubles subjected him to regular exams. With his wife working two hours in the opposite direction, and Bowen unfit to drive, he was feeling the strain of having to constantly call upon friends.
"I was losing sleep at night wondering which friend I would call next," said Bowen. It was through a conversation with the Disabled American Veterans (DAV) that he found out about HealthTran.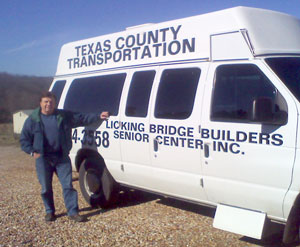 Launched in 2013 and administered by the Missouri Rural Health Association, HealthTran's mission is "working together to reduce the barrier of transportation for those with a medical need." The organization serves a ten-county region in South Central Missouri, coordinating non-emergency transportation and assistance for individuals (excluding Medicaid patients) who are unable to travel to their healthcare appointments.
"Public transportation can be an important enabler of access to services," said Doris Boeckman, former executive director of the Missouri Public Transit Association, current Missouri Rides to Wellness director, and co-founder of HealthTran. "It can lead to more individuals reaching life-sustaining and preventive healthcare services." Early on, HealthTran distributed a survey to patients from five healthcare facilities located in HealthTran's service area. Results showed that out of 214 patients, over 23% had missed at least one healthcare appointment because they did not have transportation, half of them missing more than one appointment.
Public transportation can be an important enabler of access to services. It can lead to more individuals reaching life-sustaining and preventive healthcare services.
HealthTran reaches some of the most underserved Missouri residents. They operate in five of Missouri's poorest counties where up to 26% of residents are below poverty level, and over 85% of HealthTran's passengers have an annual income below $25,000. In addition, HealthTran's services are important for older adults as Medicare beneficiaries make up a large portion of passengers.
Much of HealthTran's ridership comes through referrals from medical staff. So far, 25 medical facilities actively refer patients to HealthTran. In Leo Haralson's case, it was a receptionist at the Ozarks Medical Center (OMC) Wound Care Clinic that brought HealthTran to his attention.
"They picked up the ball with zero days' notice," said Haralson, a navy veteran who suffered an injury on his right big toe which led to its amputation. As a diabetic, Haralson was at risk for further amputation unless he healed quickly. For three months, HealthTran picked Haralson up at his home in Mountain View every weekday for hyperbaric oxygen treatments at the OMC Wound Care Clinic, missing only one day due to a snowstorm.
Leo Haralson, Navy veteran, tells more of his HealthTran story in this video [no longer available online].
Funds Support a Full-Service System
Initially funded by a grant from the Missouri Foundation for Health, HealthTran also receives funds from the Missouri Department of Transportation, the National Center for Mobility Management, and the Health Care Collaborative of Rural Missouri.
While HealthTran has received substantial funding, finding resources to cover the cost of each trip is challenging. Even so, HealthTran makes it clear to their passengers that their service is not based on how dire the medical need, or the passenger's annual income. If there is no other alternative, and someone needs it, they will provide it. Haralson admits that he was skeptical when first told that HealthTran rides were no cost to the patient.
She said that it was just a service they provide, no questions asked. I was absolutely astounded.
"She said that it was just a service they provide, no questions asked," Haralson said, recalling his initial conversation with a HealthTran coordinator. "I was absolutely astounded."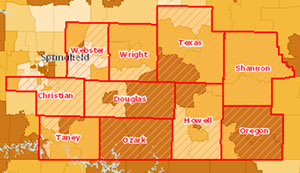 Since their service spans across a great distance, HealthTran partners with eight other transit providers throughout the region to ensure that patients can get access to all of their medical appointments. Bowen was often picked up by Licking Bridge Builders Senior Center's van service run by a husband and wife duo.
Bowen recalls the drivers would wait for the entirety of his appointment, which sometimes lasted up to three hours. On the trip back, they would even offer to run errands with him. "They were very personal and concerned. They never missed picking me up on time, and would go out of their way if I needed something."
Running a Tight Ship
Once the passenger is enrolled, a HealthTran Coordinator (HTC) contacts one of their partnering transportation services to coordinate a ride for all of the passenger's medical appointments. This includes specialty care appointments and trips to the pharmacy. Sandra Morris, HTC, coordinated all of Bowen and Haralson's trips to the OMC.
"She ran a tight ship!" attested Haralson about Morris. "She would call on occasion to check in with me and make sure the drivers were fulfilling their duties. All I had to do was be the patient, and I didn't have to worry about anything." Morris has worked with HealthTran since 2014 as the HTC for four counties. She shares responsibilities with Shareen Delp, HTC for the six other counties within HealthTran's service area.
Bowen was impressed with Morris's overall professionalism. "I'm sure it's a lot of administrative work for her, but she sure meets her commitments."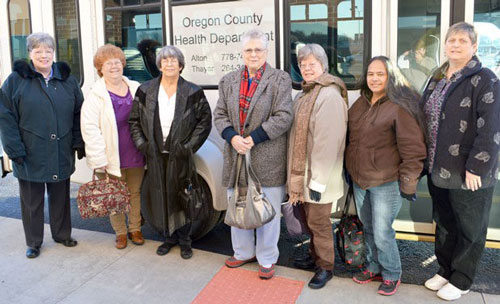 HealthTran is always looking to improve its coordination services and is working to replicate it in other areas of Missouri. The Rural Health Network Development Planning Program grant, funded by the Federal Office of Rural Health Policy, was awarded to the Health Care Collaborative of Rural Missouri to start a replication of HealthTran in Lafayette County.
"We have not only begun to set a foundation for replication, but we are also testing the flagging of patients' electronic medical record in order to improve transportation coordination for patients with transportation deficiencies," said Boeckman. She believes that advancing in this kind of technology will help HealthTran continue duplicating their model throughout the state, bridging the gap between transportation and healthcare.
Creating an Avenue to Meet All Healthcare Needs
HealthTran's service has already paid off for Haralson. His toe is fully healed, and the infection did not spread. Although he no longer needs HealthTran's services, his thankfulness for them remains constant.
Without them, I would be without a leg now, I'm sure. I don't know what I would have done. I would have been in deep, serious trouble.
"Without them, I would be without a leg now, I'm sure. I don't know what I would have done," said Haralson. "I would have been in deep, serious trouble."
Haralson shares his story as much as he can with his neighbors. He sees the service as especially helpful for elderly people living in rural locations who aren't comfortable or able to drive to their regular medical appointments.
"A lot of people would benefit from knowing about it. Every time I get a chance to say something positive about it, I do," said Haralson.
A rural community depends so much on transportation that it needs to be a focus. Once they have that service, everything else will fall into place.
Looking back, Bowen recalls seeing HealthTran vans in passing, but, "never in a million years did I think I would need them." Without HealthTran, he says he would have had to cancel appointments, or move to West Plains. His eyes are almost healed to the point where he can drive again, but he still uses HealthTran's services and is an active promoter. Bowen was a spokesperson for HealthTran at their first Get Link'd Conference (no longer available online) in October of 2015. "I'm going to pay them back any way that I can. I think it's a wonderful, wonderful service. HealthTran has been a lifesaver to me," expressed Bowen.
Bowen feels strongly that transportation is the avenue in which general healthcare needs can be met. "A rural community depends so much on transportation that it needs to be a focus," he said. "Once they have that service, everything else will fall into place."