February 26, 2015
Missouri RN Earns BS Nursing Degree Online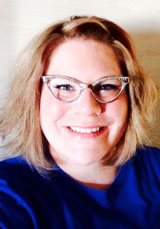 Student: Virginia Slaughter
Hometown: Bethany, Missouri
Prior degree: Registered Nurse
Program: University of Missouri Kansas City RN-BSN Rural Nursing Initiative
This program will prepare the registered nurse for leadership, mentorship and critical thinking, as well as better assessment skills and more knowledgeable practice.
Virginia Slaughter was looking for a way to better serve her community and decided to go back to school to earn her Bachelor of Science in Nursing (BSN) degree. She wanted a program that she could complete from her rural Missouri farm home. The UMKC RN-BSN program fit the bill.
"This program appealed to me because it was an online learning program," Slaughter said. "It was also through a major accredited university and the program outcomes were much desired and needed, with a focus on leadership and critical thinking."
Since Slaughter was already a Registered Nurse, the program allowed her to complete her BSN in just 18 months at a full-time pace. Creative scheduling and helpful faculty contributed to her speedy progress.
"This is a well-organized program," Slaughter said. "The faculty is comprised of caring, compassionate and well-educated individuals from diverse nursing backgrounds. They are able to bring legitimate experience to the program."
Slaughter has been able to apply what she has learned from this program back to her community where she currently works as a nurse in the Emergency Department at a Critical Access Hospital.
"Small communities need competent and well-educated nursing staff just as much as metropolitan areas," Slaughter said. "I love the people and culture of my community and will continue to serve them to the best of my ability."
To help her finance her education, Slaughter was offered a Philanthropic Educational Organization International grant in the amount of $3,000. The grant is awarded to professional women continuing their education.
Her success with the program has inspired Slaughter to pursue her Doctorate of Nursing Practice at UMKC. "I am pursuing a DNP so that I can provide for the underserved people of my community," Slaughter said. "I would like to be another provider in a community that has too few providers."
---
Back to: Rural Student Profiles | Winter 2015 Issue