Feb 26, 2015
Students Earn OT Doctorates Through Nebraska-Alaska Program
Profiles of two students in the Creighton University Entry-Level Distance Occupational Therapy Doctorate Program – Alaska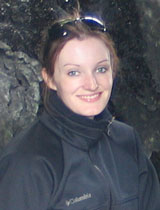 Student: Sarah Thompson
Hometown: Palmer, Alaska
Undergraduate degree: Human Services, University of Alaska-Anchorage
Being able to provide occupational therapy services to those who would otherwise be without is a way to give back to the Alaska community that I have grown up in.
The Occupational Therapy Doctorate (OTD) program offered by the University of Alaska Anchorage-Creighton University Distance Initiative allowed Sarah Thompson to remain in her home state and at her alma mater, though she was interacting with professors based out of Nebraska's Creighton University.
"I essentially had two sets of clinical staff that were able to conduct our classes together with distance and on-campus [components], and create a learning experience for distance students that was similar to on-campus, without ever having to leave Alaska," Thompson said.
Each semester consisted of five to seven classes, with clinicals included. The three-hour time difference between Alaska and Nebraska presented a challenge. However, the technology component of the program streamlined the process and proved to be beneficial for Thompson.
"I am way more comfortable with the use of computers than I was prior to this program," Thompson said. "This program enhanced my experience with working in groups, as well as my interpersonal skills."
In addition, the hybrid campus/online format allowed Thompson to create connections with established clinical sites in Alaska, which helped her obtain a job as an OT in her hometown at the Mat-Su School District. She has also reconnected with Creighton University by becoming an online teacher's assistant.
Thompson advises that potential students assess whether or not a distance program is fitting for their particular learning style, and to evaluate whether they will be able to set aside adequate time to get the most out of the course, since it involves independent learning and time management.
---
Hometown: Anchorage, Alaska
Undergraduate degree: Marketing-University of Arizona
This program is the absolute best decision I have ever made. It allowed me to stay in Alaska to complete my education and I was able to secure a job two months before I graduated.
The hybrid learning model of Creighton University's distance OTD program, with online lectures and on-campus labs, suited Karrianna Gallagher's independent learning style quite well.
"In order to complete this program, it is necessary to be internally motivated," Gallagher said. "This is also true for being an occupational therapist."
Gallagher mentioned that not having the face-to-face interaction with instructors posed a bit of a challenge at times; however, most professors made themselves available for meetings via Skype as needed.
Gallagher did her fieldwork experience at Providence Alaska Medical Center in acute care, which has recently turned into a job. She now works there on an as-needed basis, typically around four to five days a month.
During the professional rotation, students create an individualized experience that can focus on teaching, research, further developing their OT skills, or going to another country to promote OT and provide services. Gallagher chose to spend hers at Alaska Hand Rehab in Anchorage, with a focus on developing her hand therapy skills. She accepted a position there upon graduation.
Throughout her time with the program, Gallagher was exposed to rural healthcare issues occurring within her state. As a way to call attention to these issues, she is currently in the process of developing a telerehabilitation program for hand therapy in Alaska, in hopes of addressing the shortage of hand therapists available to serve rural communities.
"I think job shadowing in various settings and talking with past students would be helpful for those interested in this program," Gallagher said. "It's important for individuals to understand exactly what they are getting themselves into as it is challenging, time consuming and expensive."
For her academic success, Gallagher received a $1,000 Scholastic Achievement Award. This scholarship is presented annually to three, third-year entry-level OT students who have earned scholastic achievement in the OTD program and have demonstrated excellence in their educational journey at Creighton University.
With innovative educational models such as this, students are able to make a direct impact in their home communities.
---
Back to: Rural Student Profiles | Winter 2015 Issue