Jul 12, 2023
Rural Pharmacies Provide Multi-Faceted Value to Rural Communities
by Whitney Zahnd, PhD
Rural community pharmacies have long played an important role in healthcare delivery and health education for their communities. They are often cornerstones of rural communities providing access to medication and medical equipment as well as providing medication counseling, monitoring of blood pressure and glucose, and other services.
Brian Wegmann, CEO of NuCara, which has 31 pharmacy locations in 4 states, many of which are in rural communities, said, "We're the access point for healthcare services. Clinics are starting to see lower hours and are busy, whereas the pharmacist remains. You can walk in and talk to the pharmacist. These pharmacists today are just so well-trained. They're a real clinical and healthcare resource to the community."
The strength of rural pharmacies is that they know their people…and they're partnering with other community organizations, which is innovative.
He said, "If you're on medication, you're probably going to a pharmacy every 30 days or 90 days. It's a place where you go to get your healthcare needs met, whether that be over-the-counter or prescription medications. We're now able to do more things. We're able to do point-of-care testing for common ailments — flu, COVID-19." Wegmann also noted that they are now able to provide hearing aids to patients with moderate hearing loss. "There is this huge number of patients that have some hearing loss. Utilizing technology, we're able to help measure their hearing loss and help get them fitted to the right [hearing aids]," he said.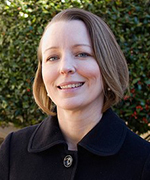 During the COVID-19 pandemic, pharmacies have been instrumental in providing testing, vaccines, antivirals, and much-needed education to their communities as well. Delesha Carpenter, an associate professor at the University of North Carolina-Chapel Hill Eshelman School of Pharmacy who also leads the Rural Research Alliance of Community Pharmacies (RURAL-CP), noted, "The strength of rural pharmacies is that they know their people…and they're partnering with other community organizations, which is innovative." Carpenter noted that some of the pharmacies within RURAL-CP's network partnered with local churches to provide COVID-19 vaccinations outside the walls of the pharmacy.
Maintaining Access to Rural Community Pharmacies
Over the past several years, studies from the RUPRI Center for Rural Health Policy Analysis have demonstrated notable decreases in pharmacies in rural communities. The now 20-year financial impact of Medicare Part D coupled with the increasing influence of pharmacy benefit managers (PBMs) have negatively impacted the financial viability of rural pharmacies. This has led to a 9.8% decline in pharmacies in noncore rural areas and a 4.4% decline in micropolitan rural areas between 2003 and 2021. These decreases have largely occurred among independent and franchise pharmacies while chain pharmacies have continued to grow regardless of geography.
However, recent findings from RUPRI have identified that, since 2020, the tide may be turning. The rate of closures has slowed since 2020, and new rural pharmacies have opened throughout the country, sometimes filling a void when large national chain pharmacies, such as Shopko, pull out of rural communities.
The first NuCara Pharmacy was founded in 1973 by T.J. Johnsrud in Conrad, Iowa, a town of roughly 1,000 residents, as local physicians wanted to move away from dispensing medications in their clinics, which at the time was very common. Establishing local community pharmacies provided an avenue for doing so. Similar arrangements were made in rural Traer and Story City, Iowa.

Over the last 35 years, new challenges have emerged for rural pharmacies. NuCara Pharmacy CEO Wegmann noted, "In the late 1980s and early 1990s, the pharmacy business was really changing — the introduction of when prescriptions were being paid by insurance companies or organizations called pharmacy benefit managers. That dramatically changed the landscape of the pharmacy in terms of profitability and reimbursement." PBMs are companies that manage prescription drug benefits for managed care organizations for employers, Medicare Part D, and others, which ultimately impact the cost of drugs for patients, reimbursements for pharmacies, and which types of pharmacies can offer what drugs. NuCara began to acquire pharmacies throughout Iowa, particularly in rural and underserved communities, which has enabled many rural communities to maintain their pharmacies in an environment that's often hostile for rural, independent pharmacies.
It's not an easy business by any stretch. PBMs have changed the landscape. It's made it challenging for pharmacies in rural communities to be maintained. We've been able to bring economies of scale to those pharmacies, which has allowed us to maintain services in those communities.
Wegmann said, "It's not an easy business by any stretch. PBMs have changed the landscape. It's made it challenging for pharmacies in rural communities to be maintained. We've been able to bring economies of scale to those pharmacies, which has allowed us to maintain services in those communities." He also noted additional changes that have broadened both the modalities of pharmacy services, such as the inclusion of telepharmacy, and the expansion of services provided by NuCara such as infusion, home health, and respiratory services. Additionally, NuCara has been able to move into areas where chain pharmacies like Shopko moved out of rural communities, such as Greenfield, a rural town of just over 2,000 people in southwestern Iowa.
"When [Shopko left], Greenfield was left without a pharmacy. The pharmacist that was working [at Shopko] reached out to us," Wegmann said, "and in a matter of days — this is still our record as a company with how fast we were able to get a pharmacy set up, licensed, and operated. Rachel Hall, the pharmacist, is an example where she does have some ownership in that pharmacy. She does just a marvelous job. The community went maybe just three weeks without a pharmacy." Wegmann added, "This is an example where the community hospital stepped in as well to help us by providing us with some space. It's a great story."
Hall and three other pharmacists at NuCara pharmacies throughout the Midwest have an ownership stake in the pharmacy. In this model, NuCara provides the administrative and business infrastructure and support while the pharmacists can focus their role in managing the pharmacy and delivering patient care as the "pharmacist-in-charge" while also being involved in the financial decisions of their pharmacy.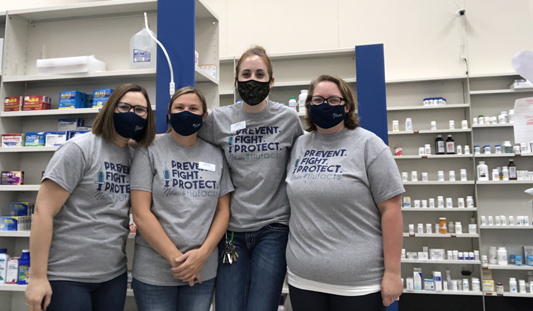 NuCara also serves as a contract pharmacy for several rural hospitals in Iowa, Minnesota, and North Dakota as part of the 340B program, a federal program that requires drug manufacturers to provide outpatient drugs at discounted prices. NuCara founder Johnsrud sees NuCara's participation as a "critical part of involvement in rural communities." The savings generated by this program have been instrumental in enabling hospitals to provide uncompensated care and provide additional supportive services.
Identifying the Unique Strengths and Challenges in Rural Community Pharmacies
Beyond innovative business models, working with rural pharmacies can help researchers understand the unique challenges and strengths they possess, especially as many interventions and initiatives are developed in urban or suburban settings that may not be translatable to rural settings. With initial funding from the Eshelman Institute for Innovation at the University of North Carolina-Chapel Hill, Carpenter and colleagues at the University of Arkansas Medical Sciences, University of South Carolina, Auburn University, and University of Mississippi launched RURAL-CP in 2019 with the University of Tennessee and University of Georgia joining in 2020. In establishing this alliance, they reviewed how other pharmacy practice-based research networks were structured and started making in-person and virtual site visits to rural pharmacies before and during the pandemic. They are now engaged with 125 rural community pharmacies across seven states in the Southeast, most of which are independent or small chain pharmacies.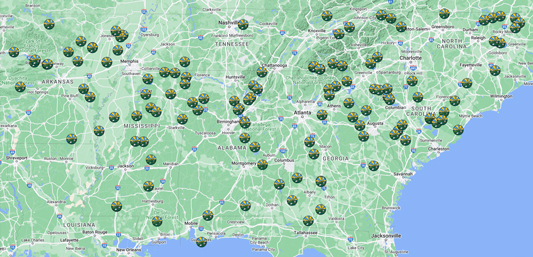 As pharmacies join RURAL-CP, the liaison at each pharmacy completes management and organizational climate surveys to provide important baseline information about the pharmacy. Any projects that engage these pharmacies also must provide a financial incentive, which has both ensured that pharmacies are supported for their time and has increased response rates for surveys. RURAL-CP aims to engage the pharmacies in no more than one project a month.
With the launch and expansion of RURAL-CP coinciding with the pandemic, their initial work has focused on pandemic-related vaccine readiness and vaccine counseling in rural pharmacy settings. They also have an interest in harm reduction services, suicide prevention, diabetes, and other circumstances and conditions in which rural pharmacies can play an important role. RURAL-CP is interested in providing important resources and programming to rural pharmacies in addition to engaging them in research. For example, Carpenter said that RURAL-CP has developed continuing education programs for these clinics: "We have [continuing education] that we've put together for them on developing reimbursable services. Financial issues are huge for rural pharmacies. What are some things they can do to remain viable? PBMs are particularly punitive to rural pharmacies."
Student Experiences in Rural Pharmacy Settings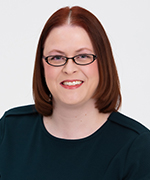 In addition to ensuring practicing pharmacists in rural areas receive targeted training for the unique challenges of rural pharmacies, it is important to ensure that student pharmacists are exposed to rural pharmacy experiences during their education. The University of Illinois-Chicago (UIC) Rural Pharmacy Education (RPHARM) program is one of a handful of programs at schools of pharmacy that provide a concentration or certificate in rural pharmacy. The RPHARM Program, established in 2010, is an interprofessional program that educates students about unique elements of rural pharmacy practice and prepares them for working in an interprofessional environment alongside medical and nursing students who are participating in the University's rural medicine (RMED) and rural nursing (RNURSING) programs. Students in the RPHARM program take one rural-focused elective every semester for the first three years of the program. Heidi Olson, PharmD, clinical assistant professor at the UIC College of Pharmacy and director of the RPHARM program, said, "The curriculum focuses on public health issues, population health, and being able to assess the health needs of the community. We do a lot of work developing communication and teamwork skills, knowing that, in a rural community, you're going to have limited resources. No matter who is on your team, you're going to need to figure out how to utilize that person and work well with them to try to maximize resources for the community and for your patients."
In the fourth year of the program, students do three of their seven experiential on-site rotations sequentially in the same rural community. These rotations are located in rural areas throughout Illinois, primarily in community and hospital-based settings, but some rural communities provide opportunities for ambulatory care, internal medicine, or long-term care pharmacy experiences.
Olson describes one site in central Illinois where a physician serves as a preceptor for both pharmacy and medical students. She said, "They absolutely love having pharmacy students rotate with them to the point that they know how to incorporate an additional pharmacist into their clinical practice."
Engagement of pharmacy students has enabled these rural practice settings to better assess the needs of patients with chronic conditions. Olson noted, "We've had our pharmacy students do rotations consistently enough with their physicians that actually prompted them to request a pharmacist position down there. One of our RPHARM graduates is practicing down there now. For us, it's a huge win for other professions and for the system itself to see what kind of a benefit that pharmacists can offer to the patients and to the community."
They absolutely love having pharmacy students rotate with them to the point that they know how to incorporate an additional pharmacist into their clinical practice.
From the pharmacy perspective, Wegmann of NuCara Pharmacy noted the mutual benefit of having pharmacy students do rotations in rural NuCara Pharmacy locations: "We're an attractive spot for student rotations because of the dynamic and diverse practice settings that we can offer because of our compounding and home infusion services as well as our community sites." Students from both the University of Iowa and Drake University have done their rotations with the company.
"They provide value to us. It gives us a great opportunity to get to know them better," Wegmann said. Some students who have done their rotations with NuCara have returned to work for the organization after graduation. "On the clinical services side," Wegmann said, "we hire pharmacy students to help us review all our clinical opportunities within the company. We have all these services out there that provide us the opportunities for pharmacists to do clinical reviews for reimbursement. These students are able to help us stay on top of that, which is of real benefit to not only the company, but the individual locations and the pharmacist-in-charge because it takes a burden off of them."
The RPHARM program also focuses on interprofessional education and practice. During their rural community rotations, students in the RPHARM program partner with a medical student on a community-based research project, focused on topics such as medication adherence in older adults, impact of screen time on student mental health, effectiveness of pharmacist-managed anticoagulation in an inpatient facility, and adherence to medication among English- and Spanish-speaking individuals in the same community. Olson said, "We give the students full latitude to say, 'What are you interested in?' but also to say, 'What does the community need?' and 'What will the community support you doing while you're there?'"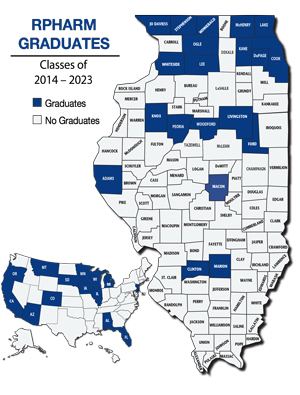 RPHARM students are also engaged in outreach events with rural students such as health-related education. "We'll do a rural health career camp that RPHARM students help with over the summer," Olson said. "We've been doing pipeline events with the 4-H kids in different regions."
More than half of graduates (50-60%) of the RPHARM program are practicing in rural communities in a variety of settings: community, ambulatory care, the VA system, prisons, and Indian Health Service. Olson noted, "They're everywhere — they find what works for them."