Jan 28, 2021
1,232 Doses of Pfizer COVID-19 Vaccine Distributed at Coliseum in Dalhart, Texas
submitted by Joyce Bezner, Dallam Hartley Counties Healthcare Foundation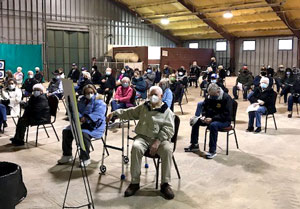 Saturday, January 23, 2021 was a typical winter morning in Dalhart, in the northwest corner of the Texas Panhandle, with winds blowing at 13 miles per hour and the felt air temperature only 23 degrees. A team of dedicated nurses and support staff converted the coliseum, usually home to county stock shows and the famous XIT Rodeo dances, into a COVID-19 vaccination clinic.
Mindy Ellsworth, LVN, Vaccine Clinic Coordinator summarized, "Our focus was to serve 975 residents from Dallam, Hartley, and Sherman counties, although we did not refuse anyone who came from outside these counties. Senior citizens were invited to come from 9-11 AM and then essential workers and the public through 6 PM. By 3:45 PM the team completed the 1,232nd vaccination and we were out of the Pfizer vaccine for the day. We had no idea how many would come to be vaccinated, and we were pleased with the actions of the citizens who came for the vaccine and are enthused to receive their second vaccine in approximately 21 days."
To avoid long lines, we gave people a number as they arrived. This number gave them confidence that they were being taken care of as they waited in the indoor socially-distanced seating area. Even at 10:30, the wind remained at 11 miles per hour, the felt air temperature only warming to 30 degrees. Volunteer firemen and police, dressed for the brisk weather, directed traffic and showed people where to enter the coliseum.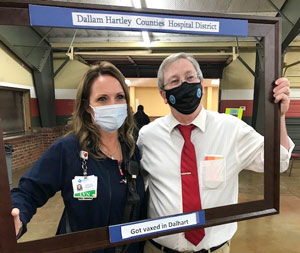 Firemen admitted groups of 20 people at a time and escorted them to the check-in table. After the short process, they received the Pfizer vaccine and moved to the socially-distanced seating area for 15 minutes of observation. Nurses monitored the crowd, answering any concerns. During the wait, a nursing student volunteer offered a photo op to those who wanted a picture to send to friends, Facebook, Instagram, their children and grandchildren. This allowed our citizens themselves to encourage others to get the vaccine. When leaving the observation area, participants rang the bell for completing their first vaccine, and then moved to the check-out table to receive their vaccination card and instructions on scheduling a return for their second dose in approximately 21 days.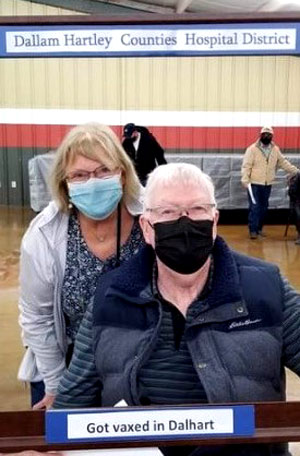 Dallam County Judge Wes Ritchey said, "Today has made me so proud to see the collaboration between the DHC Hospital District, the City of Dalhart Police, the Dallam & Hartley Counties Volunteer Fire Departments, AMR Paramedics, and our many residents who participated. Our expectations for the day were high, but none of us knew what the turnout would be. All the groups worked together beautifully, combined approximately 40 people, and by mid-afternoon we had exhausted our allotment."
Rodney White, President of Dalhart Federal Savings & Loan commented, "My wife Alice and I were just commenting what a well-oiled-machine this clinic has been. We will encourage all our friends and employees to attend next Saturday."
I am so proud of our coordinated team effort and the number of citizens who got the vaccine to help our rural community beat COVID-19.
A second community-wide vaccination clinic is scheduled for Saturday, January 30, and a high turnout is expected once again. "Our healthcare staff and first responders are exhausted because they have been fighting the COVID-19 battle since mid-March here in the Panhandle. The community overwhelmingly spoke their appreciation to them as they were going through the vaccine clinic. I am so proud of our coordinated team effort and the number of citizens who got the vaccine to help our rural community beat COVID-19," concluded Jacque Ahola, RN, DHCHD Infection Control Nurse & Quality Director.