Introduction to Food Security and Healthy Food Access
Food production and consumption has enormous impact on American wellness. Given the agricultural landscape of many rural communities, it is easy to believe that rural communities have greater access to fresh fruits and vegetables.
While this may have been the case in the not too distant past, food production in the United States has transformed tremendously in recent decades. The late twentieth century brought about an industrialization of agriculture that increased the number of massive plots across the country that grew commodity crops such as wheat, soybeans, corn, and cotton. These crops can be easily stored for long periods, and used for a variety of purposes, but are inedible to humans. The increase in commodity farming accompanied the decline in smaller farms producing diverse, edible fruits and vegetables.
Rural communities are thus at the mercy of food retail outlets' ability to stock fresh produce, which can be compromised by cost, food distributors' delivery schedules, and short shelf life of non-processed foods. Additionally, the shift in production methods has significantly impacted other facets of our nation's wellness, including the environment, our health, rural economics, and others.
The Food and Agriculture Organization (FAO) of the United Nations defines food security as the circumstance under which:
"...all people, at all times, have physical, social and economic access to sufficient, safe and nutritious food which meets their dietary needs and food preferences for an active and healthy life."
Inability to access food for any of these reasons leads to a household being designated as food insecure. The graph below indicates household features that increase the likelihood of households being food insecure.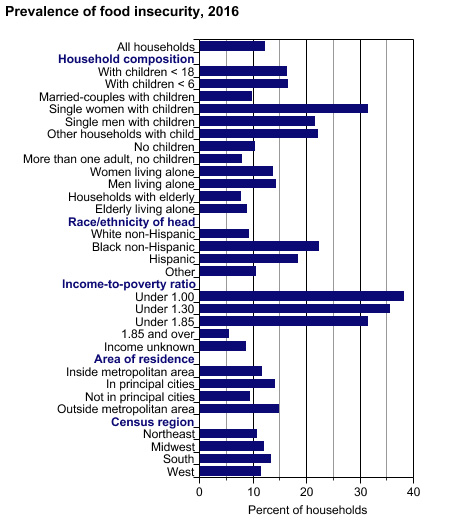 The United States Department of Agriculture (USDA) identified four levels of food security:
High food security: no indications of food limitations;
Marginal food security: some anxiety around food sufficiency;
Low food security: reduced quality and desirability of food options, though no reduction in food intake;
Very low food security: eating patterns and food intake are disrupted.
Financial constraints leading to inability to afford food is the most commonly cited cause of food insecurity. The USDA identified more than 12% of U.S. households (41 million individuals) as food insecure at some point during 2016, with 15.5% of rural residents living in food insecure households, and 12.5% of residents of metropolitan areas.
A food desert refers to a census tract that does not have a supermarket or large grocery store within a reasonable distance. "Reasonable distance" means no more than one mile from a residential area in urban communities and no more than ten miles from a residential area in rural communities. Food deserts are generally located in areas with lower incomes and greater concentrations of people of color. In 2012, the USDA estimated that the median distance to a supermarket in rural communities was 3.2 miles, but that 5.8% of rural residents (4.7 million individuals) needed to travel between 10-20 miles to the nearest supermarket.
An area that provides abundant access to unhealthy foods, such as fast food and liquor stores, but limited or no access to healthy options are called food swamps. It is likely for a community to be both a food desert and a food swamp. While food swamps are often associated with strips of fast food restaurants in urban areas, they also exist in rural areas in the form of gas stations and other convenience food retailers.
Rural residents experience numerous health disparities, many of which are associated with low food access. Obesity is widely recognized as having reached epidemic proportions in the U.S. and carries with it increased risk for other health conditions. Rural communities report higher levels of obesity than urban areas, with the most remote areas reporting the highest levels. Conventional wisdom suggests the formula to combat obesity involves increasing physical activity as well as eating smaller portions of healthy foods; however, these recommendations assume that all communities have access to healthy food.
While access to healthy food is an important piece of tackling the obesity issue, research suggests that accessibility alone will not solve the epidemic. Obesity is a complex malady involving biological, behavioral, and social determinants of health. Additionally, the quality and quantity of food Americans are consuming play key roles. These issues are multifaceted, complex, and interrelated.
Making the healthy choice the easy choice is often heard in circles of people working on food access issues. While grocery stores seem to be the most logical source of food, there are a variety of other resources in the food system that can positively impact rural communities' access to healthy foods, including but not limited to:
Food hubs
Farmers markets
Mobile markets
Community gardens
Farm-to-table initiatives
School-based programs
There are opportunities to introduce policy change that could influence the healthfulness of the food system. Policy change can occur at the local, state, or federal level and can focus on any stage of the food supply chain. Examples of potential policies might include something small scale, such as changing the offerings in the local high school vending machines, or as far-reaching as the Dietary Guidelines for Americans. The Vermont Law School's Center for Agriculture and Food Systems, in partnership with the Public Health Law Center, and the Rudd Center for Food Policy and Obesity at the University of Connecticut created a guide to Local Laws & Policies that Promote Access to Healthy Food, which provides examples of a variety of approaches to policies that can address particular issues.
Resources to Learn More
211 Food Hotline
Hotline
Free and confidential food access information and referral service available 24 hours a day, 7 days a week. 2-1-1 is available in every language across the U.S. and parts of Canada, and accessible by phone, text, or web. Referral service can connect you with government assistance programs, school lunch programs, meal delivery services, and more.
Organization(s): United Way
Food Insecurity in the United States
Map/Mapping System
Interactive map showing national, state, and county-level food insecurity across the United States.
Organization(s): Feeding America
Healthy Food Access
Website
Compilation of research-based resources that focus on increasing access to healthy food in low-access areas, including low income and rural communities. Visitors can sign up to receive email notifications when new resources are added.
Organization(s): Robert Wood Johnson Foundation
Household Food Security in the United States in 2016
Document
Presents statistics from USDA's annual Food Security Supplement to the Current Population Survey, outlining food expenditures and the extent and severity of food insecurity in U.S. households. Also discusses 2016 participation levels for the major federal food and nutrition assistance programs.
Author(s): Coleman-Jensen, A., Rabbitt, M., Gregory, C., & Singh, A.
Organization(s): United States Department of Agriculture Economic Research Service
Date: 9/2017