Am I Rural? – Help
---
Step-by-Step Guide
Getting to Know the Am I Rural? Screen
The Am I Rural? screen has two sections, the control panel on the left and a clickable map on the right.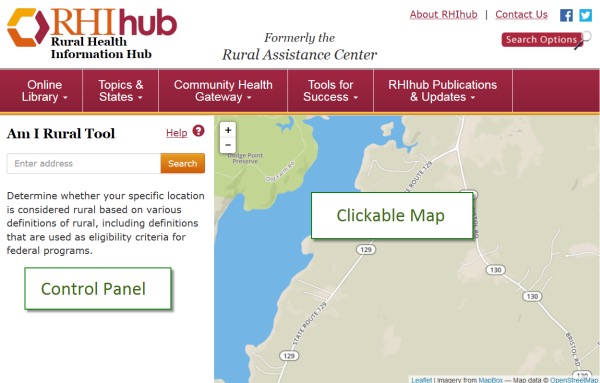 Step 1: Enter Your Address
Using the Control Panel
Enter a full or partial address in the address line of the Control Panel. The more specific an address match you can find, the more accurate your report will be. For simplicity, the examples used here are for towns. However, a street address would be preferred if you are seeking results for a specific facility or location.
After you have entered your address, click the Locate button or press the Enter key.

One or more addresses will be displayed, with the first result highlighted and selected.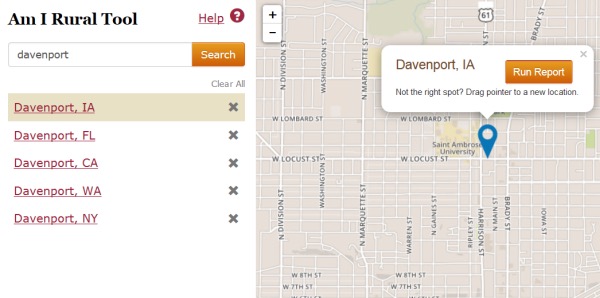 Clicking the Map
To find your location, you can zoom and move within the map. Use the +/- controls in the upper left of the map section to zoom. Click and hold on the map while moving your mouse to change the map area displayed.
Click on the map to place a new marker on the map at that location. The address associated with that location is added to the list of addresses (see Step 2). You can drag-and-drop a map marker to a new location or click the map in a new spot to add an additional address.
Step 2: Select an address
One or more addresses will be displayed as search results. If there are two or more results, the first address found will be selected, and the map will be zoomed to a marker at that point. You can click another address in this list to switch to that location.

As you enter addresses or click on the map, your address list will continue to grow, listing up to the most recent 20 addresses. You can remove an address by clicking the "X" to its right. Clicking "Clear All" will empty your address list.
Step 3: Run rural classification
After you have selected an address, click the Run Report button in the map section.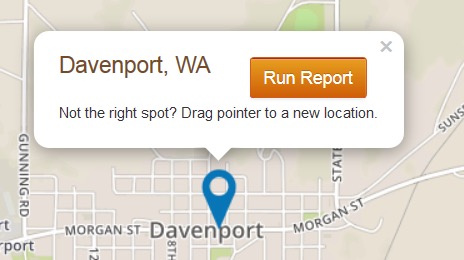 A report will be displayed for the selected location: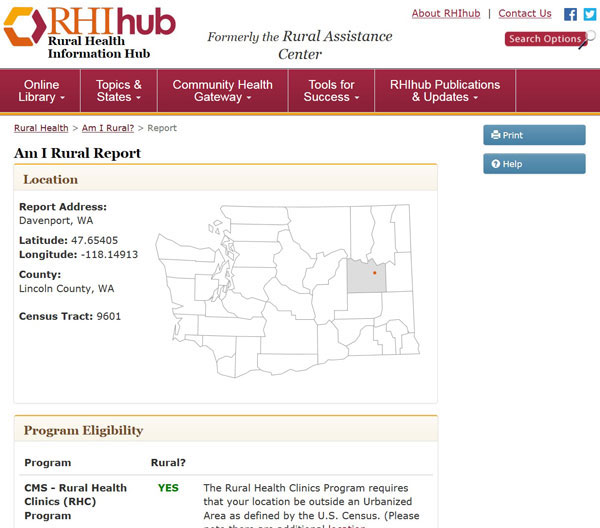 ---
How We Match Locations
When You Enter an Address
How Am I Rural? gets coordinates from an address
When you enter an address, the Am I Rural? tool uses Bing's geocoding web service to retrieve one or more possible matches for the entered address. These found addresses are added to your address list as options. You can then choose the best match. Along with detailed address information, the geocoder returns the latitude/longitude coordinates of each address. Am I Rural? uses these coordinates to place a marker on the map when you click on a found address.
Problems and troubleshooting
If we can't find a match for the address you entered, Am I Rural? will try to find the best match it can, whether that is an exact address, street-level address, or ZIP code match.
If an address typed in the Control Panel section does not produce a good match, get as close as you can by entering a street name or even just a town and state. Then use the map to pinpoint the exact location of interest.
This tool is only available for addresses in the 50 U.S. States or Puerto Rico.
When You Click the Map
How Am I Rural? gets an address from a map location
When you click on the map or drag an existing location marker, Am I Rural? uses Bing's reverse geocoding web service to find possible matches for that location's geospatial coordinates. The found addresses are added to your address list.
Problems and troubleshooting
Occasionally, clicking on a detailed street-level view of the map will result in reverse geocoding results that aren't for a specific building but rather for a street or ZIP code. Even though an address may not be at the detail level you prefer, the rural classification report is always run against the marker's exact geolocation. Therefore, the report results will reflect the status at the current marker location, not the address listed.
---
Rural Classification
More on Rural Definitions
See RHIhub's
What is Rural?
topic guide for more information on how rural is defined and why there are different definitions in use.
The rural classification report contains the following sections:
Location
Information on the current location is shown here, including:
A reference map of the state with the county and location highlighted
Address
Latitude and longitude
County
Census tract
The information provided by this service addresses only the rural aspect of a program's requirements. Your Am I Rural? report is not a guarantee of your rural status. Please check with the program contacts directly to verify your eligibility for specific federal programs.
Rural Programs
Identifies whether the location is eligible for the following based on rural location:
The Am I Rural? tool can help determine if a location is considered rural by the Federal Office of Rural Health Policy (FORHP). FORHP offers many grant programs to help rural communities improve the health of their residents. To be eligible for these programs, the applicant organization must be located in an FORHP-defined rural area.
Counties that are nonmetropolitan or micropolitan (that is, not metropolitan) are considered rural by FORHP. Within metropolitan counties, FORHP identifies additional census tracts as rural based on Rural Urban Community Area code and population density. For more information on how these tracts are selected, see the Federal Office of Rural Health Policy section of Defining the Rural Population.
Although not covered by the Am I Rural? tool, American Samoa, Guam, Federated States of Micronesia, Marshall Islands, Northern Mariana Islands, Palau, Virgin Islands, and the U.S. Minor Islands are all eligible for FORHP grants.
Data Source: County and census tract list provided by the Federal Office of Rural Health Policy
Common Rural Definitions
Information on the location's rurality, based on seven common rural definitions:
Shortage Areas
Health Professional Shortage Areas (HPSAs) are designated by the Health Resources and Services Administration's Office of Shortage Designation, based on requests from state Primary Care Offices (PCOs). There are three types of HPSAs: primary care, dental, and mental health. A HPSA may be a geographic area, population group, or health care facility that has a shortage of health professionals, based on criteria that include population-to-clinician ratios. HPSAs can be located in urban and rural areas.
For more information, see Health Professional Shortage Areas (HPSAs).
Am I Rural? identifies any current HPSA designations for the location.
Data Source: data.HRSA.gov
Medically Underserved Areas/Populations (MUAs/MUPs) are designated by the Health Resources and Services Administration's Office of Shortage Designation. MUAs/MUPs may also be designated by a state's Governor.
Medically Underserved Areas (MUAs) are geographic areas where there is a shortage of health services. Medically Underserved Populations (MUPs) are groups of people with economic, cultural, or linguistic barriers to healthcare. The factors that influence an MUA/MUP designation include primary care physician-to-population ratio, infant mortality rate, poverty, and elderly population.
Am I Rural? finds both federally designated and Governor's exception MUAs/MUPs for a given location.
For more information, see Medically Underserved Areas/Populations (MUAs/MUPs).
Data Source: data.HRSA.gov