The Adolescent Pre-Diabetes Prevention Program
Summary
Need: Prevention of type 2 diabetes in adolescents living in rural parts of Louisiana.
Intervention: Through screenings, the Adolescent Pre-Diabetes Prevention Program detects the onset of prediabetes. Through nutrition and physical activity education, the program teaches high school students and staff how to adopt healthy lifestyles.
Results: The program has seen an increase in enrollment and continues to see decreases in body weight, body mass index, and A1C levels among participants.
Description
Identifying early signs of prediabetes presents an opportunity to improve health and prevent the onset of type 2 diabetes. Healthy habits such as nutritional eating, exercise, and maintaining a healthy weight can help lower high blood sugar levels.
The Northeast Louisiana Regional Diabetes Prevention Collaborative Adolescent Initiative started the Adolescent Pre-Diabetes Prevention Program, managed by Richland Parish Hospital. The program's purpose is to detect the onset of prediabetes and to reduce type 2 diabetes in adolescents living in rural Louisiana. Through nutrition and physical activity education, the program teaches high school students and staff how to adopt healthy lifestyles.

With parental consent, high school students are screened for A1C levels, weight, height, and blood pressure. School faculty and staff are also invited to participate. Program coordinators are assigned to different regions to work with at least one selected school in each parish, organizing and conducting screenings and education sessions.
Richland Parish Hospital partnered with Christus St. Frances Cabrini Hospital and West Feliciana Parish Hospital to host the program in 13 school-based health centers and 28 high schools (covering 20 rural parishes).
The Adolescent Pre-Diabetes Prevention Program is funded through the HRSA Federal Office of Rural Health Policy Delta States Rural Development Network Grant. The first round of the grant was 2013-2016. The second round will extend from 2016-2019.
Services offered
The Adolescent Pre-Diabetes Prevention Program includes 6 wellness educational lessons for each level throughout the academic school year, led by the prediabetes prevention coordinators. Every year, material from the previous year is reviewed and expanded upon during each lesson, which usually lasts 20 minutes. Students are broken up into small groups of 5 to 9, led by the prediabetes prevention coordinators, to encourage participation and facilitate discussion.
Weekly text messages are sent to participating students and school personnel with health facts and tips to reinforce the lessons. Through the use of tablets and a proprietary app, lifestyle questionnaires are also distributed. Data is stored electronically and has helped program coordinators learn the patterns, tendencies, and lifestyle choices of students.
Prediabetes prevention coordinators also lead screenings at participating high schools and oversee screenings conducted at school-based health centers. Students are required to get consent from their parents in order to participate. Screenings measure the following:
Height
Weight
Blood pressure
Body Mass Index Percentile (BMI) calculation
A1C blood hemoglobin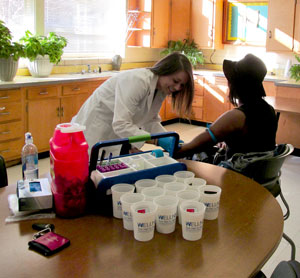 Point-of-contact counseling is also offered to students at the time of the screening. Coordinators review individual results with students and present potential goals and strategies that would help them achieve better results. Without being told what to do, the students are allowed the freedom to develop and apply strategies in their own way.
Richland Parish Hospital provides the lab services for A1C measurements. School-based health centers are able to bill services to their insurance providers and receive reimbursement for services. The Adolescent Pre-Diabetes Prevention Program collects and stores all results from the screenings.
Results
Out of 10,172 total students in the Adolescent Pre-Diabetes Prevention Program service area, 593 are enrolled in the program. Below is a breakdown by grade:
9th grade: 210
10th grade: 214
11th grade: 120
12th grade: 49
Of the total participants enrolled in the program in the 2016-2017 academic year, the following positive results show that students have adapted and applied principles presented through the program:
21% of males and 26% of female participants decreased their weight
5% of males and 8% of females lowered their A1C levels
25% of males and 38% of females lowered their BMI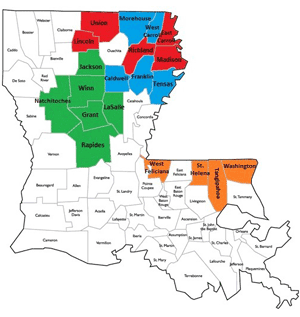 The Adolescent Pre-Diabetes Prevention Program has been fully accepted and integrated as a standard part of participating schools' daily operations.
In 2017, the program was given the Rural Health Program of the Year award by the Louisiana Rural Health Association. Knowledge of the program has grown as the director has presented at the following conferences:
Challenges
Initially skeptical, school nurses have often waited to get involved until the program was established, allowing them time to evaluate its effectiveness. After witnessing the program's success, many now help the program coordinators conduct the screenings.
Because rural programs often operate with less resources, opportunities for sustainability when grant funds end are essential. School-based health centers have helped this program become more sustainable, providing staff to conduct regular screenings, measurements, and point-of-contact counseling for students. They also actively recruit students to join the program and can bill the services to insurance providers for reimbursement.
Data from the screenings was originally stored in spreadsheet format, but because of the risk of data corruption, data personnel created a computer program to more safely and easily collect and extract data.
Replication
Key principles for those considering starting a similar program:
Continue to refine the vision of your project. Remain flexible and create contingency plans for different aspects of your program in case your original plans fall through.
When establishing your service area, evaluate its geography and the time it will take for travel, screenings, and educational sessions.
Take into account the various cultures of the schools and communities that you serve. Respect and apply the social, economic, ethnic, and cultural differences of each to your lessons.
Allow time and effort in recruiting staff who display cultural competency and appropriate skills.
Identify a champion within each school. Secure participation commitment from school administration, board members, and school-based health centers. When starting the program, coordinators made a total of 120 presentations to secure buy-in.
Because of their focus on student health and connection with the schools, school-based health centers were the first stop when campaigning for the program. There was unanimous support and willingness to participate in a program, even from those outside of the original service area.
Offer financial incentives for school participation, returned consent forms, lesson completion, consortium meeting attendance, and faculty/staff screening completion.
Before screening students, obtain written consent from parents and students.
Conduct lessons to accompany screenings and vice versa.
Conduct follow-up screenings.
Data collection is key. Not only is it often required by grants, but it also gives clinical measurements, increases accountability of people working in their program, and gives proof of the effectiveness of the program.
Inviting school personnel to be screened allows them to experience the program first-hand and can secure their support. After the first year, many school staff members were eager to participate in the screenings and encouraged their students to do the same.
To view another prediabetes prevention program conducted by Richland Parish Hospital, visit RHIhub's Northeast Louisiana Regional Pre-Diabetes Prevention Program.
Topics
Children and youth
Diabetes
Health screening
Schools
Wellness, health promotion, and disease prevention

States served
Louisiana
Date added
October 18, 2018
Suggested citation: Rural Health Information Hub, 2018. The Adolescent Pre-Diabetes Prevention Program [online]. Rural Health Information Hub. Available at: https://www.ruralhealthinfo.org/project-examples/1038 [Accessed 24 July 2021]
Please contact the models and innovations contact directly for the most complete and current information about this program. Summaries of models and innovations are provided by RHIhub for your convenience. The programs described are not endorsed by RHIhub or by the Federal Office of Rural Health Policy. Each rural community should consider whether a particular project or approach is a good match for their community's needs and capacity. While it is sometimes possible to adapt program components to match your resources, keep in mind that changes to the program design may impact results.