New Horizons Geriatric Counseling Program
Summary
Need: Improved behavioral health care offerings for a community after losing 5 senior-aged men to suicide.
Intervention: A Critical Access Hospital in Yoakum, Texas, created a community-based program focusing on inpatient and outpatient behavioral health care for area residents age 50 and older.
Results: A financially-sustainable behavioral health care delivery model demonstrating positive impacts on physical health conditions, healthcare service utilization, and high patient satisfaction rates.
Description
Yoakum Community Hospital, a 25-bed Critical Access Hospital (CAH) located in Yoakum, Texas, was determined to offer quality behavioral health services in the aftermath of 5 senior-aged men's suicides in a period of 2 years. With this as their primary goal, the Yoakum team created an inpatient and outpatient behavioral health care continuum model.
Someone experiencing depression may not realize their illness. Without treatment symptoms often worsen. Understanding that depression and other behavioral health conditions are treatable for all age groups, including the geriatric population, the Yoakum team used information provided by the Substance Abuse and Mental Health Services Administration (SAMHSA) to help build their program. Their program includes trauma-informed care, an approach inclusive of both physical and emotional events that impact a patient's well-being.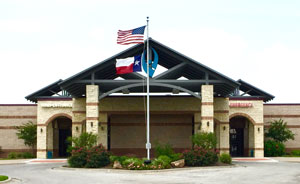 As predicted by other similar evidenced-based models, the Yoakum approach for patients age 50 and older has high patient satisfaction rates. By including care management, the model helps transition patients seamlessly from inpatient care to outpatient care and includes an outpatient-generated referral process. It has demonstrated positive impact on acute hospitalizations and readmission rates, chronic physical health conditions, and improved other community health and wellness indicators in addition to impacting suicide rates. Outpatient care utilization rates have also decreased.
Important to the model is the specific community-based approach involving both inpatient and outpatient care coordination. Medical/surgical hospital standard admission process includes depression screening. A positive finding triggers referral information provided to the patient and the patient's local primary care provider. For more acute inpatient behavioral health needs, psychiatric specialty consultation is provided by a contract psychiatrist. In addition to contract psychiatric care that is available by phone, acute inpatient behavioral health needs are also met by on-site visits if needed.
The model also integrates with the community's primary care providers. This coordination within the local community allows patients to stay in a culturally-familiar environment with their families nearby, a key to providing this type of comprehensive behavioral health care.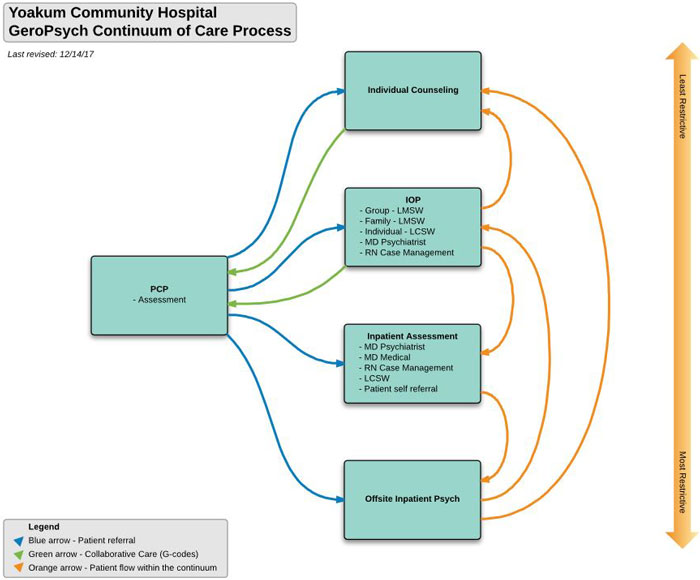 This care model necessitates that all medical/surgical hospital nurses be trained in the assessment and treatment basics of acute behavioral health conditions. Several of the hospital's registered nurses are certified instructors who train all new staff.
Outpatient care includes coordination with primary care teams. The program's specific outpatient staffing needs include the on-site licensed clinical social workers and a contract psychiatrist who comes weekly.
In addition to delivering positive patient outcomes, the program has proved financially sustainable and revenue-generating. No outside funding sources support the program. The payment model is based on Medicare, Medicaid, and commercial insurance reimbursement. Psychiatry services are arranged by providing a consulting fee for directorship and psychiatric patient care services billed independently. Assistance is also available for patients without traditional insurance coverage.
The Yoakum model demonstrates that despite limited resources, this comprehensive care can be provided in a rural community. Its leaders said it's important to understand that the current program was built around the failures of an original inpatient model that did not meet their initial goals. With significant re-tooling of the original inpatient model, the current model puts focus on the outpatient arm that uses evidence-based group therapy.
The Yoakum team was invited to present their model at the 2018 annual meeting of the American Academy of Geriatric Psychiatry.
Services offered
Required personnel
A psychiatrist provides weekly on-site visits, provides certification/recertification of patient care plans, and leads multidisciplinary team meetings
Licensed Clinical Social Workers (LCSWs)
Certified instructors for inpatient training on:

Actual use of trauma-informed care methods
Secure training/caring for the combative patient
Conditions treated
Acute Memory Impairment
Caregiver Burnout and Stress
Depression
Grief
Mild Cognitive Decline
Mood Changes
Psychosis
Sleep Disorders
Social Withdrawal
Unfounded Fears and Anxiety
Other
Treatment offerings
When needed, psychiatric consultation and follow-up
Medication therapy if needed
Psychotherapy, better known as "talk therapy," in group and individual settings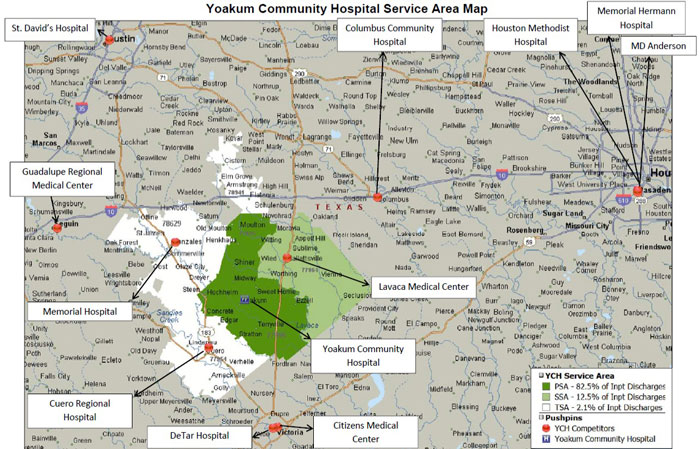 Results
Decreased admission/readmission rates, improved blood pressure and glucose control, weight loss and other physical outcome measures in addition to improved quality of life measures.
Informal qualitative assessments demonstrate that stigma around treatment for behavioral health conditions in the Yoakum community is very low.
Patient perspectives of the New Horizons program can be seen in this video:
Challenges
Transition process from a vendor's inpatient model to a re-tooled program focusing on outpatient care.
Finding the "right fit" between contracted specialty psychiatry services and community need.
Implementing universal use of depression screens in the outpatient medical community.
Resource limitations that don't allow for formal data collection required for academic publication of the program's success.
Replication
Expect a low initial referral rate to improve after hospital staff see the long-term impact of formal treatment for identified coexisting behavioral health conditions; for example, shorter acute admissions and fewer readmissions.
Expect low initial referral rates by primary care providers until treatment results prove the program's worth by outcomes seen with providers' most challenging patients. Similar to the results seen with hospital staff, providers became supporters of the program when they saw evidence of improved physical health due to behavioral health treatment along with fewer outpatient and inpatient visits.
Recognize that though inpatient treatment is a necessary offering, outpatient care is the setting which brings most sustained improvement for behavioral health conditions.
Recognize a staffing priority for an outpatient LCSW which will further assist in a "grow-your-own" strategy. Because 3,000 LCSW-supervised clinical hours are required for a Licensed Master Social Worker to become an LCSW, a LCSW can help train additional staff.
Administrators and clinicians suggest that an important aspect of their program is the potential for successful replication. They see the program as adaptable by other rural communities with similar resource limitations who serve an ever-growing geriatric population whose behavioral health conditions impact their physical chronic conditions.
Contact Information
Jennifer Franklin, R.N., Chief Clinical Officer
Yoakum Community Hospital, Yoakum, Texas
361.772.1012
jfranklin@yoakumhospital.org
Topics
Access
Aging and aging-related services
Behavioral health
Depression
Mental health
Sustainability of programs
Trauma-informed care

States served
Texas
Date added
February 11, 2019
Date updated or reviewed
June 20, 2022
Suggested citation: Rural Health Information Hub, 2022. New Horizons Geriatric Counseling Program [online]. Rural Health Information Hub. Available at: https://www.ruralhealthinfo.org/project-examples/1049 [Accessed 11 December 2023]
Please contact the models and innovations contact directly for the most complete and current information about this program. Summaries of models and innovations are provided by RHIhub for your convenience. The programs described are not endorsed by RHIhub or by the Federal Office of Rural Health Policy. Each rural community should consider whether a particular project or approach is a good match for their community's needs and capacity. While it is sometimes possible to adapt program components to match your resources, keep in mind that changes to the program design may impact results.