Garrett County Regional Cancer Patient Navigator Program
Summary
Need: Comprehensive cancer services for residents of an 8-county, 3-state area in Appalachia.
Intervention: Using a Cancer Patient Navigation Tool Kit, a Maryland acute care facility led a multidisciplinary collaboration that provided the area's patients with expanded cancer treatment services.
Results: In addition to several new cancer-related programs, expanded services are now available for cancer patients, families, and cancer survivors.
Description
Garrett Regional Medical Center (GRMC) is a 55-bed acute care health facility in western Maryland's Garrett County.

Its service area includes 8 counties within the Appalachian regions of Maryland, Pennsylvania, and West Virginia, an area where cancer is the second leading cause of death. Of particular significance, the area's death rates from colorectal and breast cancers are around 25% higher than U.S. averages. Consortium leaders acknowledged these statistics were likely related to the area's healthcare access and transportation barriers — especially when paired with the area's poverty levels and number of underinsured, elderly, and disabled residents.
To address these problems, GRMC collaborated with Garrett County's Health Department and Community Action Committee, West Virginia University Medicine, and the local American Cancer Society chapter in a comprehensive effort to expand care for the area's cancer patients and their families.
Key to the consortium's effort was implementing a promising practice model from the Kansas Cancer Partnership's Cancer Patient Navigation Tool Kit. This tool kit — no longer publicly available as of November 2021 — provided the operational framework for 2 nurse navigators to assist patients with aspects of cancer care ranging from insurance coverage needs to nutrition assistance to providing disease-specific education and emotional support.
Due to transportation barriers, many patients in the area were going without needed daily radiation treatment. To bridge this access gap, GRMC staff and nurse navigators advocated for a designated vehicle to make the 2-hour round trip to the tertiary center's radiation treatment department.
The navigators also advocated for several additional programs: the Palliative Care Program to assist patients in making choices for their medical care when facing advanced disease and a Survivorship Program. The latter program offers a wide variety of services to cancer survivors, including promotion of healthy lifestyle choices and assistance with post-treatment surveillance for cancer recurrence.
Because cancer preventive efforts are recognized as an important part of any cancer program, nurse navigators worked in partnership with the county's health department to develop broader-reaching cancer screening programs.
Funding for this project came from the Federal Office of Rural Health Policy's 2015-2018 Rural Health Care Services Outreach Program.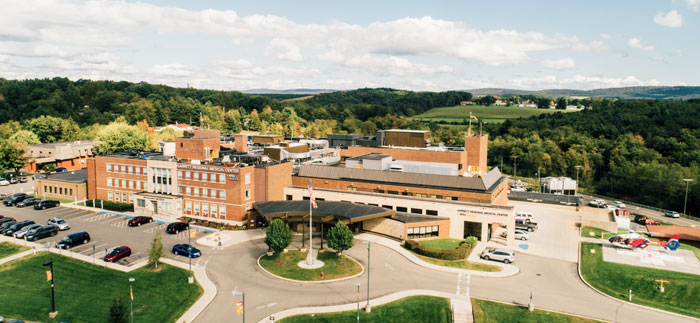 Services offered
Direct patient/family assistance to create understanding of:
Cancer treatment impact on both patients themselves and their family members
Insurance options
Cancer-related nutritional needs
Additional services:
Assistance with making multiple appointments with medical specialists involved in patients' cancer treatment plans
Disease-specific and cancer treatment-related education
Social support
Connecting patients with services addressing: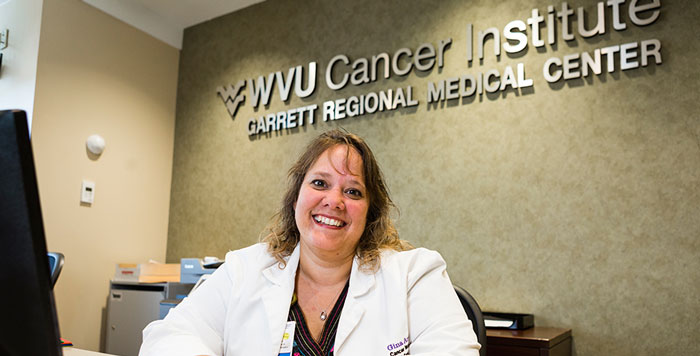 Results
During the 3-year grant cycle, 450 patients and their families were provided with services.
Creation of several additional cancer-centric programs:
Palliative Care Program
Survivorship Program
Development of a transportation system allowing patients access to radiation treatment

From January 2017 through April 2018, the van traveled 30,000 miles
Additional results included an increased number of colorectal cancer screenings by offering testing other than colonoscopy.
GRMC is now translating the success of the cancer-specific navigator program to 2 additional areas: the Well Patient Program designed for patients with multiple chronic conditions and a navigator program linked to the emergency room.
Due to the program's success, the navigator program has not only continued, but during 2019, drew the interest of a local public health school. West Virginia University School of Public Health now has a Patient Navigation as an area of emphasis. The GRMC program serves the school in the capacity of providing expert presenters, clinical shadowing experiences, as well as accepting interns.
Replication
Communities wanting to expand cancer care services should note that nurse navigators can be central to the effort.
For addressing patient needs associated with complex chronic conditions or healthcare utilization, other nurse navigator programs may provide the key personnel to process improvement.
Contact Information
Kimi-Scott McGreevy, Assistant Vice President, Marketing & Development
Garrett Regional Medical Center
301.533.4356
kmcgreevy@gcmh.com
Topics
Access
Appalachia
Cancer
Health disparities
Health screening
Healthcare networks
Hospice and palliative care
Networking and collaboration
Nurses
Outpatient care
Transportation

States served
National/Multi-State, Maryland, Pennsylvania, West Virginia
Date added
March 26, 2019
Date updated or reviewed
March 12, 2020
Suggested citation: Rural Health Information Hub, 2020. Garrett County Regional Cancer Patient Navigator Program [online]. Rural Health Information Hub. Available at: https://www.ruralhealthinfo.org/project-examples/1052 [Accessed 29 May 2023]
Please contact the models and innovations contact directly for the most complete and current information about this program. Summaries of models and innovations are provided by RHIhub for your convenience. The programs described are not endorsed by RHIhub or by the Federal Office of Rural Health Policy. Each rural community should consider whether a particular project or approach is a good match for their community's needs and capacity. While it is sometimes possible to adapt program components to match your resources, keep in mind that changes to the program design may impact results.