The Rural Virtual Infusion Program
Summary
Need: Allow rural cancer patients in a region inclusive of 26 counties in Iowa, Minnesota, and South Dakota to have access to tertiary-level chemotherapy regimens in rural infusion centers.
Intervention: With telehealth-based oversight from a tertiary care oncology team, 3 rural infusion teams were trained to coordinate cancer treatment plans and administer complex chemotherapy regimens.
Results: Almost 130 patients were transitioned to receive chemotherapy in a rural infusion center, translating to over 1,000 infusion visits and saving patients/families nearly 65,000 trip miles, 1,800 travel hours and $71,000.
Description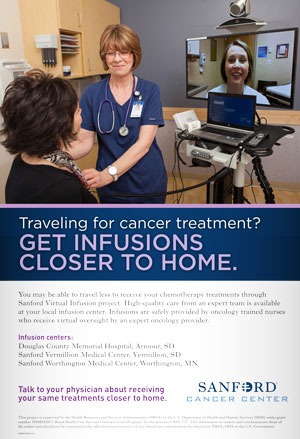 For hematologists, oncologists, and oncology-trained advanced practice professionals in tertiary care centers, the delivery of complex modern cancer chemotherapy regimens is routine. Prior to patients receiving infusion treatments, these practitioners provide a thorough review that includes an evaluation of recent laboratory and radiology results and a assessment of a patient's current physical condition. For patients in clinical cancer treatment trials, stringent guidelines often specify direct oversight by these specialty providers. In addition, specialty supervision is often needed when a patient's cancer requires a treatment regimen using medications with significant side-effect potential. Though routine in tertiary centers, these advanced treatments are outside the expertise of rural primary care physicians. If rural patients require these specific regimens but have transportation and other socioeconomic barriers, they may be unable to access cutting-edge cancer interventions. Sanford Vermillion Medical Center, Vermillion, South Dakota, led the Rural Virtual Infusion Project to overcome barriers to modern cancer care by using telehealth tools.
Along with the Vermillion team, 2 additional rural partners were involved with the project: Douglas County Memorial Hospital, Armour, South Dakota, with outreach into Iowa and Sanford Worthington Medical Center, Worthington, Minnesota, with a population of nearly 35% non-White, non-English speaking residents. The rural teams also included infusion nurses and pharmacists. Hematologists and oncologists with Sanford Hematology and Oncology, Sioux Falls, South Dakota, joined as the tertiary care partners, along with their oncology-certified nurse practitioners, oncology-certified registered nurses, and pharmacists. Sanford's Sioux Falls-based health information technology specialists were also project team members. During early planning, the project partners found literature looking at specifics of telehealth oncology office visits, but few published models mirrored their anticipated infusion treatments. This discovery became an opportunity to invite the tertiary center's research team to contribute to the project.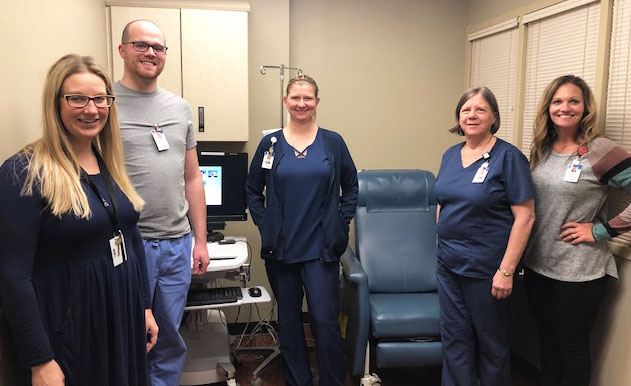 Specialty oversight for rural areas was the prime objective of the project. A solution emerged based on the existing infusion center model in the tertiary care center where a Certified Nurse Practitioner (CNP) was physically present to oversee the 24-chair/4-bed center. In that setting, the CNP reviews laboratories and treatment plans for the day's scheduled patients and is immediately available for any patient concerns, nursing concerns, medication side effect problems or infusion reactions. If needed, the CNP also has ready access to on-site hematologists and oncologists. At the conclusion of project planning, the final care model used telehealth to virtually integrate the rural infusion sites into tertiary infusion center's workflow.
Basic telehealth equipment and communication strategies were used, including a designated telephone, an electronic health record (EHR) allowing two-way communication and order placement, and videoconferencing when needed. Workflow planning focused on the standard oncology 3-step verification process: provider treatment plan review and sign-off; nurse assessment of patient readiness, treatment plan and order review, followed by the release of the chemotherapy order to the pharmacy; and pharmacist order review with drug order verification and final release of the medication to the infusion nurse.
Multiple levels of security and approval were required to make special EHR software modifications so interoperability allowed virtual communication between tertiary and rural teams. The tertiary team members were credentialed for telehealth privileges in the rural healthcare organizations. Rural infusion staff participated in rigorous clinical training sessions to gain needed certification for partnership with the tertiary team. Research team members presented available clinical trial information.
This project received support from the Federal Office of Rural Health Policy's (FORHP) 2015-2018 Rural Health Care Services Outreach Grant Program.
Services offered
For patients/families: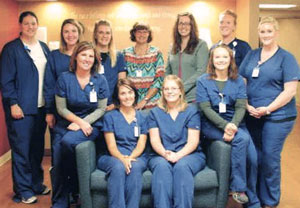 Expanded local chemotherapy cancer treatment options, including engagement in clinical trials if eligible.
For rural infusion staff:
Tertiary care center staff provided timely communication and the needed specialty oversight to allow their rural partners to deliver advanced cancer treatment regimens.
Results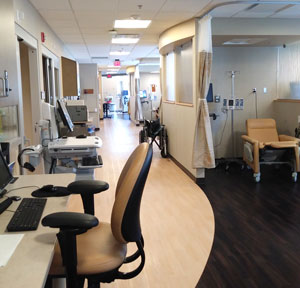 As a result of the tertiary center's oncology CNP providing direct oversight for rural infusion center patients, from a baseline of 6 patients, 127 patients were transitioned to receive local care — translating into over 1,000 infusion visits and saving patients/families nearly 65,000 trip miles, 1,800 travel hours, and an estimated $71,000.

Additionally, local infusion care prevented treatment lapse that might occur due to weather-related travel barriers.

Patients had the opportunity to not only receive tertiary-level oncology care in their local communities, but they could participate in clinical trials if eligible, an opportunity that often affords improved quality of life during and after treatment and potentially contributes to expanding cancer knowledge and future cancer treatment, according to the National Cancer Institute.
Rural site lessons learned during this project led to:

Increased EHR interoperability allowed for the needed timely communication between the tertiary and rural sites.
Improved rural infusion site workflow efficiency.
Consideration by the rural sites to engage in other partnerships to provide oversight for colorectal and pancreatic cancer patients receiving continuous 24/7 chemotherapy treatment through portable infusion pumps.

Lessons learned by hematology/oncology specialists:

Increased familiarity with care delivery using telehealth infrastructure led to an increased comfort with transitioning patient care to a rural infusion center.
Increased cancer trial referrals for rural patients.
Increased comfort with telehealth in general which likely drove the 170 percent change in specialists' telemedicine visits documented from year to year during the grant cycle. Specifically, in the 2nd grant cycle year, 38 to 102 visits and in the 3rd grant year, 102 to 277.

Safety-oriented workflows proved effective when 4 medication variances did not reach patients.
No sentinel events occurred during the grant cycle.
No infusion-related hospitalizations.
High satisfaction survey results for all groups: patients, physicians, CNPs, and infusion center staff.
The project team has presented at the following conferences:
Regional:
2017 Sanford Nursing Research and Evidence Based Conference poster presentation, Sioux Falls, South Dakota.
2018 South Dakota State University Telehealth Symposium, Sioux Falls, South Dakota.
2018 Sanford Performance Improvement Symposium: "Shaping the Future" poster presentation, Sioux Falls, South Dakota.
2018 Sanford Cancer Symposium, Sioux Falls, South Dakota.
National:
Journal of the Advanced Practitioner in Oncology's (JADPRO) live poster presentation at the 2017 Advanced Practitioner Society for Hematology and Oncology (APSHO), Houston, Texas.
2018 National Oncology Conference Invited Speaker, sponsored by Association of Community Cancer Centers (ACCC), Phoenix, Arizona.
International:
August 2019: 4th Nursing World Conference, London, England. Accepted abstract presentation.
The team was also nominated for the 2018 ACCC Innovator Award.
For more about this project:
Halbritter, S., Kaiser, J., Olson, R., Mcguire, J., Dufek, P., Cranston, J., et al.. 2019. Virtual Infusion Services: Bringing cancer therapies closer to rural patients. ACCC Immuno-Oncology Institute. September-October. 24-31.

Challenges
Though CNP coverage will continue for the initial rural sites requesting the service, physician-level services will need a reimbursement model to continue, with a current consideration being given to a volume-based subscription fee.
At each rural site, administration/management teams will need to balance gains through virtual infusion services against the cost and requirements of the service.
Low patient volume at one site.
Replication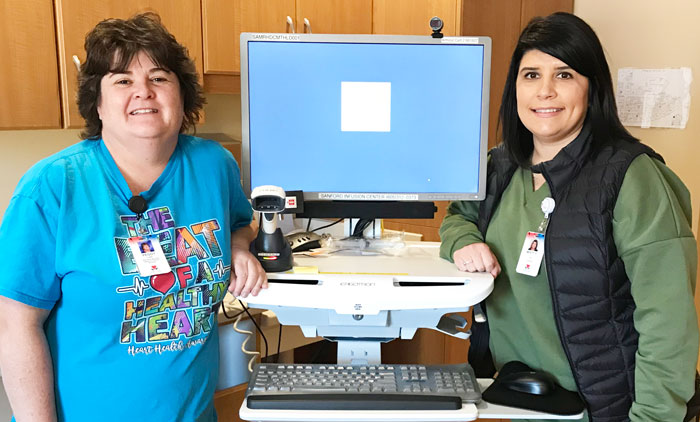 Success for a project associated with high-risk medications requires an interdisciplinary core team to focus on universal adoption of the tertiary center's mandatory infusion policies and procedures in order to keep the tertiary center's program accreditation and certification.
Universal adoption of standardized work flows.
Need for an EHR with adequate interoperability to meet project needs.
Quality telehealth equipment purchases need to be made with endorsement of both tertiary and rural sites.
Development of a Community Awareness Campaign prior to implementation that includes direct mailings, radio spots, Facebook presence, and other social media and community outreach activities.
Be prepared that word-of-mouth promotion of the program's success may prompt service requests from other rural community areas surrounding the tertiary care center.
Topics
Access
Cancer
Limited English proficient
Outpatient care
Pharmacy and prescription drugs
Specialty care
Telehealth

States served
Iowa, Minnesota, South Dakota
Date added
April 10, 2019
Date updated or reviewed
April 16, 2020
Suggested citation: Rural Health Information Hub, 2020. The Rural Virtual Infusion Program [online]. Rural Health Information Hub. Available at: https://www.ruralhealthinfo.org/project-examples/1055 [Accessed 29 September 2023]
Please contact the models and innovations contact directly for the most complete and current information about this program. Summaries of models and innovations are provided by RHIhub for your convenience. The programs described are not endorsed by RHIhub or by the Federal Office of Rural Health Policy. Each rural community should consider whether a particular project or approach is a good match for their community's needs and capacity. While it is sometimes possible to adapt program components to match your resources, keep in mind that changes to the program design may impact results.