Seneca Strong's Certified Recovery Peer Advocates
Summary
Need: Like many Native American populations, the Seneca Nation of Indians has experienced disproportionate rates of opioid, alcohol, and substance misuse.
Intervention: The Seneca Nation Government and Executives founded Seneca Strong, a cultural recovery peer advocate program, to try to reduce substance misuse across the Nation.
Results: Since the start of the program, 300 people have received help from recovery peer advocates. Seneca Strong has since extended to meet the needs of Allegany and Cattaraugus territories.
Description
The Allegany and Cattaraugus territories in Western New York are home to roughly 50% of the 8,000 tribal members of the Seneca Nation of Indians. Like many Native American populations, Seneca people have experienced disproportionate rates of opioid, alcohol, and substance misuse. Researchers have linked these behavioral health problems to historical and intergenerational trauma experienced by Native populations. Collectively, the Seneca Nation decided to prioritize prevention, intervention, and treatment of substance misuse across both territories.
In 2014, Seneca Strong was founded by the Seneca Nation's Council and Executives to address the gap in opioid treatment and increase prevention and awareness efforts. The program enables Certified Recovery Peer Advocates (CRPAs) to guide fellow community members who have substance or opioid dependency disorder through recovery. Seneca Strong uses innovative and strengths-based intervention approaches that support both individuals and families. The program has adapted an established model that is sensitive to the cultural, social, psychological, and inter-generational traumas their community experiences.

The CRPA program operates within the Behavioral Health Unit of the Seneca Nation Health System (SNHS). Healthcare providers within SNHS refer patients with a substance or opioid use disorder to one of 9 Certified Recovery Peer Advocates (CRPAs) employed by the Health System. These advocates have also struggled with substance dependency and are currently in recovery. By walking the client through a sequential program, the advocates' experiences often resonate with their clients and provide a positive example of overcoming dependency. Additionally, Seneca Strong coordinates with 6 substance use counselors employed by SNHS who are Credentialed Alcoholism and Substance Abuse Counselors (CASAC) or are Licensed Social Workers (LSWs).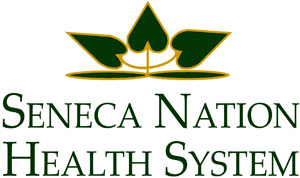 The majority of referrals coming to the SNHS Behavioral Health Unit are from law enforcement, court systems (for instance, peacemakers court, drug courts, local/county courts, family court), as well as other New York hospitals and social service agencies. Meaningful partnerships, described below, have also formed as a result of this program.
By working with the court system and the Cattaraugus County Probation Department, Seneca Strong accepts individuals who are on probation or who may have legal concerns. A probation officer collaborates with the client's CRPA to better serve the individual.
Seneca Strong has partnered with Seneca Nation's Peacemaker's Court in the implementation of the Comprehensive Opioid Abuse Program (COAP) grant administered by the Bureau of Justice Assistance. Seneca Nation is one of the first tribal organizations to be awarded this grant. A social worker from the SNHS's Behavioral Health Unit is also working with this program to grow and start more services.
Seneca employers who have a "no tolerance" policy for substance use often refer employees who tested positive for or are caught with drugs to Seneca Strong.
The program is funded through the Seneca Nation Tribal Council's general fund, with additional support from the Robert Wood Johnson Foundation.
Services offered
Seneca Strong emphasizes the following aspects that help Seneca people build resiliency:
Holistic healing and forgiveness over punitive action
Incorporating prevention and sobriety programming into traditional practices
Building relationships with law enforcement to help direct Seneca members struggling with drugs and alcohol into recovery services, rather than jails
The program provides team-based care catered to each client in the following ways:
Outreach & Engagement
Identifies and addresses trauma and addiction
Gathers information from each referral source to better understand the client's background
In collaboration with partner programs, Seneca Strong offers parenting classes, job readiness training, wellness seminars, and substance misuse prevention workshops
Connects the client to health and social services, including:

Treatment
Recovery services
Sober housing
Social networks
Advocacy groups
Education
Employment
Healthcare Services
Keeps communication lines open with SNHS's medical, behavioral health, and other services so that clients can receive assistance as needed
Offers Medication-Assisted Treatment (MAT) and VIVITROL injections to treat opioid dependency
Connects clients to follow-up treatment when they are ready to be released from the in-patient program
Recovery Services
Peer mentoring and coaching

Creates goals with client and assists with achieving them

Assists clients in finding apartments, transportation, child care, and employment
Offers cultural programming such as sweat lodges and talking circles
Facilitates, transports and/or attends the following recovery services with clients:

12-step wellbriety or sobriety groups, Narcotics Anonymous (NA), and Alcoholics Anonymous (AA)
Monthly sobriety dinner for program participants
A drop-in recreation center at both Cattaraugus and Allegany SNHS sites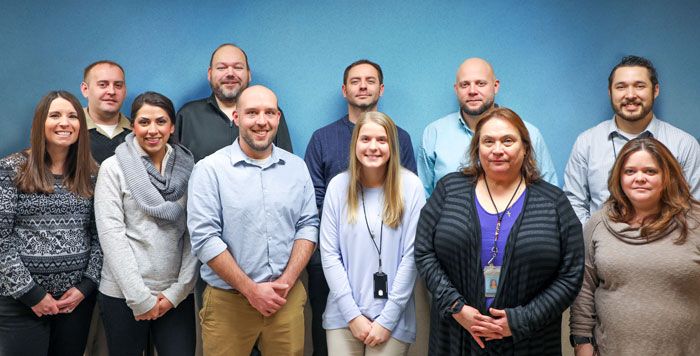 New York State Office of Alcoholism and Substance Abuse Services (OASAS) requires the following in order for peer advocates to become certified:
A high school diploma or GED
25 hours of supervision by a qualified supervisory staff
46 hours of training in advocacy, mentoring and education, recovery and wellness, and ethical responsibilities
500 hours of related volunteer or work experience
Passing of the International Certification and Reciprocity Consortium (IC&RC) exam
Many CRPAs also acquire additional skills and certifications by participating in Applied Suicide Intervention Skills Training (ASIST) and White Bison trainings including Wellbriety, a cultural-based healing for Indigenous people.
Results
Since the start of the program, more than 300 people have received help from recovery peer advocates
An average of 72 individuals per month participate in the services offered at SNHS Cattaraugus Territory and Allegany Territory Seneca Strong offices
An average of 10 participants attend each sobriety dinner
The Seneca Nation of Indians was one of several communities who won the 2017 Robert Wood Johnson Foundation Culture of Health Prize for their leadership in health and wellness.
Challenges
In February of 2018, New York State regulations were amended to qualify services offered by providers and tribal substance abuse treatment facilities for reimbursement from insurance companies. Prior to these changes, the only programs that could seek reimbursement from Medicaid in New York for substance use services were those licensed by OASAS. With this amended regulation, tribal sovereignty is protected and the Seneca Nation is not subject to be licensed by New York State OASAS.
It was difficult for clients to travel to treatment and recovery groups, so the program created a transportation service to make it easier for clients to access services.
Finding Seneca peers in stable recovery is difficult. Because some peer advocates occasionally experienced relapses, SNHS establishes safeguards to ensure they are set up to succeed. Supervisors support peer advocates by regularly checking in with them and granting permission to take time off to participate in their own recovery needs.
Because peer advocates have had close interaction with some clients in the past, maintaining professional boundaries while on-call continues to be a challenge. Trainings and professional development opportunities are provided to help equip peer advocates with the skills they need to succeed in these roles and better serve clients.
As a new and developing program, it was challenging to meet the demands and needs of community members who were trying to access services. Program coordinators found that the merge between Seneca Strong and SNHS's Behavioral Health Unit allowed for much more efficient and effective communication, reducing barriers to assist individuals in need.
Replication
Accessing the Certified Recovery Peer Advocates training depends on the resources available and the training needs of the individuals. Consider removing aspects from the training that are not necessary and adding others where experience or knowledge is limited.
It is always better to train a care team together so they may find mutual support when collectively helping clients toward recovery.
If operating in a tribal community, a variety of tribal services are reimbursable. Consider offering these services as a part of your CRPA program.
Tools used in peer recovery specialist training:
Topics
American Indian or Alaska Native
Behavioral health
Behavioral health workforce
Criminal justice system
Culture and cultural competency
Employment and unemployment
Substance use and misuse

States served
New York
Date added
June 26, 2019
Suggested citation: Rural Health Information Hub, 2019. Seneca Strong's Certified Recovery Peer Advocates [online]. Rural Health Information Hub. Available at: https://www.ruralhealthinfo.org/project-examples/1062 [Accessed 27 November 2021]
Please contact the models and innovations contact directly for the most complete and current information about this program. Summaries of models and innovations are provided by RHIhub for your convenience. The programs described are not endorsed by RHIhub or by the Federal Office of Rural Health Policy. Each rural community should consider whether a particular project or approach is a good match for their community's needs and capacity. While it is sometimes possible to adapt program components to match your resources, keep in mind that changes to the program design may impact results.