CAPABLE (Community Aging in Place—Advancing Better Living for Elders)
Summary
Need: To help older adults age in place.
Intervention: For five months, CAPABLE participants receive home visits from a registered nurse, occupational therapist, and home repair services.
Results: The CAPABLE site in rural Bath, Maine, has helped 15 clients so far, one of whom went from 15 falls and one hospitalization in the 6 months prior to starting the program to one fall and no hospitalizations. The site in Hawaii has served three clients in the last year and has reconnected clients with their families and communities.
Description
National Model
CAPABLE (Community Aging in Place—Advancing Better Living for Elders) is a five-month home visit program that helps low-income seniors age in place.
This program was developed by the Johns Hopkins School of Nursing. There are currently 28 CAPABLE sites across the country, three of which are in rural communities. The rural sites are in Bath and Fort Fairfield, Maine; the island of Lanai, Hawaii; and Alexandria, Minnesota. A rural site in Texas is in the planning stage.
Bath, Maine, Site
The CAPABLE site in Bath, ME, partners with Bath Housing, an affordable housing organization that offers home repairs to serve coastal Maine. This site received funding from the Davis Foundations grant and the local hospital to serve up to 20 clients.
Hawaii Site
Kūpuna Aging in Place with Assistance (KAPA) is a program modeled after CAPABLE that serves the rural islands of Lāna'i and Moloka'i. This program is funded through the Native Hawaiian Health Care Improvement Act.
The board-certified holistic nurse practitioner speaks Hawaiian and incorporates plant medicine and traditional Hawaiian healing into her work with KAPA. KAPA also partners with Maui County's Office on Aging; integrates care led by a licensed Naturopathic Doctor (ND); and works with social workers, behavioral health providers, a registered dietician, and a licensed occupational therapist.
Services offered
National Model Services
For five months, each CAPABLE participant works with:
A registered nurse (RN), who visits 3-4 times
An occupational therapist (OT), who visits 4-6 times
Home repair services, which has a budget of $1,300 to make repairs and install safety features
These visits are client-driven. Instead of the CAPABLE staff deciding what the client needs to do, they use motivational interviewing to help participants set their own goals. For example, if the participant wants to bathe safely, the RN might partner with the client to identify issues that affect balance, like overmedication; the OT could teach strengthening exercises and ways to enter/exit the tub safely; and home repair technicians could install safety features like handrails and nonslip treads.
Results
National Model Results
The national CAPABLE model reports a return on investment of over 6 to 1, with over $20,000 in medical costs saved for every $3,000 invested in the program. Participants nationwide have shown reduced symptoms of depression and improved functionality. There are publications about CAPABLE, but there have not been any rural-focused studies published.
Bath, Maine, Results
The Bath, ME, site has had 15 CAPABLE participants since program launch in April 2018. Examples of work that this site has completed:
Helping a client exercise so they could leave the house more often
Helping a client make doctor's appointments and find transportation
Repairing rotten boards in a wheelchair ramp
Repairing a drafty front door that wouldn't stay shut
Buying a stool so a client could sit at the stovetop while cooking
Buying a microwave so a client didn't have to use the stovetop
Modifying the house so that a client with a scooter or wheelchair could move more easily
Helping someone with incontinence training so they didn't have to urinate as frequently
Replacing a shower's glass doors with a curtain and installing grab bars and a tub transfer bench
Buying furniture like a CD rack to keep items off the floor
Installing motion-sensing lights in the laundry room
Installing grab bars in the laundry room
One client went from 15 falls, one hospital admission, and one emergency department admission in the six months prior to CAPABLE to one fall and no admissions since starting the program.
Hawaii Results
KAPA has served three clients in the last year. One client wanted to be able to walk around her yard and more safely get in and out of cars, so the staff bought her a new walker and helped her with car transfers. Thanks to the OT's individualized wraparound services, elders are able to reunite and reconnect with their families and communities.
Since clients benefit from the companionship that comes from these home visits, KAPA staff are also considering partnering with schools so that students can volunteer and earn credits by visiting clients who have graduated from the program.
Challenges
Bath, Maine, Barriers
Program coordinators have identified the following challenges:
Raising awareness of the program
Addressing skepticism: The program is free to participants, but community members might not understand how these home visits and repairs are free.
Working with other organizations that offer similar services and are more established in the community: Talk with these organizations to see how your work can support and supplement theirs.
Hawaii Barriers
The KAPA service area does not have regular public transportation, and many supplies have to be ordered and shipped in. In addition, two staff members do not live in the service area; the nurse practitioner is flown in on the weekends to meet with clients, and the occupational therapist takes a ferry. During the pandemic, no providers travel to Lanai in order to prevent possibly spreading COVID-19. Instead, nutrition, behavioral health, and naturopathic medicine are provided via telehealth.
Program coordinators are working on establishing a network of licensed plumbers, electricians, carpenters, and other tradespeople so that at least one person is available for home repairs. However, it is difficult to find licensed tradespeople on the island. In addition, many KAPA clients don't own their homes, so staff are limited on the types of repairs they can make. Securing funding for KAPA programming and services continues to be a challenge.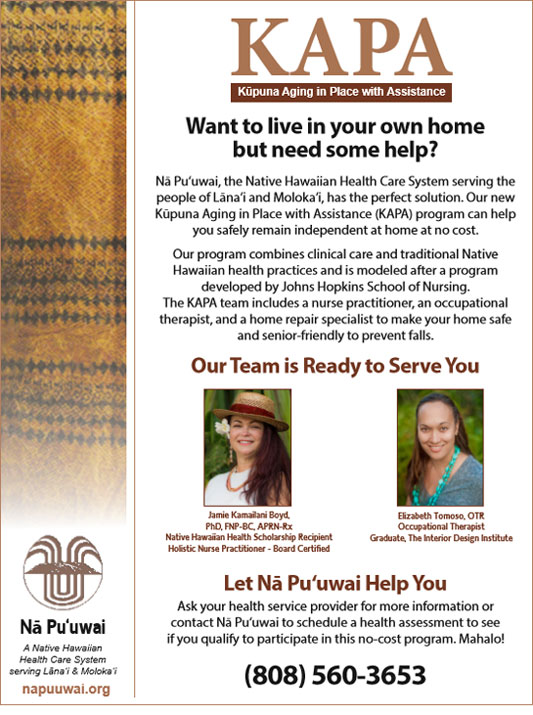 Replication
National Model Replication
While aspects like the OT and RN are needed to count as a CAPABLE program, national model coordinators can work with rural sites to help them adapt the program to fit their community and clients. For example, the Bath, ME, site used a different grading scale, the Patient-Specific Functional Scale, to help clients rate their goals throughout the five months of the program. In addition, this site also offers safety checks like testing or replacing smoke alarms.
The RN and OT each complete five 60-minute online learning modules, up to 8 hours of live online training, and five webinars or coaching calls. The CAPABLE FAQs section has more information about training, costs, and program support. It costs about $6,000 to train one RN and one OT, and this license is good for three years.
Bath, Maine, Replication
Before launching the program, figure out logistics such as who will coordinate or facilitate home visit scheduling and staff training. Coordinators said it took about four or five meetings before program launch to figure out these details.
Program coordinators recommend reaching out to and partnering with healthcare providers and community-based organizations so they can refer potential contacts to you and you can fill in gaps to their services.
Program coordinators also say that their target population responds better to marketing that's more informational than "sales-y." In addition, coordinators remind this population that while it's a national model, this local site is run by local people.
For more information about CAPABLE in Bath, ME, contact:
Eric Gosselin, Director of Operations
CHANS Home Health & Hospice
207.721.1298
egosselin@midcoasthealth.com
Hawaii Replication
Before program launch, think through what challenges you'll face and find community partners. Secure funding and establish strong partnerships.
To recruit clients, program coordinators send direct mailers to older adults, take information packets to physicians' offices, and complete newspaper releases and radio spots. KAPA currently receives most of its referrals from the public health nursing staff at the Hawaii State Department of Health.
For more information about KAPA in Hawaii, contact:
Kamahanahokulani Farrar, Executive Director
Nā Pu'uwai
898.560.3653
KamahanahokulaniFarrar@napuuwai.org
Contact Information
Sarah Szanton, PhD, ANP, FAAN, Professor
Johns Hopkins School of Nursing
CAPABLE
sszanto1@jhu.edu
Topics
Aging and aging-related services
Elderly population
Home and community-based services
Native Hawaiian or Pacific Islander
Nurses
Occupational therapy

States served
Hawaii, Maine, Minnesota
Date added
July 11, 2019
Date updated or reviewed
July 8, 2020
Suggested citation: Rural Health Information Hub, 2020. CAPABLE (Community Aging in Place—Advancing Better Living for Elders) [online]. Rural Health Information Hub. Available at: https://www.ruralhealthinfo.org/project-examples/1064 [Accessed 15 May 2021]
Please contact the models and innovations contact directly for the most complete and current information about this program. Summaries of models and innovations are provided by RHIhub for your convenience. The programs described are not endorsed by RHIhub or by the Federal Office of Rural Health Policy. Each rural community should consider whether a particular project or approach is a good match for their community's needs and capacity. While it is sometimes possible to adapt program components to match your resources, keep in mind that changes to the program design may impact results.