Tobacco Use Prevention and Control (TUPAC) Program
Summary
Need: To foster relationships with indigenous people in New Mexico to determine culturally appropriate practices in reducing nicotine addiction.
Intervention: TUPAC provides outreach, community programs, and cessation services.
Results: In fiscal year 2020, 1,938 QUIT NOW and DEJELO YA quit line enrollees stopped using tobacco, and over 4,520 tobacco users made progress on their path to quitting.
Description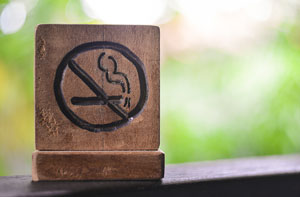 According to a 2019 New Mexico Department of Health report, about 31,000 indigenous adults and 4,600 youth in New Mexico smoke cigarettes. The Tobacco Use Prevention and Control (TUPAC) Program provides services and activities to schools, organizations, and communities to reduce non-ceremonial use of tobacco.
TUPAC has two funding sources: a CDC cooperative agreement and money from the 1998 Master Settlement Agreement.
Services offered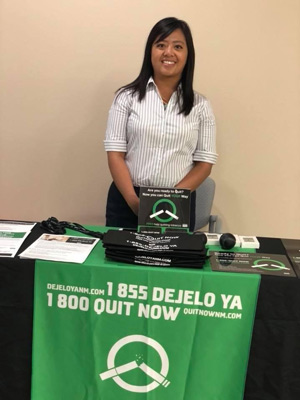 TUPAC activities include:
Cessation services
Community programs
Outreach and education
Initiatives addressing health disparities
Interactive trainings
School tobacco policies
TUPAC contracts with a consulting company to manage Smoke Free Signals, an education and technical assistance program that helps Tribal communities develop policies to prevent or reduce secondhand smoke. TUPAC also contracts with a behavior change marketing agency to support three youth advocacy groups, two of which are in rural communities.
TUPAC contracts with a wellness company to provide tobacco cessation services, including health professional training. The Health Systems Change Training and Outreach Program provides consultation, technical assistance, training, and outreach curriculum.
TUPAC's Program Director is working with the Tobacco Control Network as the Health Equity Engagement Officer and will expand on this specific reach both in New Mexico and nationally.
Results
Through TUPAC, the percentage of people who made an attempt to quit using tobacco went from 47% of current users in 2014 to 54% in 2018. In fiscal year 2020, 1,938 QUIT NOW and DEJELO YA quit line enrollees stopped using tobacco, and over 4,520 tobacco users made progress on their path to quitting (such as smoking fewer cigarettes each day).
With support and technical assistance from TUPAC, 49 of the 50 Navajo Nation Chapters (local governments) in the state passed smoke-free Tribal Resolutions.
To learn more about TUPAC's help in developing a culturally grounded Spanish-language media campaign for the DEJELO YA quit line:
Dilley, J.A., Otero, M., Padilla, J.L., Costello, H., Turietta, T., & Jácquez, B. (2020). DEJELO YA Media Campaign Connects Spanish-Speaking Communities to Effective Support for Quitting Tobacco. Health Promotion Practice, 21, 89S-97S. Article Abstract
Challenges
New Mexico is primarily a rural/frontier state, so providing services to its rural populations is always a consideration when planning and implementing tobacco control services statewide. Large distances between communities and limited services such as transportation to get to the services are continuing barriers that need to be addressed in these rural communities.
Replication
Building a partnership based on trust is key, since indigenous populations have historical trauma of being mistreated and oppressed by government agencies. TUPAC uses an anti-oppression framework to educate its staff on oppression and its effect on access to services.
Topics
American Indian or Alaska Native
Tobacco use

States served
New Mexico
Date added
October 8, 2019
Date updated or reviewed
October 7, 2021
Suggested citation: Rural Health Information Hub, 2021. Tobacco Use Prevention and Control (TUPAC) Program [online]. Rural Health Information Hub. Available at: https://www.ruralhealthinfo.org/project-examples/1069 [Accessed 5 October 2022]
Please contact the models and innovations contact directly for the most complete and current information about this program. Summaries of models and innovations are provided by RHIhub for your convenience. The programs described are not endorsed by RHIhub or by the Federal Office of Rural Health Policy. Each rural community should consider whether a particular project or approach is a good match for their community's needs and capacity. While it is sometimes possible to adapt program components to match your resources, keep in mind that changes to the program design may impact results.