Project ACTIVATE (Advancing Coordinated and Timely InterVentions, Awareness, Training, and Education)
Summary
Need: To improve students' access to behavioral health services in rural North Carolina.
Intervention: North Carolina Project ACTIVATE provides three tiers of behavioral health supports in the school setting.
Results: The three original pilot sites (Cohort 1) have created or revised 47 mental health policies, and 6,981 school-based and related workforce have received training in different topics and protocols.
Description
The North Carolina Department of Public Instruction and the North Carolina Department of Health and Human Services created Project ACTIVATE (Advancing Coordinated and Timely InterVentions, Awareness, Training, and Education) to reduce disciplinary events, dropout rates, suicide rates, and substance use.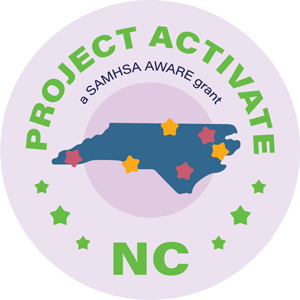 Project ACTIVATE promotes innovative service delivery based on the recommendations of the NC School Mental Health Initiative for behavioral health services, including continuum of services/supports (as opposed to only offering support after a crisis), strategies to foster sustainability, and engagement of all stakeholders.
Project ACTIVATE works to provide mental health services and improve existing services in the school setting. The six pilot sites are the following rural school districts:
Cohort 1

Beaufort County School District (rural)
Cleveland County Schools (rural)
Rockingham County Schools (rural)

Cohort 2

Jackson County Public Schools (rural)
Nash County Public Schools
Sampson County Schools (rural)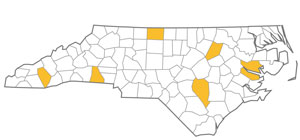 This project is funded by a SAMHSA Project AWARE State Education Agency Grant. North Carolina was one of 24 states/territories/tribal organizations selected for the 2018-2023 grant. North Carolina is currently running two concurrent grants, as it was also selected as one of 17 states/tribal organizations for the 2021-2026 grant. This funding allows each district to hire one full-time Project ACTIVATE Director and one full-time Professional Learning Coordinator/Evaluation and Data Manager.
Services offered
Project ACTIVATE focuses on promotion of mental wellness, prevention of mental health problems, and interventions to reduce the effects of a mental illness and restore mental health through:
Early identification and referral systems
Prevention and early intervention programs
Memorandums of Agreement (MOA) between school districts and local mental health agencies to provide school-based services
New policies and improved infrastructure to sustain the program after the grant period
Connections with existing state and local programs
Outreach and awareness campaigns to educate students and their families about mental health issues
For students, Project ACTIVATE includes the following tiers of services:
Tier 1 (Core), for all students:

Social-emotional learning curricula
Bullying prevention programs
Schoolwide mindfulness education
Mental health screening
Prevention and wellness promotion

Tier 2 (Supplemental), for students needing additional support:

Targeted social skill instruction
Group counseling and support groups
Coordinated referral process and progress monitoring

Tier 3 (Intensive), for students needing intensive mental health supports:

Individual social skill instruction
Crisis counseling
Wraparound services
Individual support teams and plans
Results
In the first three years of the grant, Project ACTIVATE sites have revised and/or created 47 school mental health policies in areas including crisis protocol, local suicide ideation response and assessment protocol, and therapeutic support and intervention classroom policies.
In addition, 6,981 school-based and related workforce have been trained in topics including a resilience workshop, Youth Mental Health First Aid, Question. Persuade. Refer., a suicide risk protocol, Say Something Anonymous Reporting, and crisis intervention.
Forty-two MOAs have been entered to provide on-campus/outpatient therapy to students referred by school counselors and behavioral liaisons and to provide day treatment programming.
In addition, 16,719 individuals have received training in prevention or mental health promotion related to adverse childhood experiences (ACEs), system of care principles, Resiliency Room protocol, Calming Corner protocol, and trauma-informed care.
Replication
The Project ACTIVATE staff is building an infrastructure that will sustain the project after the grant period has ended. Each pilot site has set up teams that include both grant-funded and non-grant-funded staff in order to help with cross-training as well as selection and implementation of the chosen evidence-based practices. By training and including non-grant-funded staff, NC Project ACTIVATE is ensuring that there will be staff in place to continue with training and delivery of the chosen practices and interventions after funding has ended.
Strategies to promote replication across the state include:
Utilize existing university-school partners to replicate sustainable practices
Create incentives for MOAs between schools, community providers, and payers
Build mental health and substance use awareness education into professional development competencies.
Other advice for program success:
Build district infrastructure and capacity to ensure that the supports, services, and alignment of school initiatives are taking place to support the behavioral health, substance use, and overall social-emotional learning for all students.
Establish strong relationships and leverage community partnerships before initiating implementation. These relationships will help carry the program forward and will lead to sustainability once funding has ended.
Take time with local MOAs. Since grant funds are limited in amount and time, the key to program sustainability and ensuring maximum impact is to develop strong and clear MOAs with local agencies and groups. Often, local agencies are looking for partners in this work and identifying these agencies and engaging them early will help with expansion and reaching the targeted audiences.
Embed the work within other state initiatives. North Carolina has embedded the ACTIVATE grant into the state Multi-Tiered System of Supports (MTSS) initiative, allowing for the continuation of evaluation.
Cleveland County Project ACTIVATE is featured on "This Week in Education" in a video entitled Finding Room for Mental Health in Rural Education. In addition, Cleveland County Project ACTIVATE is featured in the "Education Week" series in a video entitled Building Social-Emotional Resilience Among Students and Staff. This video highlights Cleveland County Schools' social-emotional learning and mental health framework and implementation of MTSS framework with social-emotional learning as core.
Project ACTIVATE staff worked with Shelby High School to integrate components of Teen Mental Health First Aid (tMHFA) into the Peer Group Connection (PGC) Mentoring Program, which provides training in how to recognize potential mental health concerns and refer individuals to trained staff members. In this 17-minute Google Drive video, Shelby High School students and staff members share their experiences with the PGC program.
Contact Information
Heidi E. Austin, EdD, MCHES®, CFLE, Project ACTIVATE Director
Exceptional Children Division, NC Department of Public Instruction
984.236.2563
Heidi.Austin@dpi.nc.gov
Topics
Behavioral health
Children and youth
Schools

States served
North Carolina
Date added
December 3, 2019
Date updated or reviewed
January 26, 2022
Suggested citation: Rural Health Information Hub, 2022. Project ACTIVATE (Advancing Coordinated and Timely InterVentions, Awareness, Training, and Education) [online]. Rural Health Information Hub. Available at: https://www.ruralhealthinfo.org/project-examples/1076 [Accessed 2 February 2023]
Please contact the models and innovations contact directly for the most complete and current information about this program. Summaries of models and innovations are provided by RHIhub for your convenience. The programs described are not endorsed by RHIhub or by the Federal Office of Rural Health Policy. Each rural community should consider whether a particular project or approach is a good match for their community's needs and capacity. While it is sometimes possible to adapt program components to match your resources, keep in mind that changes to the program design may impact results.