Camp Mariposa
Summary
Need: To help children whose family members are struggling with substance misuse.
Intervention: A year-round program provides mentoring as well as substance use prevention education.
Results: In 2021, Camp Mariposa served a total of 76 youth in its three rural locations in Kentucky, Tennessee, and West Virginia.
Description
The nonprofit organization Eluna created Camp Mariposa® to support children whose family members are struggling with substance misuse or are in recovery. Founded in 2007, Camp Mariposa is an award-winning addiction prevention and mentoring program with 18 locations across the U.S. The program offers weekend camps every other month throughout the year and helps children understand that addiction is a disease, meet other children going through a similar experience, and learn about coping skills and substance use prevention.
The free weekend camp sessions serve youth ages 9-12. Youth, their families, and trained adult mentors make a one-year commitment to the program. Program alumni (ages 13-17) can continue participating in the program as Junior Counselors and can attend teen-specific programs in some locations. In addition to the camp weekends, Camp Mariposa offers fun activities for families in the months in between camp weekends.
Of the 18 Camp Mariposa locations, three are in rural communities:
Irvine, Kentucky
Dandridge, Tennessee
Princeton, West Virginia
Services offered
Camp Mariposa is free for all participants. Campers have access to the following services and opportunities from trained volunteers and mental health professionals:
Coping skills
Creative arts activities
Mentorship
Mindfulness activities like deep breathing and yoga
Signs of Suicide, which screens campers for depression and suicidal thoughts and teaches them how to identify symptoms and harmful behaviors in themselves and others
Too Good for Drugs, an evidence-based substance use prevention curriculum
Traditional camp activities
Results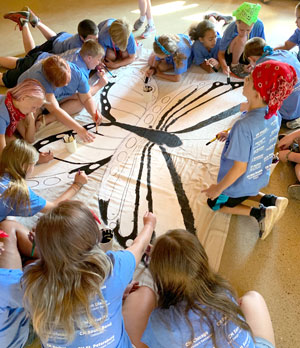 In 2021, Camp Mariposa served a total of 76 youth in Kentucky, Tennessee, and West Virginia. These youth participated as campers, Junior Counselors, and younger family members who attended family activities. In addition, there were 36 trained adult mentors and 17 adult family members who participated in the family activities. In 2022, Camp Mariposa plans to open a new location in rural Bloomfield, Indiana.
In a study of the Camp Mariposa locations in general, participants surveyed during camp weekends reported the following in 2021:
97% said there are adults they trust at Camp Mariposa
95% had not used any substance to get high
93% had not been involved in the juvenile justice system
92% have made friends through this program
88% said they can name two self-care strategies
87% said they have learned strategies at camp that they can use at home
Challenges
One of the most significant barriers in bringing Camp Mariposa to rural communities is overcoming the stigma around substance use disorders. Many attendees live with grandparents and it was critical to get the adults' buy-in so they would enroll their grandkids.
A second challenge was recruiting enough mentors. It is critical to engage schools, churches, and other youth service providers in order to staff the weekend camp sessions.
A third challenge in rural communities is transportation to program activities.
Replication
Eluna partners with youth-focused organizations to bring Camp Mariposa to communities across the country. The most successful Camp Mariposa locations have broad community support with multiple individuals and groups working together to raise funding and implement the program.
Anyone interested in bringing Camp Mariposa to their community can contact Eluna. Eluna staff can provide more information as well as ongoing support to assist with bringing Camp Mariposa to your community.
Topics
Children and youth
Substance use and misuse

States served
Kentucky, Tennessee, West Virginia
Date added
May 14, 2020
Date updated or reviewed
August 19, 2022
Suggested citation: Rural Health Information Hub, 2022. Camp Mariposa [online]. Rural Health Information Hub. Available at: https://www.ruralhealthinfo.org/project-examples/1085 [Accessed 23 March 2023]
Please contact the models and innovations contact directly for the most complete and current information about this program. Summaries of models and innovations are provided by RHIhub for your convenience. The programs described are not endorsed by RHIhub or by the Federal Office of Rural Health Policy. Each rural community should consider whether a particular project or approach is a good match for their community's needs and capacity. While it is sometimes possible to adapt program components to match your resources, keep in mind that changes to the program design may impact results.