Farm Dinner Theater
Summary
Need: To encourage farmers to make health and safety changes on their farms.
Intervention: Farm Dinner Theater is an event in which farmers and their families watch three 10-minute plays covering health and safety topics and then discuss solutions to the issues addressed in each.
Results: In a study, farmers who attended the plays were more likely to make changes and tell others what they learned, compared to farmers who received an educational packet with the same information.
Description
Farm Dinner Theater (FDT) is a program currently active in Kentucky, Nebraska, North Carolina, Tennessee, and Virginia that brings farmers together to discuss health and safety issues in a fun, relaxed environment. Participants attend three 10-minute scripted plays and then hold a group discussion after each performance.
Play topics are tailored to the community but can include:
Animal handling
Falls prevention
Farm stress
Fatigue prevention
Hearing conservation
Skin cancer prevention
Tractor and road safety
Any other farm health/safety topic applicable to a geographic region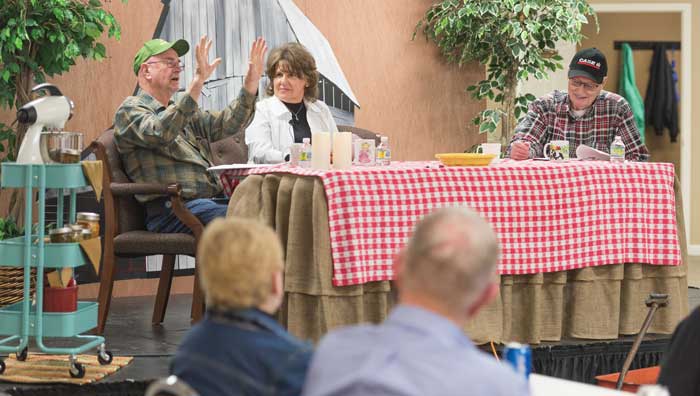 FDT was funded by a NIOSH Occupational Safety and Health Research grant and a Rita and Alex Hillman Foundation award.
Services offered
Farmers attend a dinner theater with three 10-minute scripted plays about farm health and safety issues. A group discussion follows each play, in which the audience discusses solutions to the challenges portrayed in the play. For example, one attendee said he was having trouble preventing his father (who had Alzheimer's) from driving the tractor. Another attendee with the same issue said he just moved the tractor out of sight from the house, and his relative no longer tried to drive it.
To make sure the plays are relevant to a particular region's farmers, a Cooperative Extension agent recruits local farmers to be part of a planning group. This group provides the real-life stories the plays will depict, recruits the farmers who will read the scripts on stage, and helps event coordinators figure out finances and logistics. A nurse facilitator turns the planning group's stories into scripts and then leads the group discussions after each play.
Watch this video for more information:
Results
In the initial research study, 553 farmers attended plays and 317 farmers (the comparison group) received educational packets in the mail. The plays and the education packets covered the same topics. Researchers called participants in both groups 2 weeks and 2 months later to learn what health/safety changes these farmers had made in their work.
Researchers reported the following results:
After two weeks, 57% of FDT participants took health- and safety-related actions on the farm, compared to 40% of the comparison group.
After two months, 60% of FDT participants took health- and safety-related actions on the farm, compared to 52% of the comparison group.
After two weeks, 24% of FDT participants shared their new knowledge with people who hadn't attended the plays.
After two months, 38% of FDT participants shared their new knowledge with people who hadn't attended the plays.
According to a 2019 NIOSH Science Blog post, there were waiting lists of farmers wanting to attend FDT. Participants said they appreciated how topics were presented in a non-threatening way, and one farmer reported going home and making changes that night. A Cooperative Extension agent said FDT has received more positive feedback than any other program they had done.
For more information:
McCallum, D.M., Reed, D.B., Claunch, D.T., Davis, C.M., & Conaway, M.B. (2022). Farm Dinner Theater: Testing an Innovative Health and Safety Intervention among Older Farmers and Their Families. Journal of Rural Health, 38(2), 433-441. Article Abstract
Reed, D.B., McCallum, D., & Claunch, D.T. (2021). Changing Health Practices Through Research to Practice Collaboration: The Farm Dinner Theater Experience. Health Promotion Practice, 22(1), 122S-130S. Article Abstract
Reed, D.B. & Claunch, D.T. (2017). Moving Social Work Norms via Theater for Senior Farmers. Journal of Safety Research, 60, 17-20. Article Abstract
Challenges
No in-person theaters have been held during the pandemic, but FDTs in North Carolina have held virtual events that were well attended.
Replication
Promote the dinner theater more as a night out for farmers and their families and less as an educational experience, although Cooperative Extension agents are still allowed to promote their own resources during discussions. Researchers advertised the event through local radio and newspapers as well as word of mouth.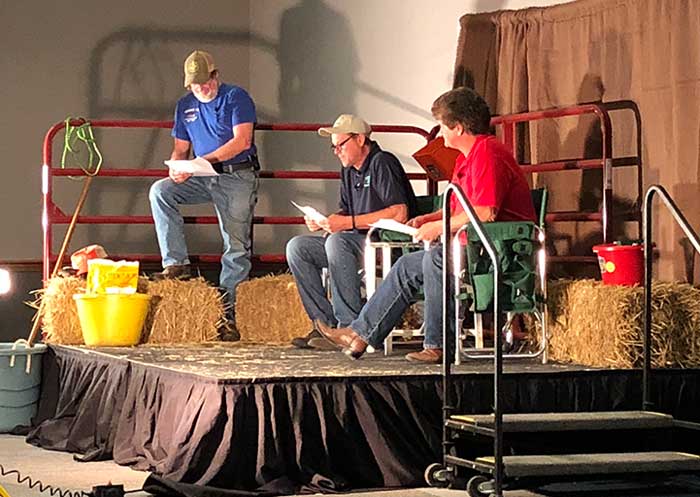 Researchers also created a Farmers Dinner Theater Toolkit, where you can also find videos of FDT plays.
For more information about FDT, you can contact:
Ellen Duysen, MPH, Research Assistant Professor at the University of Nebraska Medical Center, at ellen.duysen@unmc.edu
Cheryl Witt, PhD, Raising Hope health administrator at the Kentucky Department of Agriculture, at cdwitt2@uky.edu
Eileen Legault at the University of Tennessee Extension, at 865.200.4527
Robin Tutor Marcom, EdD, Director of the North Carolina Agromedicine Institute, at tutorr@ecu.edu
Topics
Agricultural health and safety
Farmers and farmworkers
Health literacy
Wellness, health promotion, and disease prevention

States served
National/Multi-State, Kentucky, Nebraska, North Carolina, Tennessee, Virginia
Date added
July 15, 2021
Date updated or reviewed
August 11, 2022
Suggested citation: Rural Health Information Hub, 2022. Farm Dinner Theater [online]. Rural Health Information Hub. Available at: https://www.ruralhealthinfo.org/project-examples/1093 [Accessed 11 December 2023]
Please contact the models and innovations contact directly for the most complete and current information about this program. Summaries of models and innovations are provided by RHIhub for your convenience. The programs described are not endorsed by RHIhub or by the Federal Office of Rural Health Policy. Each rural community should consider whether a particular project or approach is a good match for their community's needs and capacity. While it is sometimes possible to adapt program components to match your resources, keep in mind that changes to the program design may impact results.