Project Swaddle
Summary
Need: To reduce poor maternal and infant health outcomes and improve access to prenatal and postpartum care for at-risk pregnant women and recent mothers in Crawfordsville, Indiana.
Intervention: A home visitation program that uses community paramedics to deliver wrap-around care to women experiencing high-risk pregnancies and/or social and environmental challenges.
Results: Since 2018, more than 200 women have been served by the program.
Description
A community needs assessment conducted in 2017 in Montgomery County, Indiana showed a need for more resources for pregnant women and new mothers, particularly those facing health-related, social, or environmental challenges. With the local hospital, Franciscan Health Crawfordsville, no longer delivering babies, the nearest birthing hospital was Franciscan Health Lafayette East in Lafayette, Indiana, up to an hour away for some rural Montgomery County residents. Obstetricians based in Lafayette visited Crawfordsville several times a month, but transportation and scheduling challenges made it difficult for some pregnant women and new mothers to attend appointments regularly.
To make prenatal and postpartum care more easily accessible to at-risk women in Montgomery County, the Crawfordsville Fire Department partnered with Franciscan Health Crawfordsville and other local organizations to create Project Swaddle, a home visitation program in which community paramedics provide wrap-around care and education to pregnant women and recent mothers. The target population includes women with high-risk medical conditions, such as gestational diabetes, as well as women dealing with challenges such as substance use disorders or domestic violence.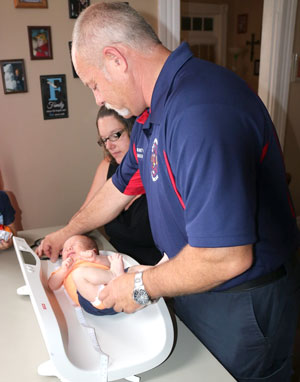 Project Swaddle launched in the spring of 2018 and was initially funded by a one-year grant from the Montgomery County Community Foundation. Today, the program is primarily funded by the Franciscan Health Network and the city of Crawfordsville. In 2022, Project Swaddle received a grant from the Indiana State Department of Health to expand its services to women outside of the Franciscan Health Network.
Read more about Project Swaddle in the Rural Monitor article In a Maternity Desert, a New Kind of Home Visitation Program Brings Care to At-Risk Mothers.
Services offered
Pregnant women can enroll in Project Swaddle as early as the first trimester of their pregnancy and can currently receive care up to 90 days postpartum, although the program is in the process of expanding to serve mothers up to one year postpartum. While patients initially entered the program exclusively through referrals from social service agencies or healthcare providers in the Franciscan Health Network, many women now find the program through word-of-mouth referrals from other patients; any woman can apply for the program.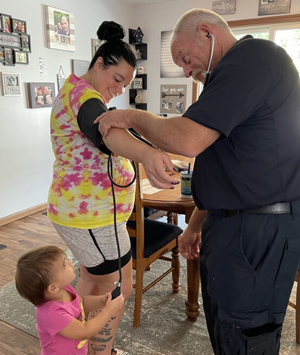 Women enrolled in Project Swaddle are typically visited by a community paramedic every two weeks until the 36th week of pregnancy, at which point visits increase in frequency to once a week, although this timeline can vary from patient to patient. Postpartum women and infants enrolled in the program also receive weekly visits.
A visit from the paramedic may include a medical check-up, testing, or medication administration, along with a general wellness check. The paramedic also educates patients on prenatal and postpartum care and best practices, and answers any questions they may have, while working with the patient's physician and local social workers, social services providers, or midwives when needed.
Results
As of May 2023, more than 200 women inside the Franciscan Health Network have been served by Project Swaddle, with some participating in the program throughout multiple pregnancies.
Challenges
Gaining the initial trust of patients, especially those with substance use disorders, can be difficult. To build rapport with patients, project leaders recommend taking an honest and non-judgmental approach and listening to the patient's needs. Project Swaddle uses motivational interviewing techniques to get to know new patients early on in the process.
Funding is an ongoing challenge for the program.
Replication
Project Swaddle has created a how-to guide for starting a similar program that is available upon request to any interested community. Project leaders note that the Crawfordsville Fire Department was fortunate to have already had a relationship with the Franciscan Health Network after partnering with the local hospital for previous programs, and that staffing limitations may make it difficult for some fire departments to dedicate one or more paramedics to a program like Project Swaddle full-time.
Patience, and a willingness to build the program from the ground up by forming partnerships across the community, have also been key to Project Swaddle's success, project leaders say.
Topics
Closures of healthcare facilities and services
Community paramedics
Maternal health and prenatal care
Women

States served
Indiana
Date added
August 10, 2023
Suggested citation: Rural Health Information Hub, 2023. Project Swaddle [online]. Rural Health Information Hub. Available at: https://www.ruralhealthinfo.org/project-examples/1115 [Accessed 22 September 2023]
Please contact the models and innovations contact directly for the most complete and current information about this program. Summaries of models and innovations are provided by RHIhub for your convenience. The programs described are not endorsed by RHIhub or by the Federal Office of Rural Health Policy. Each rural community should consider whether a particular project or approach is a good match for their community's needs and capacity. While it is sometimes possible to adapt program components to match your resources, keep in mind that changes to the program design may impact results.