Richmond Substance Use and Mental Health Mobile Integrated Health Program
Summary
Need: To reduce the number of overdose deaths in Richmond, Indiana and connect people in need of mental health treatment to community resources.
Intervention: A mobile integrated healthcare (MIH) program that connects social workers with people who have just experienced a mental health crisis or overdose.
Results: More than 320 people have been referred to Richmond's MIH programs since June 2022.
Description
In 2021, the Richmond Fire Department in Richmond, Indiana received a grant from the Indiana Department of Health to create a community paramedicine program that would address prevalent public health challenges in the community, with a primary focus on addressing opioid overdoses and mental illness. When the department had difficulty hiring a community paramedic due to a regional workforce challenges, it pivoted to create a Mobile Integrated Healthcare (MIH) program staffed by two social workers. The program officially launched in June of 2022. Since then, the department has partnered with a local recovery hub in a neighboring county, which supplied two peer recovery specialists to work alongside the social workers.
The MIH program aims to connect people experiencing a mental health crisis, or those who have just experienced an overdose, with community resources. (The program also works with older adults to reduce falls in the home.) People are referred into the program by law enforcement and other first responders: When city police, firefighters, EMS or other first responders are called to an overdose or a mental health crisis in Richmond, they refer that person to the MIH team after addressing the person's immediate needs. The MIH team will then follow up with that person within 24-48 hours to see what additional resources or treatment the person might need.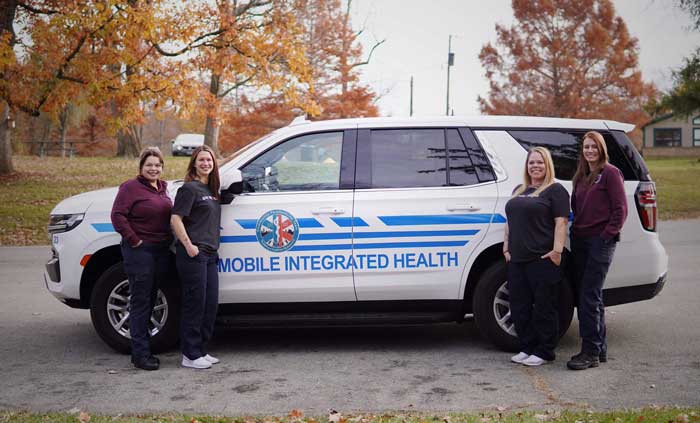 Services offered
Once the MIH team has made contact with someone, they can help to connect that person to a variety of community resources or treatment services. In the following weeks or months, the MIH team may follow up one or more times with the person to continue assisting them. Ideally, these visits take place in person at the person's home.
The MIH team also conducts street outreach efforts, including handing out bags containing water bottles, naloxone, and information about local resources to homeless members of the community.
Results
Since June 2022, more than 320 people have been referred to the MIH substance use, mental health, and fall risk programs.
Challenges
Program organizers say the biggest challenge in establishing the program was getting word out about it in the community and getting other community stakeholders on board. A year and a half into the program and many meetings later, community members are largely aware of the program and there is support for the program in the community.
Another challenge can be gaining the trust of the people the program serves, who may associate the program with law enforcement and be hesitant to engage. The involvement of recovery coaches has been helpful in this regard. Program organizers say that going out to talk to people and meeting them where they are is key to building rapport.
Replication
Talking with other existing MIH programs around the country, including riding along with programs in Ohio and Indiana, was helpful for Wayne County program organizers when they were figuring out what the MIH program would look like. They encourage other communities interested in launching their own programs to talk to other MIH programs first.
Conducting empathy and stigma training for the local fire and police departments has also been helpful in getting people on board with the program; organizers encourage other departments to do the same. All employees of the Richmond Fire Department and Richmond Police Department received this training.
Topics
Behavioral health
Mental health
Substance use and misuse

States served
Indiana
Date added
November 8, 2023
Suggested citation: Rural Health Information Hub, 2023. Richmond Substance Use and Mental Health Mobile Integrated Health Program [online]. Rural Health Information Hub. Available at: https://www.ruralhealthinfo.org/project-examples/1125 [Accessed 6 December 2023]
Please contact the models and innovations contact directly for the most complete and current information about this program. Summaries of models and innovations are provided by RHIhub for your convenience. The programs described are not endorsed by RHIhub or by the Federal Office of Rural Health Policy. Each rural community should consider whether a particular project or approach is a good match for their community's needs and capacity. While it is sometimes possible to adapt program components to match your resources, keep in mind that changes to the program design may impact results.