MIST: Mothers and Infants Sober Together
Summary
Need: To address the needs of pregnant women who are using substances and infants born into drug-positive families.
Intervention: The Mothers and Infants Sober Together (MIST) program assisted mothers who used substances get treatment and provide a safe, drug-free home for themselves and their newborn.
Results: MIST has helped mothers find treatment and education and has helped children grow up in safe and healthy homes.
Description
Babies born whose mothers used opioids during pregnancy, or were receiving buprenorphine due to medication assisted treatment, are born exposed to the drugs and experience withdrawals once born. Children born drug positive have special needs. With East Tennessee's high number of neonatal abstinence syndrome (NAS), it is important to secure these women in treatment early on in their pregnancy.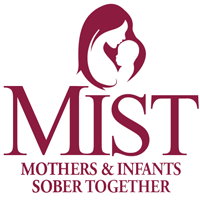 In order to help mothers access substance abuse treatment and properly care for their children, the Mothers and Infants Sober Together (MIST) program was formed in 2006 through the Ridgeview Behavioral Health Center. The program's mission was to improve the quality of life and daily functioning of drug-exposed infants and families.
The program, which started small, eventually expanded to include Anderson, Roane, and Campbell counties in Tennessee. The program provides case management, group, and individual therapy to pregnant women and mothers with drug-exposed infants.
Many clients come from referral sources such as:
Department of Children Services
Obstetrics and gynaecology (OB/GYN) doctors
Anderson, Roane, and Campbell County Juvenile Court
Health departments
Community probation services
Treatment providers
Self-referral from clients
This program received support from a 2006-2009 Federal Office of Rural Health Policy Rural Health Care Services Outreach grant.
Services offered
The program team consists of case managers, a therapist, and a program coordinator. Together, the team works with mothers to create a stable, drug-free environment for their infants and the families. To be eligible for services, mothers must test positive for substances during pregnancy or at time of birth and/or admitted to using drugs during the pregnancy. The majority of the women that MIST serves use opiates, Suboxone, tetrahydrocannabinol (THC), and methamphetamine.
MIST provides Same-Day Access for initial appointments. Next Day Medication Management is initiated following the assessment where a psychiatrist evaluates the patient and can prescribe medication-assisted treatment (oral or injections) or referrals to additional MAT treatment using Suboxone or Subutex. Providers use a methodology called Just-in-Time to prescribe dosages to help mothers with medication management.
Additional services include:
Home visits
Mental health counseling
Substance abuse treatment
Relapse prevention
Parenting education
Supervised visits for mothers without custody of their children
Case management
Weekly support groups
Individualized treatment plans
Individual therapy
Results
From August 2009 to June 2016:
942 referrals were received by the MIST Program from various agencies
The average age of a MIST client was 24, with the youngest client being 13 years old and the oldest client being 41.
The program has had an increase of pregnant women join
Many women successfully detox before giving birth, with the assistance of their OB and Subutex doctors.
Drug-free, healthy babies have been born to women who were previously addicted to drugs during pregnancy
MIST has caught the attention of local and national media outlets:
Challenges
MIST has continuously faced barriers to reaching pregnant women for substance treatment and detox. The enactment of the Tennessee Fetal Assault Law of 2014 led to a greater number of women who avoided discussing their substance use for fear that they would be arrested. This law expired on July 1, 2016.
The program continues to work towards substance use prevention in communities, providing medical resources to spread the word about available treatment. A preeminent goal is to establish the reputation of being a welcoming place of assistance, making women feel comfortable and empowered.
Replication
Organizations wishing to bring something like this to their area should find a clear plan for sustainability. They should also work closely with area law enforcement, judges, healthcare workers, and mental health centers in order to be the most effective.
Topics
Appalachia
Children and youth
Maternal health and prenatal care
Substance use and misuse
Women

States served
Tennessee
Date added
January 24, 2007
Date updated or reviewed
May 2, 2023
Suggested citation: Rural Health Information Hub, 2023. MIST: Mothers and Infants Sober Together [online]. Rural Health Information Hub. Available at: https://www.ruralhealthinfo.org/project-examples/380 [Accessed 21 September 2023]
Please contact the models and innovations contact directly for the most complete and current information about this program. Summaries of models and innovations are provided by RHIhub for your convenience. The programs described are not endorsed by RHIhub or by the Federal Office of Rural Health Policy. Each rural community should consider whether a particular project or approach is a good match for their community's needs and capacity. While it is sometimes possible to adapt program components to match your resources, keep in mind that changes to the program design may impact results.