Cold Water Safety Children and Youth Educator Program
Summary
Need: Drowning was a leading cause of death for children in Alaska.
Intervention: Cold Water Safety and Survival for Educators workshops were developed in 1998, with help from a 4-year federal grant, to train educators to provide education and hands-on skills for school children and members of the public.
Results: The safety program was integrated into about 50% of Alaskan school curriculum and schools in other states, helping to train hundreds of educators and thousands of children on the importance of cold water safety.
Description
According to the Alaska Marine Safety Education Association (AMSEA), drowning is a leading cause of death for Alaskan children. Alaska and other cold-weather climates face particular challenges due to the risks of cold-water immersion.
AMSEA developed the Children and Youth Educators program in 1998 to train educators to teach cold water safety and survival skills in the classroom. This program supports educators with ready-to-use teaching materials and a variety of safety and survival equipment so they can develop locally relevant trainings. Special emphasis was placed on reaching rural communities in northwest and western Alaska with little or no access to safety training. The curriculum is aimed at K-12 students.
This program received support from a 1998-2001 Federal Office of Rural Health Policy Rural Health Care Services Outreach grant. It is currently supported through the State of Alaska, school districts, memberships, and donations.
Services offered
The goal of the Cold Water Safety Children and Youth Educators program is to build and support a network of educators who are trained to provide cold water safety and survival training to school-aged children, teens, and the general public.
Project staff developed a curriculum that educators could use either in community or school settings. The Surviving Outdoor Adventures curriculum is a 4-volume series that contains ready-to-use lesson plans, activity pages, teacher background information, and other resources: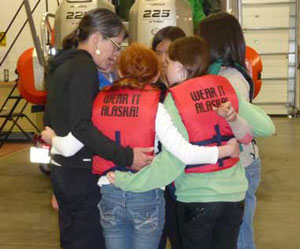 Skills taught through the curriculum include:
Recognizing signs of hypothermia
Land survival
Shelter building
Using/creating outdoor emergency signals
Basic navigation
Selecting the right personal flotation device (PFD)
Putting on an immersion suit
Cold water survival
Boating safety
AMSEA also holds Educators Workshops for those wishing to learn the curriculum.
Results
AMSEA's original Cold Water Safety program started in 1985. Since then:
79% of the school districts in Alaska have included cold water safety training curriculum
Some of the schools have made this training a part of their standard curriculum. For example, the school system in Sitka has required this training for all 1st, 3rd, 5th, and 7th graders for the past 20+ years.
More than 123,925 children have received cold water safety and survival training since 1991
More than 490 individuals have participated in the instructor workshops
The program expanded beyond Alaska to other states with children at risk for cold water immersion
"Cold Water Safety and Survival Training for Educators" is now offered annually through AMSEA and the University of Alaska Southeast as a 2-credit distance delivered course
The overall drowning rate continues to fall and the PFD usage rate continues to increase among boaters
This program has been recognized by over 20 local, regional, and national awards
Challenges
Despite the threat of reduced state and school budgets, this program continues to be supported locally because the need for cold water safety training in cold climates continues to be pressing.
Replication
AMSEA provides a wealth of information for those interested in bringing cold water safety training to their community. These resources include: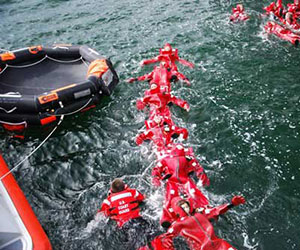 Surviving Outdoor Adventures, Volumes 1-4
Outdoor Survival Training Manual for grades 5-7
Boating Safety Sidekick activity book for children
Educational Safety Displays for loan to AMSEA instructors
AMSEA Course Descriptions and Registration Information
The program is still operating today throughout Alaska, as well as in other areas in the United States. Project staff have estimated that at least 33 states have a cold water environment where the Surviving Outdoor Adventures curriculum would be applicable. The curriculum is available for purchase on the AMSEA website; however, educators can participate in a workshop in order to borrow training materials and equipment.
Topics
American Indian or Alaska Native
Children and youth
Schools
Wellness, health promotion, and disease prevention

States served
National/Multi-State, Alaska
Date added
July 13, 2005
Date updated or reviewed
December 5, 2022
Suggested citation: Rural Health Information Hub, 2022. Cold Water Safety Children and Youth Educator Program [online]. Rural Health Information Hub. Available at: https://www.ruralhealthinfo.org/project-examples/48 [Accessed 29 March 2023]
Please contact the models and innovations contact directly for the most complete and current information about this program. Summaries of models and innovations are provided by RHIhub for your convenience. The programs described are not endorsed by RHIhub or by the Federal Office of Rural Health Policy. Each rural community should consider whether a particular project or approach is a good match for their community's needs and capacity. While it is sometimes possible to adapt program components to match your resources, keep in mind that changes to the program design may impact results.