Delta Dental Mobile Program
Summary
Need: Lack of access to oral healthcare for children from limited-income families in the rural and urban areas of South Dakota.
Intervention: Delta Dental of South Dakota launched the Delta Dental Mobile Program in 2004 to expand access to oral healthcare services to children throughout the rural state.
Results: The Delta Dental Mobile Program has provided over $38 million in dental care to more than 68,000 South Dakota children.
Description
The Delta Dental Mobile Program provides oral healthcare to children who don't have access to dental care. The program includes two mobile dental clinic trucks that travel the state and dental hygienists and community health workers based on the state's American Indian reservations.
The Mobile Program serves approximately 5,000 kids across South Dakota every year. Care provided through the Mobile Program is at no cost to the child or family.
Mobile clinic trucks
The Mobile Program began in 2004, and its mobile dental clinic trucks have visited 86 communities across South Dakota, treating more than 51,500 patients and providing over $31 million in dental care.
The current trucks – Molar 1 and Molar 2 – are each 40 feet long and contain two dental operatories for preventive, diagnostic, and restorative care.
Delta Dental of South Dakota operates and staffs the trucks with a dentist, hygienist, two dental assistants, and a coordinator. Local community agencies host a truck visit, providing the location, promoting the clinic, and recruiting and registering patients.
It costs approximately $26,000 per week to operate each truck. Local sponsors contribute a modest stipend, generally $3,000 per week, for the clinic visit.
Children eligible for care are those up to age 21 who have not seen a dentist within the past two years or who live more than 85 miles from a dentist.
The mobile clinic trucks serve a total of approximately 3,000 kids every year, and each truck travels an average of 42 weeks every year across the state.
Community-based care on American Indian reservations
The Mobile Program also includes dental hygienists and community health workers in communities on South Dakota's American Indian reservations who provide oral health education, preventive care clinics, and support to access urgent dental care.
This facet of the Mobile Program began in 2013 and has provided over $7 million in preventive care to more than 17,000 kids.
Mobile Program staff work with local schools and Head Start programs to host preventive care clinics for kids in grades K-8. Staff use portable equipment in a spare room at each location to provide oral health screening, cleanings, fluoride varnish treatments, and dental sealants.
The program began with a 2012-2015 Centers for Medicare and Medicaid (CMS) Health Care Innovation Awards grant.
Services offered
The Delta Dental Mobile Program provides:
Oral health education
Preventive services such as cleanings, fluoride varnish, and dental sealants
Restorative care
No child is turned away due to inability to pay. However, in order to be eligible to receive treatment on a truck clinic, a child:
Must be aged 21 or younger
Must not have seen a local dentist in the past two years OR
Must live more than 85 miles from a dentist
Medicaid and other insurance products are accessed, if available.
The target population for the prevention clinics is children through 8th grade who attend schools and Head Starts in tribal communities and who do not have a dental home.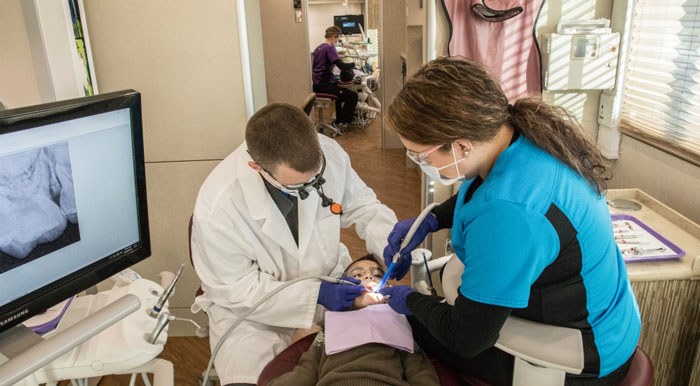 Results
The mobile clinic trucks have:
Traveled to 86 different South Dakota communities
Treated more than 68,000 children
Provided more than $38 million in dental care
Both trucks travel across the state for an average of 42 weeks every year. Around 3,000 kids are served each year on the trucks.
The community-based care on American Indian reservations has provided more than $7 million of care to over 17,000 patients at 168 different sites.
The Delta Dental Mobile Program is also featured in RHIhub's Oral Health Toolkit Program Clearinghouse.
For more information about the mobile program, please watch this video:
Challenges
A mobile dental program is an expensive way to provide dental care. Many mobile programs operate in a geographical area where the staff returns home each night. Since the Delta Dental Mobile Program trucks travel to communities across South Dakota, staff are unable to sleep in their own homes each night and more expenses are incurred such as lodging, fuel, and vehicle wear and tear. Because of the amount of travel required, staff burnout becomes an issue.
Technology has also been a significant barrier. Operating at multiple locations utilizing electronic health records provides challenges, particularly at sites where there is no connectivity.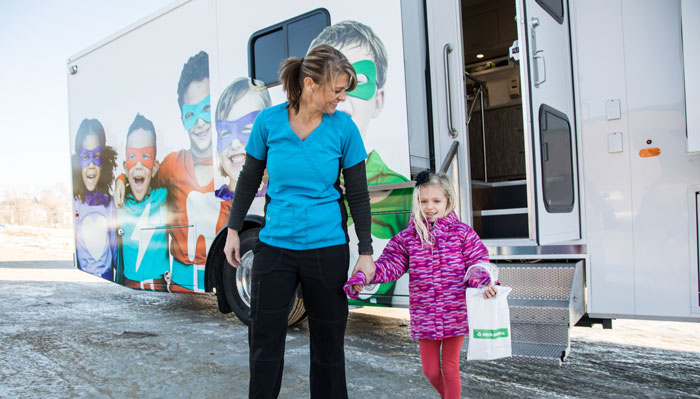 Replication
Advice from Delta Dental Mobile Program staff:
Operating a mobile dental program is expensive, so it is important to have a solid source of income to cover expenses. Delta Dental of South Dakota covers roughly 75% of the mobile program's operating losses.
Recruiting staff can be a challenge because of the extensive travel required.
The mobile program's trucks have a lot of moving parts, so it's challenging to keep the trucks in top shape. When traveling on gravel roads and through blizzards, breakdowns are a fairly regular occurrence and repair people are not always available in smaller communities.
It's important to have high-quality dental equipment.
There is a fair amount of information technology needed, and connectivity issues can be a problem in remote rural areas where cellular service is not available.
Placing dental hygienists, who operate under collaborative supervision, in the field to provide preventive care on a consistent basis has not only increased access to care, but it has also increased knowledge of the importance of oral health for an extremely underserved population.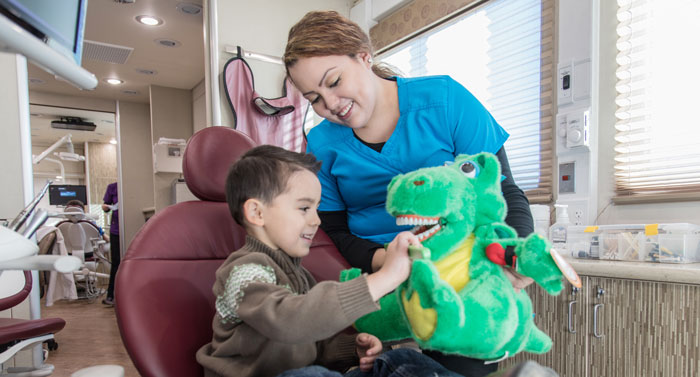 Topics
American Indian or Alaska Native
Children and youth
Mobile and episodic healthcare delivery
Oral health

States served
South Dakota
Date added
November 6, 2009
Date updated or reviewed
March 14, 2023
Suggested citation: Rural Health Information Hub, 2023. Delta Dental Mobile Program [online]. Rural Health Information Hub. Available at: https://www.ruralhealthinfo.org/project-examples/626 [Accessed 29 September 2023]
Please contact the models and innovations contact directly for the most complete and current information about this program. Summaries of models and innovations are provided by RHIhub for your convenience. The programs described are not endorsed by RHIhub or by the Federal Office of Rural Health Policy. Each rural community should consider whether a particular project or approach is a good match for their community's needs and capacity. While it is sometimes possible to adapt program components to match your resources, keep in mind that changes to the program design may impact results.