Delta Dental Mobile Program
Summary
Need: Lack of access to oral healthcare for children from limited-income families in the rural and urban areas of South Dakota.
Intervention: Delta Dental of South Dakota launched the Delta Dental Mobile Program in 2004 to expand access to oral healthcare services to children throughout the rural state.
Results: The Delta Dental Mobile Program has provided over $26 million in dental care to more than 52,000 South Dakota children.
Description
The Delta Dental Mobile Program provides oral health services to underserved children. The program includes two trucks that serve as mobile clinics to provide preventive, diagnostic, and restorative care as well as dental hygienists and community health workers (CHWs) who are based in the state's American Indian reservations.
Truck-based clinic program
The mobile program began with the Care Mobile in 2004 in a special partnership with Ronald McDonald House Charities. The demand and need for its services prompted Delta Dental of South Dakota (DDSD) to purchase a second truck in 2008. Delta Dental ordered two new trucks in 2016. The new trucks were ordered to replace the existing pair of dental trucks, one of which was destroyed in a fire in 2015. The new trucks were placed in service in early 2017.
Each truck travels with a dentist, hygienist, two dental assistants, and a coordinator. DDSD employs contract dentists to work on the trucks.
Delta Dental manages, operates, and staffs the mobile trucks and works with local community site partners to identify children most in need of care who can least afford it. Local community sponsors also contribute a moderate stipend for the visit.
Site partners contact the mobile program to schedule a visit, sometimes up to a year in advance. The site partner is an agency or organization with a connection to underserved children with oral care needs. The site partner secures the location, promotes the mobile clinic, and recruits and registers patients. Examples of site partners are:
Churches
Head Start programs
Local social service agencies
Schools
United Way agencies
A site sponsor is also often used to provide the stipend for the truck's visit (if not already paid by the site partner). Site sponsors are often civic organizations like service clubs, local community foundations, or even a local business. The site sponsor provides a $2,500 stipend toward the $23,000 cost per week of operating the truck.
Community-based prevention clinics on American Indian reservations
Seven community-based hygienists and three CHWs provide care on South Dakota's nine reservations. This workforce focuses on oral health education, preventive care, and access to care. The hygienists also support the trucks when they're in the region.
The program began with a 2012-2015 Centers for Medicare and Medicaid (CMS) Health Care Innovation Awards grant. Since the end of the grant, Delta Dental continues to fund the program at its own expense.
Services offered
The Delta Dental Mobile Program provides:
Oral health education
Preventive services such as cleanings, fluoride varnish, and dental sealants
Restorative care
No child is turned away due to inability to pay. However, in order to be eligible to receive treatment at a truck clinic, a child:
Must be between the ages of 0 and 21
Must not have seen a dentist in the past two years OR
Must live more than 85 miles from a dentist
Medicaid and other insurance products are accessed, if available.
The target population for the prevention clinics is children ages 0 through 8th grade who are based in reservations and who do not have a dental home.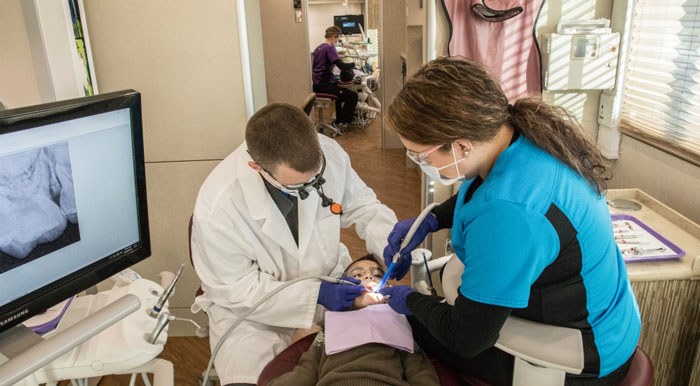 Results
The mobile units have:
Traveled to 85 different South Dakota communities
Treated more than 52,000 children
Provided more than $26 million in dental care
Both trucks travel across the state for an average of 40 weeks every year. Around 3,500 kids are served each year on the trucks.
The prevention clinics saw the following improvements for children ages 0-9 in the program's first three years:
The percent of children who'd had a dental visit increased 64%.
The percent of children who'd had a cleaning or fluoride varnish increased over 75%.
The percent of children who'd had dental sealants doubled.
The average dental care costs per child decreased by 27%.
The regional hygienists have provided more than $4.8 million of care to over 12,000 patients at 168 different sites.
The Delta Dental Mobile Program is also featured in RHIhub's Oral Health Toolkit Program Clearinghouse.
For more information about the mobile program, please watch this video:
Barriers
A mobile dental program is an expensive way to provide dental care. Many mobile programs operate in a geographical area where the staff returns home each night. Since the Delta Dental Mobile Program trucks travel to communities across South Dakota, staff are unable to sleep in their own homes each night and more expenses are incurred such as lodging, fuel, and vehicle wear and tear. Because of the amount of travel required, staff burnout becomes an issue.
Technology has also been a significant barrier. Operating at multiple locations utilizing electronic health records provides challenges, particularly at sites where there is no connectivity.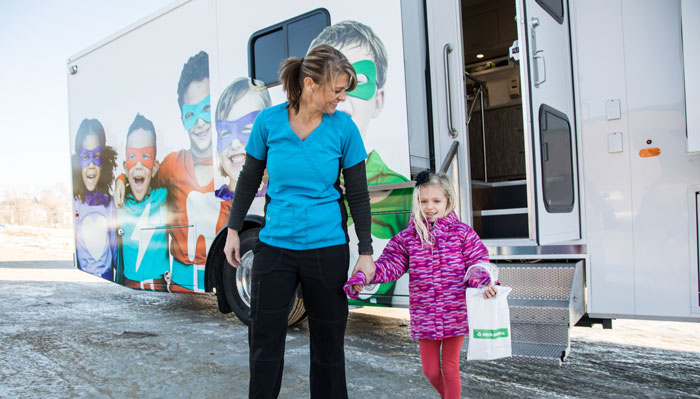 Replication
Advice from Delta Dental Mobile Program staff:
Operating a mobile dental program is expensive, so it is important to have a solid source of income to cover expenses. DDSD covers roughly 75% of the mobile program's operating losses.
Recruiting staff can be a challenge because of the extensive travel required. Because staff work in very close quarters, it's important to have good management.
The mobile program's trucks have a lot of moving parts, so it's challenging to keep the trucks in top shape. When traveling on gravel roads and through blizzards, breakdowns are a fairly regular occurrence and repair people are not always available in smaller communities. All of the dental equipment runs off of a generator and, in the winter, the generator often has to run 24 hours a day and needs to be serviced every two weeks.
It's important to have high-quality dental equipment.
There is a fair amount of information technology needed, and connectivity issues can be a problem in remote rural areas where cellular service is not available.
Placing dental hygienists, who operate under collaborative supervision, in the field to provide preventive care on a consistent basis has not only increased access to care, but it has also increased knowledge of the importance of oral health for an extremely underserved population.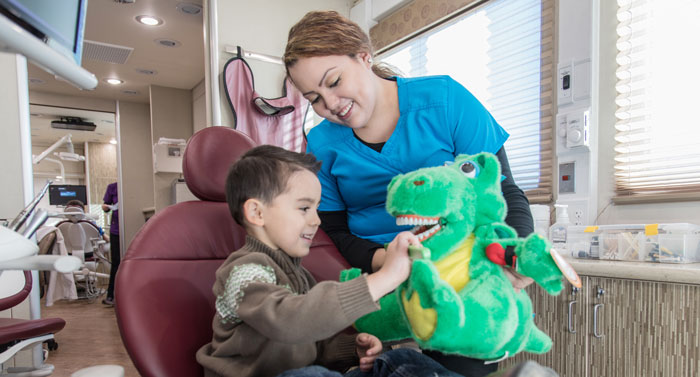 Topics
Children and youth
Mobile and episodic healthcare delivery
Oral health

States served
South Dakota
Date added
November 6, 2009
Date updated or reviewed
February 8, 2019
Please contact the models and innovations contact directly for the most complete and current information about this program. Summaries of models and innovations are provided by RHIhub for your convenience. The programs described are not endorsed by RHIhub or by the Federal Office of Rural Health Policy. Each rural community should consider whether a particular project or approach is a good match for their community's needs and capacity. While it is sometimes possible to adapt program components to match your resources, keep in mind that changes to the program design may impact results.