Spit It Out-West Virginia
Summary
Need: In the years prior to 2008, McDowell County, West Virginia, had high rates of tobacco use.
Intervention: The Spit It Out-West Virginia program (2008-2010) was created to increase access to tobacco cessation and prevention resources.
Results: Hundreds of people were provided with tobacco cessation efforts, 5 workplaces became tobacco free, and tobacco control efforts continue today.
Description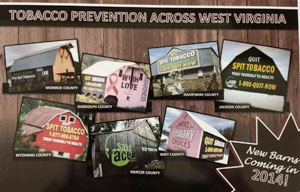 In the years prior to 2008, McDowell County, located in southwestern West Virginia, had high rates of tobacco use attributed to several causes: lack of prevention and cessation services, and a deeply-entrenched rural culture that viewed sports and hunting as synonymous with smokeless tobacco use.
The Southern Coalfields Regional Tobacco Prevention Network Office (SCRTPNO), a community-based regional prevention coalition, decided to address this problem by implementing Spit It Out-West Virginia, a 2008-2010 grant-funded program that provided a culturally appropriate tobacco prevention and cessation program. The 2-year grant was provided by the American Legacy Foundation, a non-profit public health organization now called the Truth Initiative.
The grant cycle ended in 2010. In July 2017, the West Virginia legislature stopped funding control efforts, though tobacco cessation workshops continued through West Virginia University's extension service work.
No longer active, the program continues to be a model for other programs looking for cessation efforts that can be part of an overall tobacco control effort in two ways: helping young people to never start using tobacco and helping established users quit.
Services offered
The original grant-funded project had 2 main goals: to increase access to smokeless tobacco prevention and cessation services, and to increase tobacco-free workplaces and recreational venues.
To achieve these goals, Spit It Out:
Placed 6 billboards across the county to education residents about the harmful effects of smokeless tobacco
Aired 300 radio ads during hunting season on a local radio station
Provided tobacco-free education at community events
Provided materials at local businesses and venues
Held tobacco cessation workshops for miners at the Brooks Run Mining Company
Provided individual counseling
Engaged local faith-based organizations to promote tobacco prevention and cessation
Worked with local businesses on how to create a tobacco-free workplace
Results
Because of the Spit It Out program:
254 residents attended smokeless tobacco cessation workshops that focused on helping them quit smokeless tobacco during the project's first year
The tobacco cessation hotline enrollment from the county increased by 800%
110 individuals received cessation counseling
102 individuals received nicotine replacement therapy
49 church representatives received smokeless tobacco prevention and cessation resources for their church
6 mini-grants were awarded to local faith-based institutions to organize events to educate constituents about the dangers of smokeless tobacco use and the importance of cessation
5 businesses adopted a tobacco-free workplace policy
Because of the Spit It Out program, further research has been done regarding the involvement of Extension Services in county-level tobacco control.
Read more in "Perceptions of the Role of West Virginia's Cooperative Extension Service in Tobacco Control Coalitions" published in Frontiers in Public Health.
A 2017 video reviews the previous project's successes and shares ideas about the continuing modern tobacco control approaches:
Replication
While the Spit It Out project was tailored to McDowell County's hunting, gaming, and coal mining community, other organizations can replicate it by targeting the social norms and cultural traditions of their residents.
This program was successful in reaching the most disadvantaged residents of McDowell County by partnering with local faith-based organizations. By reaching out to church representatives, the program was able to have an impact on a large number of people who may not have otherwise received services. This aspect was considered a cornerstone of the project and played a large part in its success.
Efforts are strengthened when demonstrating that tobacco cessation can make an immediate positive impact on participants' families, as well as tobacco users themselves.
Topics
Appalachia
Tobacco use
Wellness, health promotion, and disease prevention

States served
West Virginia
Date added
April 14, 2010
Date updated or reviewed
January 10, 2022
Suggested citation: Rural Health Information Hub, 2022. Spit It Out-West Virginia [online]. Rural Health Information Hub. Available at: https://www.ruralhealthinfo.org/project-examples/634 [Accessed 24 September 2023]
Please contact the models and innovations contact directly for the most complete and current information about this program. Summaries of models and innovations are provided by RHIhub for your convenience. The programs described are not endorsed by RHIhub or by the Federal Office of Rural Health Policy. Each rural community should consider whether a particular project or approach is a good match for their community's needs and capacity. While it is sometimes possible to adapt program components to match your resources, keep in mind that changes to the program design may impact results.