University of Virginia Diabetes Tele-Education Program
Summary
Need: To educate people in the rural parts of Virginia who either have diabetes or are considered at high risk for developing it.
Intervention: Teleconferencing technology is used to offer diabetes education programs to people with diabetes or those at high risk for developing it and health professional training in endocrinology and lifestyle behavior changes.
Results: Participants reported better prevention techniques and/or self-management of diabetes after being thoroughly educated about this condition.
Description
Portions of rural Virginia are considered high diabetes risk areas of the state. To address this problem, the Virginia Center for Diabetes Prevention and Education (VCDPE) at the University of Virginia (UVA) has offered free diabetes prevention and management tele-education programs to community health centers, small rural hospitals, health districts, and Critical Access Hospitals (CAHs) in these parts of the state.
Rural community health centers and rural hospitals can more efficiently use their resources by employing teleconferencing to disseminate diabetes prevention and diabetes self-management information. The experts in these fields are essentially brought into each of these organizations to educate their patients at no cost to the hosting organization.
Beginning in 2006, the Diabetes Tele-Education Program was initially funded with a grant via the Virginia Department of Health Office of Health Equity through the Federal Office of Rural Health Policy's Medicare Rural Hospital Flexibility Program. Today, funding for this program comes from the Commonwealth of Virginia and the Centers for Disease Control and Prevention (CDC). Partners in this initiative are the:
UVA Diabetes Education and Management Program (DEMP)
UVA Office of Telemedicine
UVA Department of Endocrinology
Services offered
Diabetes education courses:
The Basics of Diabetes
Nutrition Basics
Diabetes Self-Management Skills
Healthy Eating Lifestyle Changes
University of Virginia at Wise employees can take the diabetes prevention distance learning program via video conferencing technology. Starting in January 2019, endocrinology ECHO will be available to train primary care clinicians in rural, underserved communities to provide specialty care services.
Results
Since 2008, the program served over 3,600 patients at over 64 sites.
Types of sites:
Critical Access and other hospitals
Community Health Centers
Free clinics
Libraries
Senior centers
Health Departments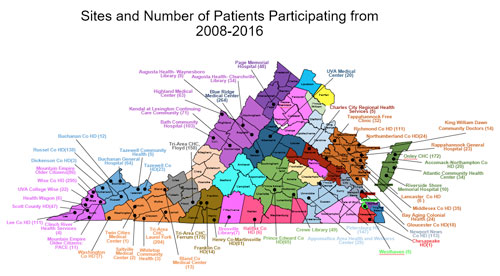 To learn more about this program, see the 2016 abstract presented at the American Association of Diabetes Educators meeting.
Barriers
Future challenges:
Funding
New site recruitment
Site retention
More meaningful outcome data (behavioral and medical)
In addition, the program is working to increase the number of participating sites in high-risk, underserved hotspot areas of Virginia. These areas include minority populations and the uninsured.
Because transportation to class sites can be a barrier for some people, in 2020 a pilot project providing education direct to the home via iPads will be tested.
Replication
Market the programs early to increase the number of participating sites.
Provide the sites with creative marketing materials to share with their patients.
Reduce streamlined educational materials.
Add interactive opportunities/patient interaction during each session.
Topics
Diabetes
Wellness, health promotion, and disease prevention

States served
Virginia
Date added
March 1, 2011
Date updated or reviewed
January 14, 2020
Please contact the models and innovations contact directly for the most complete and current information about this program. Summaries of models and innovations are provided by RHIhub for your convenience. The programs described are not endorsed by RHIhub or by the Federal Office of Rural Health Policy. Each rural community should consider whether a particular project or approach is a good match for their community's needs and capacity. While it is sometimes possible to adapt program components to match your resources, keep in mind that changes to the program design may impact results.