South Dakota Harvest of the Month Program
Summary
Need: To encourage children to make healthy eating choices through learning and tasting.
Intervention: Brief, fun, and informative presentations and tastings for children on over 42 different fruits and vegetables.
Results: Participants are exposed to new foods and show more interest in healthy eating.
Description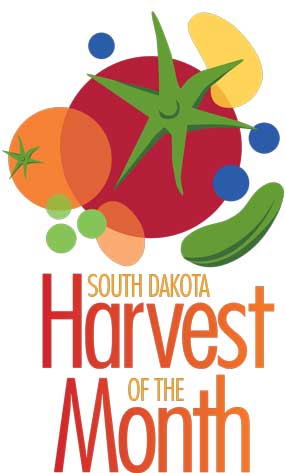 Harvest of the Month (HOM) is an adaptable, easy-to-use program that gets kids excited about eating fruits and vegetables. Through a short presentation and produce sampling, children learn about the importance of eating fruits and vegetables every day.
Since being brought from California to South Dakota in 2008, South Dakota Harvest of the Month has been working to expand healthy eating choices for toddlers and elementary school students in communities across the state.
The program can be offered in:
Individual classrooms (PreK-5th grade)
Health classes
Gym classes
School assemblies
Afterschool programs
Home visits
"The long-term goal of Harvest of the Month is to impact youth to make healthier food choices. If a kid chooses to eat a healthy snack instead of sugary treats, we have been successful," said Rhea Waldman, Executive Director of the South Dakota Discovery Center.
View this seven-minute video of a Pierre teacher and his gym class:
Services offered
The HOM elementary school program includes a brief presentation focused on an individual fruit or vegetable. Before children sample the food, presenters explain the food's:
History
Peak seasons
Vitamins and minerals
Supermarket tips (choosing fresh, ripe produce)
The HOM program for in-class preschool children includes:
Fun activities involving the featured food
Lessons on how eating the featured food helps bodies grow healthy and strong
An easy taste test
A fun and simple taste test extension that could be used for snack time
The home-visit program includes all of the above plus:
Easy ways for childcare providers and parents/guardians to make purees for toddlers with the featured food
The HOM Out-of-School learning plans include:
A short review of the nutrition concepts learned at school or an introduction if HOM is not used at school
A fun and easy snack that the youth can make with the featured food
Results
SD HOM has been offered in schools across the state, with participants from 29 South Dakota towns, including all Pierre elementary schools.
According to a parent of a participating child:
"My son is much more willing to try foods that he previously refused. Also, now if he is given the choice and told that one food is healthier than the other, he will make a conscious choice to pick the healthier food."
Another parent shared:
"We now always have fresh spinach and black beans at our house. We eat them often. I add parsnips and green chilies to soups and casseroles and sweet potatoes or pumpkin puree to lots of baked items. Never would my family have considered this before HOM!"
Challenges
One barrier to implementing this program is finding funding sources to purchase the food. In addition, commitment from schools is necessary to sustain this program past a guided implementation phase.
Replication
The South Dakota Discovery Center can provide assistance in using the HOM program and share their experiences.
Lesson plans (with handouts and recipes) for over 42 different featured foods and Pre-K and Out-of-School learning plans are available on the South Dakota Harvest of the Month website. Users are required to create a free account to access the materials.
Topics
Children and youth
Food security and nutrition
Schools
Wellness, health promotion, and disease prevention

States served
South Dakota
Date added
June 18, 2013
Date updated or reviewed
May 4, 2022
Suggested citation: Rural Health Information Hub, 2022. South Dakota Harvest of the Month Program [online]. Rural Health Information Hub. Available at: https://www.ruralhealthinfo.org/project-examples/727 [Accessed 29 March 2023]
Please contact the models and innovations contact directly for the most complete and current information about this program. Summaries of models and innovations are provided by RHIhub for your convenience. The programs described are not endorsed by RHIhub or by the Federal Office of Rural Health Policy. Each rural community should consider whether a particular project or approach is a good match for their community's needs and capacity. While it is sometimes possible to adapt program components to match your resources, keep in mind that changes to the program design may impact results.