Project ECHO® – Extension for Community Healthcare Outcomes
Summary
Need: To increase the capacity for more effective treatment of chronic, complex conditions in rural and underserved communities.
Intervention: Through a specially-designed project, remote primary care providers work with academic specialists as a team to manage chronic conditions of rural patients, expanding remote providers' knowledge base through shared case studies.
Results: Patient management and care provided by rural providers through ongoing education and mentoring from Project ECHO® has proved as effective as treatment provided by specialists at a university medical center.
Description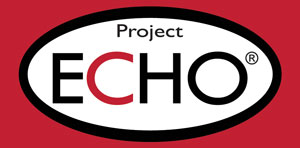 Access to specialty care is a challenge for Americans living with chronic conditions in rural areas. According to the 2017 National Rural Health Association's rural health snapshot, for every 100,000 rural patients in the U.S., there are approximately 30 health specialists, as opposed to over 260 for urban patients.
Rural patients dealing with chronic complex conditions are challenged with longer commutes to specialty medical care, and often even primary care providers, combined with limited transportation options. Although chronic disease rates are higher in rural residents, rural providers don't have the same opportunities to keep current on treatment options through continuing education offerings, such as academic centers' grand rounds.
Project ECHO® (Extension for Community Healthcare Outcomes) was created by Dr. Sanjeev Arora, a liver specialist, as an innovation to increase chronic disease management capacity in rural New Mexico for patients with hepatitis C. Arora had treated up to 90 patients each year at his clinic in Albuquerque, but recognized that more than 30,000 New Mexicans also had the condition, many in rural areas. Wanting to ensure that those patients had equal access to specialty treatment in the early stages of the disease, Arora developed a "teleECHO™ clinic" for hepatitis C in 2003.
After teleECHO's initial success, the model provided evidence-based programs for many other complex conditions, now addressing over 65 chronic conditions, such as substance use disorders, diabetes, and tuberculosis.
Project ECHO has now experienced major expansion. As of July 2017, it exists outside New Mexico, across the United States, and is present internationally in 50 locations in 23 countries. The model is used in over 30 states, by over 80 institutions, including the Department of Defense for its initiatives on Chronic Pain, and by the Veterans Health Administration for various initiatives.
When the amount of research and innovation based on the Echo model became substantial, the 2016 U.S. Senate unanimously passed Public Law 114-270, making Project ECHO a national model for healthcare collaboration in rural and underserved areas. The bill also "requires the Department of Health and Human Services (HHS) to report on technology-enabled collaborative learning and capacity building models, which connect specialists to primary care providers through videoconferencing to facilitate case-based learning, dissemination of best practices, and evaluation of outcomes."
Project ECHO has received support from the New Mexico Department of Public Health, the New Mexico Legislature, and the University of New Mexico. It has received grants from the Robert Wood Johnson Foundation, Agency for Healthcare Research and Quality (AHRQ), The GE Foundation, MRISP, and the Leona M. & Harry B. Helmsley Charitable Trust.
Services offered
The ECHO model is designed to extend specialty care to rural patients utilizing videoconferencing for area providers to offer:
Direct support from specialists to primary care providers (PCPs) on patient cases
Increased knowledge for PCPs through shared case-based learning and mentorship
Assistance with patient treatment plan development and monitoring
Opportunities to participate in research are provided, but are not mandatory
In New Mexico, weekly teleECHO clinics are offered and intended to serve as knowledge networks, with focus on the following topics:
Endocrinology/Diabetes
HIV
Chronic pain and opioid management
Hepatitis C
Integrated addictions & psychiatry
Rheumatology
Behavioral health
Tuberculosis
Bone health
Cardiology
Miners' wellness
Antimicrobial Stewardship
Prison Peer Educator Training
Community Health Worker specialist trainings in diabetes, addictions and obesity prevention

The model also ensures that patients have the opportunity to ask questions, make suggestions, discuss solutions, and build a community of practice. The clinics are a collaborative effort of specialists and rural providers, including:

Physicians
Clinic nurses
Nurse practitioners
Physician assistants
Community health workers
Social workers

The expertise of the remote providers increases with every patient presented, further building capacity to provide more accessible and higher quality care to rural residents.

In addition to direct benefits for patients, clinicians gain:

Improved capacity for serving patients
Opportunity for "grand rounds" experience and didactic presentations
Collaboration of the teleECHO members on individual cases
Increased knowledge base
Expert specialty advice for needed patient care issues
One-on-one training opportunities with specialists
Assistance with monitoring treatment
Free continuing education credits
Live support (telementoring)

By increasing the capacity of the providers, rural communities are provided with:

Better access to specialty care
Opportunity for local providers to expand their medical experitise and knowledge base
Reduction in transportation requirements and associated costs (gas, time off of work, etc.)
Increased convenience of local treatment of patients with chronic conditions
Results
In a 2011 New England Journal of Medicine study, the model demonstrated that quality of care and patient outcomes were equal between the rural clinic site and the academic site at the University of New Mexico (UNM) Health Sciences Center.
In 2014, Project ECHO received a 3 year grant from The Leona M. & Harry B. Helmsley Charitable Trust to pilot a program that could serve as a national model for providing best-practice and specialized care for the more than 25 million Americans living with diabetes, as well as others suffering from hormonal disorders. That project, called Endo ECHO, has demonstrated similar success.
See the Robert Wood Johnson Foundation's overview on Project ECHO in this 5-minute video:
As of 2017, New Mexico's Project ECHO has provided more than 10,000 case consultations and includes more than 1000 primary care providers. Clinicians have received more than 66,000 hours of continuing medication education through ECHO.
Project Echo maintains this up-to-date list of research associated with the program.
Replication
Due to substantial expansion within the U.S. — and across the globe — the ECHO model's replication process has been modified over the years. As of 2022, several partnerships offerings are available.
Topics
Behavioral health
Dementia
Depression
Diabetes
Health conditions
Healthcare quality
HIV and AIDS
Infectious diseases
Obesity and weight control
Substance use and misuse
Telehealth

States served
National/Multi-State, New Mexico
Date added
September 4, 2013
Date updated or reviewed
July 25, 2017
Suggested citation: Rural Health Information Hub, 2017. Project ECHO® – Extension for Community Healthcare Outcomes [online]. Rural Health Information Hub. Available at: https://www.ruralhealthinfo.org/project-examples/733 [Accessed 19 May 2022]
Please contact the models and innovations contact directly for the most complete and current information about this program. Summaries of models and innovations are provided by RHIhub for your convenience. The programs described are not endorsed by RHIhub or by the Federal Office of Rural Health Policy. Each rural community should consider whether a particular project or approach is a good match for their community's needs and capacity. While it is sometimes possible to adapt program components to match your resources, keep in mind that changes to the program design may impact results.