Rural Health Initiative: Kitchen Wellness Program
Summary
Need: Preventive and chronic medical condition care for farm families/agribusiness owners/employees with time and monetary constraints.
Intervention: Through a "Kitchen Wellness" program, a trained healthcare professional provides in-home or on-site complimentary preventive health screening, educational materials, and community referral information.
Results: Completion of hundreds of health screenings, tailored health education sessions and referral information.
Description
Established in 2004, the Rural Health Initiative (RHI) is a nonprofit, community-supported program designed to help remove the barriers of understanding and managing health and healthcare for the agricultural community. Through its unique concept of "Kitchen Wellness", wellness services and health information are offered in rural homes or businesses.
Services are free for adults in the agriculture community, including crop and dairy farmers, other agribusinesses, as well as individuals and employees associated with agricultural enterprises, such as hoof trimmers. Kitchen Wellness also reaches the Amish community and Hispanic workers.
Assisting residents of Wisconsin's Shawano, Outagamie, and Waupaca counties, the program is delivered by trained Outreach Health Coordinators. These professionals come to homes or businesses and conduct complimentary on-site preventive health screenings. Key challenges this program addresses include:
Culture of Farming
Farmers are known to be selfless people, which often means their health comes second to the health of their animals, their crop planting, and their harvests since the family's livelihood depends on these activities. RHI team members provide a trusted ear and resource for farmers.
Delivery Model
Members of agriculture, primarily farmers, are accustomed to a service delivery model that often comes to the farm, like veterinary services and large equipment repair services. However, society's current healthcare delivery model is opposite. This contributes to lower attendance rates within the healthcare system, and often driven only by emergency needs. RHI's on-site outreach offers a healthcare model that connects farmers with basic health screening services.
High Deductibles
Most farmers carry independent insurance, often with high deductibles. RHI's complimentary services remove the barrier of cost.
Health Literacy
Medical terminology can often be confusing to people. RHI's health coaching helps remove this barrier by explaining health information in simple and easy-to-understand terms.
RHI, a 501(c)3, is an effort supported by private and public agencies.
Services offered
Preventive Screenings:
Screening results for diabetes, heart disease, and depression. Blood pressure measurements, height/weight measurements to calculate body mass index (BMI). Glucose and cholesterol screening using minimal blood from a finger prick, allowing results in 10 minutes.
Health Coaching:
Education geared to abnormal test results or any topic of interest; life-style optimization, including health goal-setting; prevention information, screening, and any desired health needs.
Referral information:
Referrals to community agencies that might assist in reaching health goals, or for healthcare system information; in addition to counseling and networking services, financial planning, and agricultural assistance programs
Health Risk Assessments (HRA)
Personalized Follow-Up Packet:
Based on test results and HRA results, a customized education packet is provided 2-3 weeks after personalized visit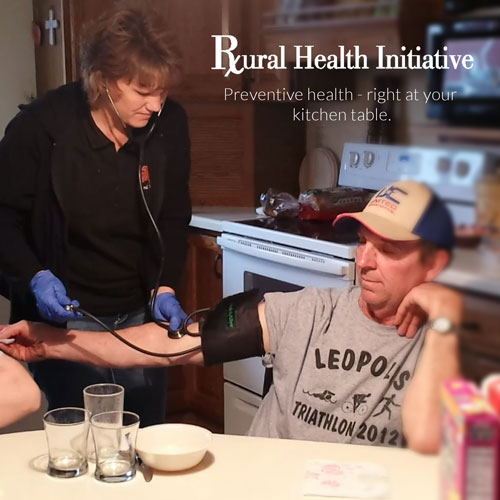 Results
To learn about how the Rural Health Initiative is impacting county farm families, see the Fall 2012 National Rural Health Association Rural Roads article Farm Calls (pages 6-7, 9).
Challenges
Sustainability is a barrier for new and existing programs. The Rural Health Initiative is a nonprofit organization and must compete with many other nonprofits competing for funding.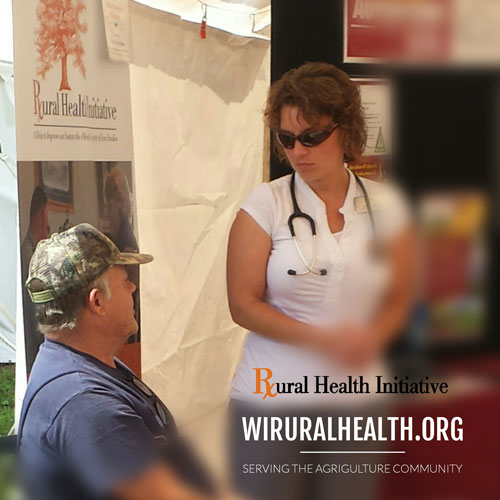 Replication
The program originated in 2004 in Shawano County and in 2012, expanded to Outagamie and Waupaca counties. To read about RHI's expansion to other counties, refer to this ThedaCare article.
Program coordinators recommend finding a healthcare professional with a passion for agriculture and those working in/associated with agriculture. Additionally, individuals from communities served are seen as the local experts and often are more easily approached for healthcare solutions.
The program website contains an RHI News, with webcasts, radio interviews, television appearances, annual reports, and press releases, as well as articles published about the initiative. The Resources page provides additional information on farm health, safety, and health insurance, among other topics.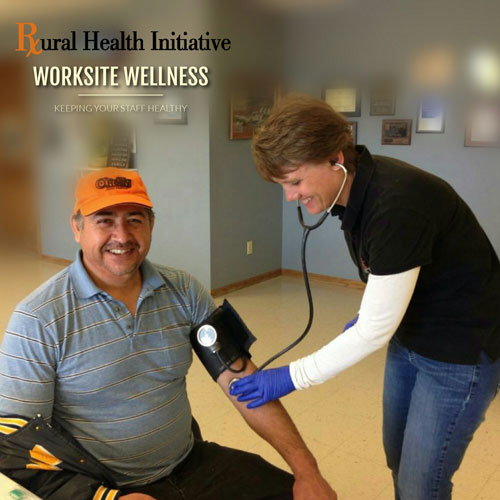 Contact Information
Rhonda Strebel, Executive Director
Corporate Office (inside ThedaCare Physicians – Shawano)
715.524.1488
rhonda@rhiwi.org
Topics
Anabaptists
Culture and cultural competency
Farmers and farmworkers
Health screening
Hispanic or Latino
Wellness, health promotion, and disease prevention

States served
Wisconsin
Date added
November 25, 2014
Date updated or reviewed
November 23, 2020
Suggested citation: Rural Health Information Hub, 2020. Rural Health Initiative: Kitchen Wellness Program [online]. Rural Health Information Hub. Available at: https://www.ruralhealthinfo.org/project-examples/778 [Accessed 28 November 2023]
Please contact the models and innovations contact directly for the most complete and current information about this program. Summaries of models and innovations are provided by RHIhub for your convenience. The programs described are not endorsed by RHIhub or by the Federal Office of Rural Health Policy. Each rural community should consider whether a particular project or approach is a good match for their community's needs and capacity. While it is sometimes possible to adapt program components to match your resources, keep in mind that changes to the program design may impact results.