Right Side Up Falls Prevention
Summary
Need: Falling is one of the leading causes of morbidity and mortality in adults over the age of 65.
Intervention: The Right Side Up program was implemented in rural Otter Tail County to address the prevention and management of falls and risk for falls through in-home assessments given by interdisciplinary healthcare professionals and students.
Results: Short-term outcomes revealed 100% of participants found the visit and recommendations for falls prevention to be helpful, and 78% implemented these recommendations.
Description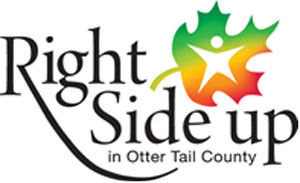 Falls account for the leading cause of injury-related deaths in adults ages 75 and over. Annually, more than 1 in 4 individuals over the age of 65 fall each year, but less than half tell report it to their doctor. The Right Side Up program was developed with the goal of providing a comprehensive and organized continuum of care for the prevention and management of falls and falls risks in rural, elderly individuals.
An interprofessional falls and prevention team is made up of pharmacy, medical, and physical therapy students as well as a public health nurse, physical therapist, occupational therapist, nurses, and clinical pharmacists.
Right Side Up offers services to elderly community members in rural Otter Tail County who have a history of falls or are at risk for falling. Primary risk factors for falls include:
Medical conditions
Multiple medications
Environmental hazards
Vision and balance age-related changes
This program previously received funding through a Medical Education and Research Costs Grant and a U.S. Department of Agriculture Rural Health and Safety Education Grant.
Partners of the Right Side Up program include:
Services offered
An interdisciplinary healthcare team made up of medical professionals and students assesses the individual's risk for falling and provides falls prevention recommendations based off of the completion of an in-home assessment. Referrals to this program can be made by family members or healthcare providers. At a typical home visit:
A nursing and environmental assessment is given by a public health or home health nurse (and occasionally a nursing student)
All prescription and over-the-counter medications are individually reviewed by a pharmacy student
The community member's clinical record and laboratory tests are reviewed by team members, if available
A physical therapy student conducts strength and balance assessments
Occupational therapy, medical, and nurse practitioner students may participate as well
Common falls prevention recommendations include:
Replacing slippery rugs with non-skid rugs
Safety bar installation
Improved nutrition, strength, and increased activity level
A physical therapy or occupational therapy consult
Medication adjustments to minimize dizziness, lethargy, or light-headedness
At a meeting where the entire team is gathered, the students propose falls prevention recommendations specifically catered to what they found at each in-home assessment. After a discussion takes place among the interdisciplinary team, written recommendations are sent to the individual who had the assessment, and/or their family member, as well as their primary care provider.
Results
Short-term outcomes:
Telephone interviews were conducted and data was obtained from 11 out of 16 visits that had been performed within a 6 month time span. Data was acquired from 7 patients and 6 caregivers, and the time since the visit averaged 3.5 months. Results showed:
100% found the visit and recommendations to be helpful
78% made a change to reduce falls
57% discussed recommendations with their primary care provider
17% had falls after the visit
86% thought the visit would be beneficial for others
In 2011, Right Side Up received the Minnesota Rural Health Team of the Year Award for its compassionate efforts to decrease fall risk and increase quality of life among senior citizens within the county.
Challenges
Differing schedules among participating healthcare professionals, students, patients, and their caregivers can pose as a challenge for coordinating home visits as well as follow-up evaluations.
Replication
For more information on Right Side Up, see the Summary, Goals, Methods, and Impacts of the Otter Tail County Health Aging Collaborative.

View this article on Lake Region Healthcare's website for more information on the program's positive community impact and grant success.
Topics
Aging and aging-related services
Elderly population
Interprofessional training of the health workforce
Occupational therapy
Physical therapy
Wellness, health promotion, and disease prevention

States served
Minnesota
Date added
January 8, 2015
Date updated or reviewed
March 1, 2023
Suggested citation: Rural Health Information Hub, 2023. Right Side Up Falls Prevention [online]. Rural Health Information Hub. Available at: https://www.ruralhealthinfo.org/project-examples/782 [Accessed 29 March 2023]
Please contact the models and innovations contact directly for the most complete and current information about this program. Summaries of models and innovations are provided by RHIhub for your convenience. The programs described are not endorsed by RHIhub or by the Federal Office of Rural Health Policy. Each rural community should consider whether a particular project or approach is a good match for their community's needs and capacity. While it is sometimes possible to adapt program components to match your resources, keep in mind that changes to the program design may impact results.