HopeWest
Summary
Need: To provide easily-accessible and affordable services to address the challenges associated with aging, serious illness and grief across Western Colorado's rural counties.
Intervention: A nonprofit, community-sustained healthcare model was created to address serious illness care and grief needs of adults and children.
Results: Since 1993, HopeWest has helped more than 22,000 hospice patients and families in need and has grown to serve five counties.
Description
HopeWest is the only nonprofit hospice organization operating in Colorado's Western Slope counties – Mesa, Delta, Montrose, Rio Blanco, and Ouray. It offers palliative care through physician specialist consultations, nursing homes, home-based care coordination, and their Living with Cancer, Transitions and Journeys programs. Grief support is available to children and adults. HopeWest is also expanding its programs to address the needs of the aging community.
Founded in 1993, HopeWest emphasizes the integration of hospice, palliative care, and grief services to have the most impact in a community. By working with local physicians, nursing home providers, community partners and families, they tailor programs to meet the individual needs of each rural community they serve.
The program has teamed up with home health programs and Critical Access Hospitals to form joint programs. A HopeWest office is located in the frontier town of Grand Mesa, and their palliative care and grief services are in frontier Meeker in partnership with Pioneers Medical Center, a Critical Access Hospital.
As a philanthropic endeavor, HopeWest created 3 unique spaces: Heirlooms for Hospice resale stores, Spoons Bistro & Bakery, and a coffee shop named Artful Cup. All proceeds from these retail entities support the mission of HopeWest.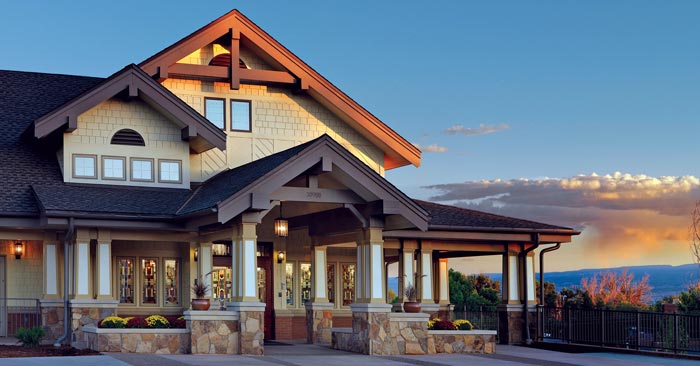 The Care Center provides a comfortable environment for patients who can no longer be at home, but would rather not be hospitalized. The Center for Living Your Best building in Grand Junction will be the future home of current and new community-based services of HopeWest. Various programs will work together to address the needs of older persons living in Mesa County: The CLUB is a set of programs and services provided to members on a monthly and fee-for-service basis. Some of the services will be shared with the future program PACE (Program of All Inclusive Care for the Elderly).
A unique distinguisher of the organization is its volunteers. More than 1,300 volunteers provide companionship for patients and families, assist with grief support groups, help with music and art projects, greet customers at Heirlooms for Hospice, and much more. HopeWest strives to one day be able to provide one volunteer to every single patient. The experiences of one HopeWest volunteer are described in The Rural Monitor article, Coming Full Circle.
This video portrays the vision and benefits HopeWest brings to clients and their families:
Services offered
HopeWest provides care through the following key programs:
The CLUB (coming soon)
Educational events for the community focus on topics like coping with grief and advance care planning
HopeWest Veterans gives special recognition to veterans served by HopeWest
HopeWest also offers:
An interdisciplinary team (nurse, social worker, certified nursing assistant, chaplain, and physician) care wherever the patient resides: home, assisted living, or nursing home
Sliding fee scale for services
Family/caregiver support
24/7 physician, nurse, and pharmacy assistance
Social support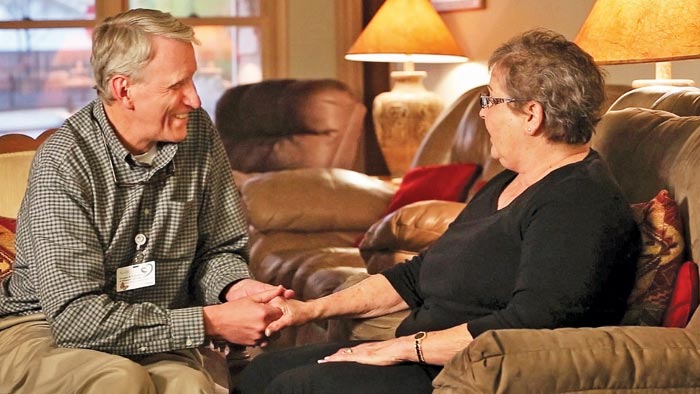 Results
Since its inception, more than 22,000 patients and families have been served through the hospice program alone. HopeWest serves more than 2,500 patients and 1,500 individuals coping with grief each year across 8,000 square miles in western Colorado including Mesa, Montrose Ouray, Delta, and Rio Blanco counties. It has also provided access to care for patients who live in remote areas, have no insurance, or have needs not traditionally covered by Medicare Hospice Benefits.
The organization emphasizes compassion to its own employees, as demonstrated by being honored as a ColoradoBiz Magazine 2015 Top Company Finalist and a "Colorado Best Company to Work For" for 4 consecutive years. They were also nominated for Modern Healthcare's 2017 Best Places to Work and Top Ranking Hospice Organization.
Challenges
Some barriers HopeWest has encountered include:
Financial burdens of data submission and regulatory compliance with Centers for Medicare and Medicaid Services
Managing time and money effectively to reach areas of the Western Slope
Keeping up-to-date on industry practices and impacts
Handling the complexities of accurate electronic medical records
Lacking the financial protections that rural hospitals enjoy such as designations like Critical Access Hospital, Disproportionate Share Hospital, or Sole Community Provider
Replication
To create a similar organization, HopeWest staff believes the key is to connect at a personal level community by community.
Having hospitals sponsor or partner with hospice programs can be effective approaches to providing care in rural communities. Collaboration is key to achieving significant results.
Topics
Community engagement and volunteerism
Fundraising
Hospice and palliative care
Networking and collaboration

States served
Colorado
Date added
March 24, 2015
Date updated or reviewed
May 20, 2019
Suggested citation: Rural Health Information Hub, 2019. HopeWest [online]. Rural Health Information Hub. Available at: https://www.ruralhealthinfo.org/project-examples/789 [Accessed 3 June 2023]
Please contact the models and innovations contact directly for the most complete and current information about this program. Summaries of models and innovations are provided by RHIhub for your convenience. The programs described are not endorsed by RHIhub or by the Federal Office of Rural Health Policy. Each rural community should consider whether a particular project or approach is a good match for their community's needs and capacity. While it is sometimes possible to adapt program components to match your resources, keep in mind that changes to the program design may impact results.