Healthy Places NC
Summary
Need: Due to systemic issues and historic lack of investment, people living in under-resourced rural communities in North Carolina have poorer health than those living in urban areas.
Intervention: Funded by the Kate B. Reynolds Charitable Trust, Healthy Places NC is investing $100 million over 10 years in rural North Carolina counties to improve residents' health.
Results: As of July 2021, the Trust has invested more than $75 million in 10 Healthy Places NC counties.
Description
In 1947, the Kate B. Reynolds Charitable Trust was established to improve the health and quality of life of residents in Forsyth County and across the state of North Carolina. The Trust works to ensure that residents have equitable access to quality healthcare, economic opportunities, and educational attainment.
In 2012, the Trust launched Healthy Places NC to work with 10 rural and under-resourced counties to improve health outcomes. Program coordinators listen to and learn from these communities, especially making sure that people of color and people with low incomes are heard. The program focuses on systems changes with the goal of equitable opportunities for all community members.
The Trust has invited the following counties to participate in Healthy Places NC:
Beaufort
Bladen
Burke
Columbus
Halifax
Edgecombe
McDowell
Nash
Robeson
Rockingham
Services offered
Healthy Places NC counties identify health issues, set goals, and build capacity for their residents to lead and complete the work. These health issues include:
Obesity reduction: increasing healthy and active living in communities with low incomes
Substance misuse: reducing rates of substance misuse and overdose deaths
Access to care: increasing alignment and coordination of healthcare for residents with low incomes as well as increasing access to insurance and safety net providers for individuals and communities with low incomes
Adverse childhood experiences: addressing childhood trauma for children from neighborhoods with low incomes
Results
Healthy Places NC has generated excitement and promoted collaboration in the participating communities. As of July 2021, the Trust has invested more than $75 million in 10 Healthy Places NC counties.
By listening to community members, applying an equity lens, and focusing on scale and sustainability, the Trust and the participating counties continue to:
Make health improvement a shared community value
Focus on changing the systems that have historically held residents back
Achieve quantifiable progress toward improving outcomes on major health indicators
Healthy Places NC has also been identified as a national example by County Health Rankings & Roadmaps.
Some examples of this work:
McDowell County
The Trust works in McDowell County supporting community efforts to achieve obesity reduction and combat substance misuse. In addition, it has worked to empower the Latinx community, build capacity in various communities to advance healthy eating habits and aid in the development of a community health hub.
Through grant money and technical assistance, the Trust supports community leaders in West Marion and other underserved communities to bring new voices into conversations about what their county needs to be a thriving, healthy place to live. Community leaders in West Marion hold community forums to address disparities like substandard housing and scarcity of healthy food. Many projects, such as a community garden, have been developed and implemented through these community meetings and collaborations.
Read more about McDowell County.
Beaufort County
Since 2012, the Trust has been working in Beaufort County around obesity reduction and combatting substance misuse. It has also helped the community expand healthy food access for low-income and communities of color, enhanced parks in underserved neighborhoods, assisted grassroots coalitions, and supported the position for a recreation coordinator.
To increase access to affordable, healthy food, Beaufort County residents created the Washington City Market: a farmers market for growers, restaurateurs, and residents. The market also serves as a gathering place for community organizations.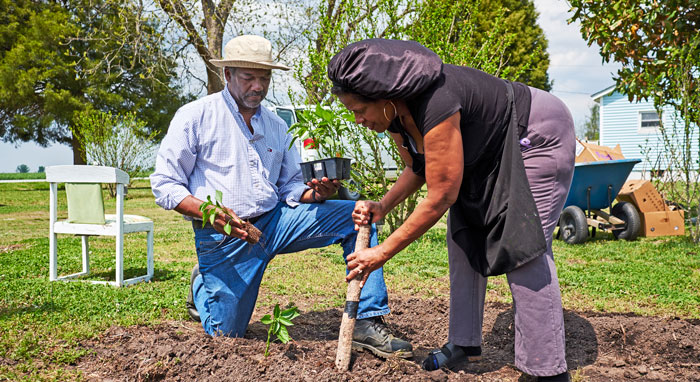 The Asbury United Methodist Church works with the school system to make sure children in need have access to food during the summer.
The Healthy Eating Active Living (HEAL) Collaborative partners with schools, a food pantry, the public health department, and other organizations. The HEAL Collaborative became an accredited food council and is working to improve infrastructure for walking and biking.
Read more about Beaufort County.
Halifax County
Halifax County was named a Healthy Places NC community in 2012. From the start, residents identified childhood obesity as an issue they wanted to tackle. The Trust provided technical assistance and support to revive an existing coalition focused on health improvement in the county.
In 2013, the group relaunched as the Roanoke Valley Community Health Initiative (RVCHI). They created a Coordinating Council and various workgroups, established the Halifax Parks & Recreation Advisory Board to implement a county master recreation plan, and began community conversations to understand residents' concerns about lack of active living options for youth.
By 2015, RVCHI hired a coordinator to increase the group's ability to be a community resource around health improvement and youth issues. RVCHI, with support from Healthy Places NC, has encouraged schools to play a more active role in combatting childhood obesity.
As a result of this partnership, 15 elementary schools implemented the Coordinated Approach to Child Health (CATCH) program, an evidence-based program that promotes health-focused school activities, healthier lunches, and increased physical activity.
Challenges
Healthy Places NC looks different in each county and requires listening to community members and providing flexibility in funding and approaches.
Creating and sustaining long-term excitement and motivation on selected health issues among multiple partners requires consistent and deep involvement by Trust staff and partners.
Building capacity in rural areas can take a long time to help create an ecosystem of organizations with the staff, leadership, and financial stability to meaningfully contribute to health improvement in the community.
The Trust team is thinking deeply and strategically about how to sustain and grow the work on the ground long-term to change the systems that have marginalized rural communities and created the health disparities that exist today.
Replication
To help make Healthy Places NC successful, the Trust:
Selected counties that were ready for change
Developed regional support systems
Focused early evaluations
Brought in new national partners
Redefined relationships with in-state partners
Provides ongoing technical assistance tailored to specific county needs
Provides general operating support and capacity building to grassroots organizations
Seeks out and builds relationships with organizations led by and serving people of color
Connects local community efforts with statewide systems-change work around the health issues identified by the counties
Nine years into this work, the Trust continues to learn and adapt as it works to create long-term, sustainable change in rural communities.
Topics
Philanthropy
Population health
Wellness, health promotion, and disease prevention

States served
North Carolina
Date added
June 8, 2015
Date updated or reviewed
July 11, 2022
Suggested citation: Rural Health Information Hub, 2022. Healthy Places NC [online]. Rural Health Information Hub. Available at: https://www.ruralhealthinfo.org/project-examples/801 [Accessed 30 May 2023]
Please contact the models and innovations contact directly for the most complete and current information about this program. Summaries of models and innovations are provided by RHIhub for your convenience. The programs described are not endorsed by RHIhub or by the Federal Office of Rural Health Policy. Each rural community should consider whether a particular project or approach is a good match for their community's needs and capacity. While it is sometimes possible to adapt program components to match your resources, keep in mind that changes to the program design may impact results.