Meadows Diabetes Education Program
Summary
Need: To provide diabetes care and education services to those in rural southeast Georgia.
Intervention: Diabetes outreach screening, education, and clinical care services were provided to participants in Toombs, Tattnall, and Montgomery counties.
Results: Patients successfully learned self-management skills to lower their blood sugar, cholesterol, and blood pressure.
Description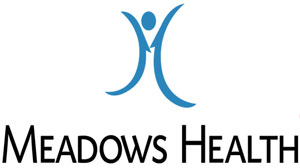 The Meadows Diabetes Education Program, a clinical care/diabetes education program, was created to help patients learn self-management skills to lower their blood sugar, cholesterol, and blood pressure. In the rural Georgia counties of Toombs, Tattnall, and Montgomery, diabetes prevalence is far higher than state and national averages. Poverty can impact the progression of this disease. At the time the project began, one in every four of this region's residents was uninsured, making it difficult for patients to afford glucose meter strips or causing them to forgo screening essential to the detection of diabetes.
Meadows Regional Medical Center, along with 20 consortium partners, created the Meadows Diabetes Education Program in 2012. This program offered the CDC's DSMES (Diabetes Self-Management Education and Support) and National Diabetes Prevention Program classes (known at Meadows as the "Healthy Lifestyles Program") monthly or per referral. Classes in Spanish were available upon request. The program ended in 2022.
This program received support from a 2012-2015 Federal Office of Rural Health Policy (FORHP) Rural Health Care Services Outreach grant. The program later received additional funding for telehealth and care coordination.
Services offered
Diabetes education programs were open to community members interested in prevention education. Community members could attend monthly classes and receive follow-up support through the Healthy Lifestyles Program for weight loss and physical activity. Community members needed a provider referral to participate in DSMES classes, but no referral was needed for the Healthy Lifestyles Program.
The classes were originally free, but later there was a minimal fee. If participants' health insurance covered DSMES classes, the program billed insurance.
New sites also opened at Meadows Wellness Center, where classes were offered per referral, as an extension of the Meadows Wellness Center Program. New funding led to hypertension management, heart health, and smoking cessation classes.
The Meadows Diabetes Education Program worked with the Georgia Department of Public Health, South Central Health District, to provide DSMES classes through a web-based program. Participants could access classes without going to a health department or clinic. Participants who didn't have internet access or a device that allowed video-chat could visit the Meadows Health Wellness Center or Mercy Clinic site and use its telehealth capability. If participants were unable to travel, they could call their county health department to set up access to classes.
Integrated health services via telehealth took place at a local charitable care clinic (Mercy Medical Clinic) and a rural health center (RT Stanley Health Center) and included endocrinology, neurology, behavioral health, and retinal imaging.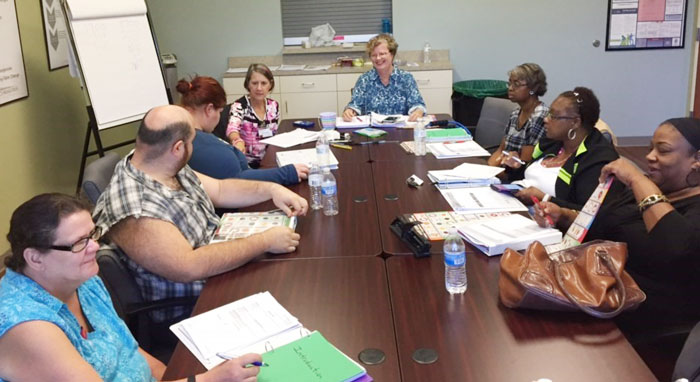 Results
In 2019, participants from over 13 counties attended classes. Participation from Hispanic community members increased to 26% with the addition of classes offered in Spanish.
Percent of patients receiving preventive care:
39.7% received an eye exam in 2019, compared to 19% in 2018
62.1% received a foot exam in 2019, compared to 52% in 2018
23.6% received a dental exam in 2019, compared to 15% in 2018
90.8% received a depression screening in 2019, compared to 69% in 2018
23% received a flu vaccine in 2019, compared to 17% in 2018
6.9% received a pneumonia vaccine in 2019, compared to 2% in 2018
Results from the 2012-2015 funding period:
228 patients were assisted at the various sites
245 patients participated in support group meetings
Community education classes served more than 60 patients
Of the participants who completed the DSMES programs:

66.6% improved their A1C levels
45.6% decreased their A1C to 7.0 or below
52.2% with elevated blood pressure lowered their levels
58.6% brought their cholesterol into a healthy range

The regional consortium group expanded from 8 members to 20 members
After this funding period, an expanded pilot showed a reduction in emergency department use and inpatient hospitalization, and 69% of the participants who enrolled in telehealth services expressed strong satisfaction in care. In 2019, program coordinators reported a reduction in hospital utilization, which reduced emergency department costs by $6,058 and inpatient costs by $44,181.
For more information about this program:
McLendon, S.F., Wood, F.G., & Stanley, N. (2019). Enhancing Diabetes Care through Care Coordination, Telemedicine, and Education: Evaluation of a Rural Pilot Program. Public Health Nursing, 36(3), 310-320. Article Abstract
McLendon, S.F., Wood, F.G. & Stanley, N. (2019). Enhancing Diabetes Care through Care Coordination, Telemedicine, and Education: Rural Pilot Program. Poster presented in August at the American Association of Diabetes Educators National Conference, Houston, Texas. Poster presented in March at the 10th Annual Georgia Telehealth, Global Partnership for Telehealth (GPT), Cordele, Georgia.
McLendon, S.F., & Wood, F.G. (2017). Enhancing Diabetes Care through Telemedicine and Diabetes Self-Management Education (DSME). Poster presented at the Joint DNP Intensive (University of Alabama Capstone College of Nursing, University of Alabama at Birmingham School of Nursing, the University of Alabama at Huntsville School of Nursing), Tuscaloosa, Alabama.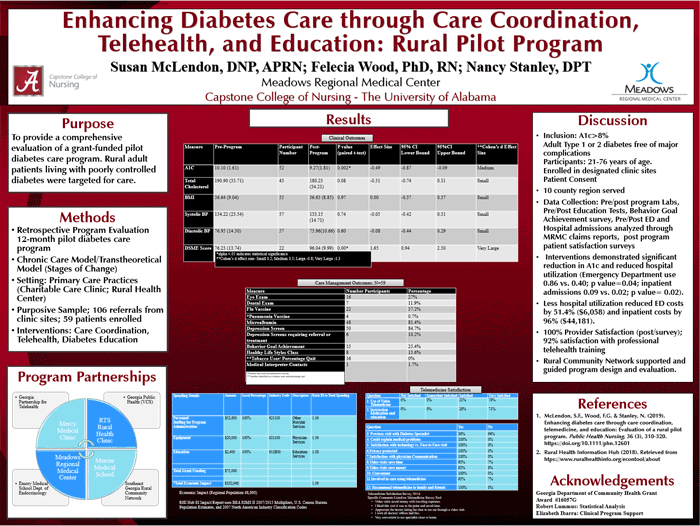 Challenges
Staff shortages
Attempts to set a sustainable charge for patients
Consistent patient "no shows" for educational classes
Limited ability to find volunteer "train the trainer" leaders in the first year
Challenges for patients: transportation, language/literacy, insurance, and broadband
Replication
Develop formal networks to strategically plan for outreach programs.
Incorporate a comprehensive community needs assessment to prioritize needs/issues in the planning process.
Be flexible, as pilot programs often need to be changed when activities prove to be ineffective.
Establish evaluation measures to assess program viability.
Assist with billing insurance to maintain sustainability.
Know that group education proved easier to finance than individual sessions, due to Medicare regulations.
Incorporate IT experts into planning telehealth programs.
Topics
Chronic disease management
Diabetes
Wellness, health promotion, and disease prevention

States served
Georgia
Date added
September 2, 2015
Date updated or reviewed
September 5, 2023
Suggested citation: Rural Health Information Hub, 2023. Meadows Diabetes Education Program [online]. Rural Health Information Hub. Available at: https://www.ruralhealthinfo.org/project-examples/813 [Accessed 2 October 2023]
Please contact the models and innovations contact directly for the most complete and current information about this program. Summaries of models and innovations are provided by RHIhub for your convenience. The programs described are not endorsed by RHIhub or by the Federal Office of Rural Health Policy. Each rural community should consider whether a particular project or approach is a good match for their community's needs and capacity. While it is sometimes possible to adapt program components to match your resources, keep in mind that changes to the program design may impact results.