HCC of Lafayette County's Heath Information Technology Workgroup
Summary
Need: To ensure the quality and sustainability of rural West Central Missouri's health services through the use of technology.
Intervention: The Health Care Coalition of Lafayette County convened a Health Information Technology (HIT) workgroup to establish electronic medical and prescription records, telemedicine capabilities, and training for Lafayette County and surrounding areas.
Results: The workgroup fully equipped a local emergency department with HIT, launched electronic prescriptions for nearly a dozen Lafayette County providers, and identified acute needs hindering the adoption of electronic health records.
Description
The Health Care Collaborative (HCC) of Rural Missouri is comprised of over 40 organization that serve Missouri's Lafayette, Carroll, Ray, Saline, and Eastern Jackson counties. This network provides a centralized effort to ensure adequate provision of healthcare services to the public. It also serves as a source of advocacy for healthcare providers.
View this video on how the HCC builds success through collaboration:
One specific focus of the HCC was to address technological needs, such as electronic medical records (EMR) and telemedicine, for local healthcare facilities, schools, prisons, and community organizations. The Rural Health Information Technology (HIT) workgroup was formed to help uncover those needs, install electronic systems, and train staff on how to operate them.
With each project, the workgroup offsets the cost of HIT equipment by purchasing it for the providers while connecting clients to technology support groups for further assistance. Through the leveraging of existing resources and collaborating to address issues, HCC's HIT workgroup ultimately strives to improve patient safety, lower patient charges, reduce emergency room care, and decrease test duplication.
View this video to hear the impact of HCC's Health Information Technology in Missouri's rural communities:
HCC partners with local hospitals, practitioners, mental health providers, health departments, and health education members to expand telemedicine access. Several of their partners include Lafayette County Health Department, University of Missouri-Kansas City, Care Connection for Aging Services, Missouri Telehealth Network, and many others.
This program was supported by a 2011-2013 Rural Health Information Technology Network Development grant.
Services offered
HCC's HIT committee installs the following technology enhancements at facilities in Lafayette and surrounding counties, as well as trains staff on how to operate them:
Electronic prescriptions (eRx) – Allows providers and pharmacists to transmit and file prescriptions electronically
Telehealth – Established especially in primary care rural facilities, this system allows providers access to preventive and curative health advice through telecommunication services, often through videoconferencing
Electronic Medical Records (EMR) – Digitally stores the dictation and medical notes from a practitioner about a patient's visit
Emergency Department Information System (EDIS) – Connects emergency room medical teams instantly to critical patient information and uses electronic charting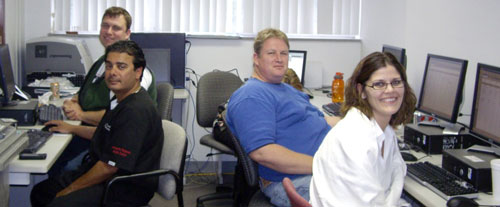 Results
The HCC HIT workgroup has completed their work and achieved the following for HCC and its partners in West Central Missouri:
Assisted in the installation of EDIS at a local healthcare facility, making it one of the nation's leading facilities of its size in electronic medical systems
Through partnering with local providers, HCC implemented eRx for nearly a dozen Lafayette County providers
Identified acute needs hindering facilities' adoption of Electronic Health Records (EHR) including lack of funding, provider fears, and multiple EHR products selected without interoperability
Barriers
Along with the general barriers the Health Care Collaborative encounters on a large-scale level (high poverty, poor reimbursement, lack of care coordination), their HIT workgroup was faced with several barriers to overcome, including broadband connectivity and equipment costs.
Broadband continues to be an issue, but with new resources through the USAC program, HCC has had an opportunity to expand services.
Replication
Below are some of the key principles that can be duplicated by networks that wish to replicate HCC's HIT workgroup:
Share HIT professional services among your partners
Encourage roundtable sharing between HIT partners
Collaboration and partnerships are key success factors
You can still be financially viable even when you are fast-growing
Strategic planning is an ongoing process that requires dedication to its purpose
Topics
Emergency department and urgent care services
Health information technology
Networking and collaboration
Pharmacy and prescription drugs
Telehealth

Date added
September 16, 2015
Date updated or reviewed
January 16, 2018
Please contact the models and innovations contact directly for the most complete and current information about this program. Summaries of models and innovations are provided by RHIhub for your convenience. The programs described are not endorsed by RHIhub or by the Federal Office of Rural Health Policy. Each rural community should consider whether a particular project or approach is a good match for their community's needs and capacity. While it is sometimes possible to adapt program components to match your resources, keep in mind that changes to the program design may impact results.