Cross-Walk: Integrating Behavioral Health and Primary Care
Summary
Need: To address and treat substance use disorder (SUD) and depression in the Upper Great Lakes region.
Intervention: Cross-Walk, a program that integrates behavioral healthcare into primary care services, was developed in Michigan's Marquette County.
Results: The collaborative efforts strengthened care management services in local healthcare facilities as primary care patients were referred to a behavioral health specialist.
Description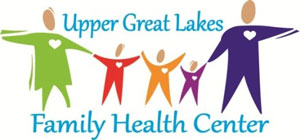 Since the closing of Michigan's K.I. Sawyer Air Force Base, the area that was once supported by an influx of people lost industry, high paying jobs, residents, and healthcare resources. Affordable housing rates have since attracted uninsured individuals and families with lower incomes. Many of Marquette County's residents were in need of behavioral health treatments, but the area's lack of healthcare resources have made accessing these services even more difficult.
In response, a collaboration of agencies along with the Upper Great Lakes (UGL) Family Health Center came together with a vision to integrate behavioral healthcare within a primary care setting. They established these 3 goals to carry out their vision:
Improve treatment outcomes for patients with depression and/or substance use issues
Enhance access to specialty treatment
Develop an effective and sustainable integrated healthcare model
The collaboration adapted SAMHSA's Four Quadrant Clinical Integration Model to form their own model called Cross-Walk. Through this model, primary care clinical staff, care managers, and providers are trained in motivational interviewing and dialectical behavioral therapy skills to evaluate their patient's need of behavioral assistance.
In 2016, the collaboration also opened a dental practice within the UGL Family Health Center in order to reach even more people with this integrated model. Now primary, behavioral, and dental care providers collaborate to ensure patients are receiving well-rounded care. Four UGL health centers in Marquette and Houghton counties operate integrated care models of care.
Cross-Walk's partners each contributed to the planning, development, implementation, personnel, resources, and evaluation of the program's efforts:
This program received support from a 2012-2015 Federal Office of Rural Health Policy Rural Health Care Services Outreach grant.
Since the grant ended, the program no longer operates under the name Cross-Walk, but integrated healthcare and coordinated care are still available as UGL Family Health Center's Behavioral Health Integration services.
Services offered
The following are steps that UGL Family Health Center clinics take to ensure patients' behavioral health needs are met through integrated care:
Primary and behavioral health staff use screening methods to identify patients in need of behavioral health services.
Once the patient's screening confirms the necessity of further assistance, they can enroll in an enhanced behavioral health treatment plan and see a behavioral health specialist.
A case manager works with the patient, providers, and other staff to coordinate the patient's care services.
The patient can receive individual and family counseling from behavioral health practitioners and substance use disorder counselors to decrease symptoms related to depression and/or substance use disorders.
The patient can also receive dental care from dentists, hygienists, and dental assistants within their primary care setting.
The Center has added and will continue to add psychiatric nurse practitioners to provide additional support for their mental/behavioral healthcare team.
The program is increasing the balance of tools, such as dialectical behavioral therapy, cognitive behavioral therapy, and motivational interviewing, available to patients and plans to make wellness an increased part of the treatment program going forward.
UGL Family Health Center keeps staff, patients, and community members up-to-date about the advantages of integrated primary and behavioral health services.
Results
The effectiveness of Cross-Walk was evaluated through audits, patient surveys, focus groups, and one-on-one feedback. While it was in effect, this model made collaboration and patient care smoother. Care management services from UPHP were strengthened and referrals increased. Below are some specific successes during the 3-year grant period:
344 patients were referred to a case manager
95% of patients were compliant with treatment plans
76% of patients were screened for depression
68% of patients were screened for substance abuse
68% improvement in depressive symptoms
58% of patients surveyed reported improvement in well-being as a result of integrated care
51% reduction in substance abuse symptoms
As of August, 2016, the Upper Great Lakes Family Health Center has:
Seen over 500 patients for oral health services
Conducted over 1,000 visits with those patients
Established telemedicine, bringing support and a level of comfort for primary care physicians
Building on these initial results, UGL Family Health Center continues to track outcomes for patients with depressive symptoms. Further evaluations confirm the program's ongoing effectiveness.
The Behavioral Health Integration program was also able to successfully expand telehealth services in response to the COVID-19 pandemic, which allowed them to reach new patients and continue treatment while the availability of in-person care was limited.
This model of integrated behavioral and primary care has been duplicated by UGL's Hancock Family Practice Health Center.
Challenges
UGL Family Health Center encountered several barriers during Cross-Walk's implementation, but action steps were taken to confront them and build a successful program.
Providers experienced resistance from patients when counseling was initially recommended.
Solution: Cross-Walk suggested providers personally introduce patients to a behavioral health practitioner, helping to break the ice for the patients through a "warm hand-off."
Patients were not as comfortable agreeing to see a behavioral health practitioner.
Solution: The title, "behavioral health practitioner" was changed to "health coach" to make the specialist seem more approachable. The provider introduced the coach as someone who would teach skills to help cope with the patient's issues. As a result, patients became more willing to have a direct referral. The health coach title was later changed to "counselor" to better reflect the role of the practitioner in the patients' treatment.
A high number of patients were not showing up for scheduled behavioral health appointments.
Solution: Cross-Walk implemented the "Plan, Do, Study, Act" quality improvement project, including an appointment automated reminder call system, educating providers, using dialectical behavioral therapy skills with patients, and reinforcing processes, such as sending patients back to the referring provider after a no-show to obtain a new referral. As a result, the no-show rate reduced from 33% to 27% in the next quarter.
There was a growing need to create an electronic medical record (EMR) system to host each patient's behavioral health information.
Solution: Cross-Walk installed eClinical Works, an EMR system built to integrate medical, behavioral health, and dental information. All clinicians are currently using the system.
Clinical education and patient communication was lacking.
Solution: Motivational interviewing methods were used to educate clinical staff on how to help patients use their strengths to help accomplish their health goals.
Replication
The following were key principles UGL Family Health Center suggests for creating a successful integrated care program:
Teach new and current employees about the cultural impact of integrated care
Promote an integrated team model of care by fostering relationships with team members directly involved in patient care
Routinely assess policies, procedures, and protocols. It is essential to allow these things to evolve to ensure the safety, health, and well-being of patients and staff
Identify a solid method for measuring, reviewing, and evaluating progress of your program and the patients receiving your services
Keep an open mind about what you are trying to accomplish. Even small suggestions can transform thoughts and beliefs as to the best means for serving your patients
Be willing to revise services and procedures in order to accommodate your new system
Find long-term funding sources that will contribute to the sustainability of your program
Additional lessons learned include:
Implementing 15 minute integration appointments with newly referred patients, which serve as a brief introduction or "electronic soft handoff" that allows the counselor to gauge interest, field questions, and inform patients of the benefits behavioral health counseling
Offering 30-45 minute appointments focused on short term, skill-based or wellness-based treatments. The shorter appointment time can feel less intimidating than a full hour appointment. This also makes it easier to schedule around patients' busy lives, with appointments offered twice weekly if necessary.
Hiring with behavioral health integration in mind, including the utilization of psychiatric nurse practitioners as a valuable option for rural providers
Topics
Depression
Integrated service delivery
Mental health
Primary care
Substance use and misuse

States served
Michigan
Date added
October 13, 2015
Date updated or reviewed
October 11, 2021
Suggested citation: Rural Health Information Hub, 2021. Cross-Walk: Integrating Behavioral Health and Primary Care [online]. Rural Health Information Hub. Available at: https://www.ruralhealthinfo.org/project-examples/837 [Accessed 31 May 2023]
Please contact the models and innovations contact directly for the most complete and current information about this program. Summaries of models and innovations are provided by RHIhub for your convenience. The programs described are not endorsed by RHIhub or by the Federal Office of Rural Health Policy. Each rural community should consider whether a particular project or approach is a good match for their community's needs and capacity. While it is sometimes possible to adapt program components to match your resources, keep in mind that changes to the program design may impact results.