Mother's Milk Bank of South Carolina
Summary
Need: Neonatal Intensive Care Units (NICUs) across the state of South Carolina were purchasing breast milk from out-of-state milk banks for preterm infants.
Intervention: The Mother's Milk Bank of South Carolina (MMBSC) opened 26 sites in South Carolina for breast milk to be donated, safely pasteurized, and delivered to NICUs across the state.
Results: Over 571,586 ounces of milk have been donated to MMBSC depot sites and over 402,523 ounces of milk have been delivered to South Carolina NICUs.
Description
Breast milk is recommended by the National Institute of Health for healthy infant growth and protection against infections. In situations where infants are born prematurely or do not have a source of milk, donor breast milk is considered safe when the appropriate measures are taken to collect, store, and pasteurize, according to the American Academy of Pediatrics. There are risks involved in sharing breast milk of unpasteurized milk, such as contamination and exposures to medication, drugs, or herbs.
South Carolina's preterm birth rate is above the national average, at 11.8%. Neonatal Intensive Care Units (NICUs) across the state have commonly purchased donated pasteurized breast milk from out-of-state milk banks to help nurture premature infants.
In order to address the need for breast milk and provide South Carolina mothers the option of donating locally, the South Carolina Neonatal Consortium, the South Carolina Birth Outcomes Initiative, and the Medical University of South Carolina partnered to open the state's first milk bank in 2015.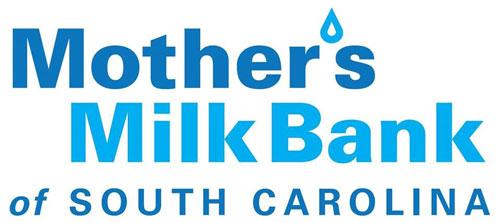 The Mother's Milk Bank of South Carolina (MMBSC) now manages 26 drop-off sites or "depots" located throughout the state, two of which are in the rural towns of Beaufort and Murrells Inlet. MMBSC safely pasteurizes donated breast milk to supply partnering NICUs in South Carolina at a lower cost.
Each milk depot includes at least one coordinator (recruits and communicates with donors, manages sites), a milk preparation technician (pasteurizes, screens, and distributes milk) and a medical director (oversees screening process).
MMBSC currently has contracts 12 South Carolina hospitals to provide neonatal infants with a milk supply for $4 an ounce and no charge to the patients' families. MMBSC opened with $196,000 in donations from 17 organizations across the state.
Services offered
To ensure the safety of donated breast milk, MMBSC follows strict screening, processing, and dispensing guidelines established by the Human Milk Banking Association of North America (HMBANA), a professional organization that supports nonprofit human milk banking. MMBSC walks donors through a process that includes completing a phone screening, clearance from the mother's obstetrician and her baby's pediatrician, and a complimentary blood draw to test for HIV, HTLV, hepatitis B and C, and syphilis.
After the mother is cleared as a safe donor, the donated milk goes through these steps before it is safe to distribute: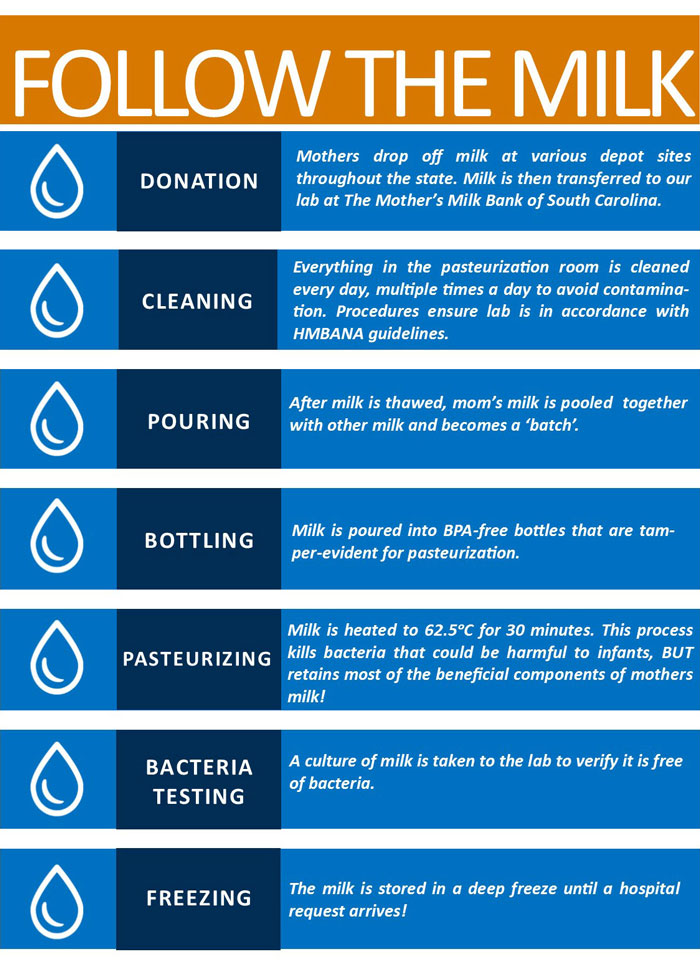 Neonatal intensive care units (NICUs) across the state administer the donated milk to premature infants weighing 3.3 pounds or less. These babies are fed a standard of 8 ounces of donated milk per day.
Results
In the first two years since the Milk Bank's opening, partnering hospitals saved $86,911 in donor milk purchases. Other results since the Milk Bank opened:
Over 571,586 ounces of breast milk have been donated to depot sites.
Over 402,523 ounces of milk have been delivered to South Carolina NICUs.
MMBSC has approved 359 donors with 151 currently active.
An average of 1,320 ounces of pasteurized donor milk is delivered to hospitals each week.
The following explain more about South Carolina's preterm birth dilemma and how MMBSC is helping preterm infants and hospital NICUs:
Replication
Accredited by the HMBANA, MMBSC has closely followed their guidelines and recommends other milk banks do the same. A mentor from HMBANA offered guidance to help MMBSC become fully operational through the following steps:
Make sure the community already offers support for breast feeding, there is an adequate amount of interest from mothers to donate their breast milk, and NICUs in the state can benefit from the donations.
Find a building that can house a milk depot.
Purchase an adequate amount of freezers to keep the incoming milk frozen.
Use the appropriate pasteurizing standards, such as the Holder Pasteurization Method.

Use a secure, electronic and manual filing system to keep all donor records organized and private.
Topics
Access
Children and youth
Food security and nutrition
Maternal health and prenatal care
Mortality
Wellness, health promotion, and disease prevention
Women

States served
South Carolina
Date added
January 26, 2016
Date updated or reviewed
January 25, 2023
Suggested citation: Rural Health Information Hub, 2023. Mother's Milk Bank of South Carolina [online]. Rural Health Information Hub. Available at: https://www.ruralhealthinfo.org/project-examples/882 [Accessed 3 June 2023]
Please contact the models and innovations contact directly for the most complete and current information about this program. Summaries of models and innovations are provided by RHIhub for your convenience. The programs described are not endorsed by RHIhub or by the Federal Office of Rural Health Policy. Each rural community should consider whether a particular project or approach is a good match for their community's needs and capacity. While it is sometimes possible to adapt program components to match your resources, keep in mind that changes to the program design may impact results.