Project PROMISE
Summary
Need: An increased interest among young people to pursue a medical career in rural North Carolina
Intervention: Two medical students started a program that gives high school seniors medical academic training, mentor relationships, and hands-on experience in rural North Carolina facilities.
Results: Project PROMISE has graduated 36 high school students, 16 of whom are pursuing an undergraduate degree with an interest in studying medicine. Two students were recently accepted into medical school.
Description

Rural counties in North Carolina are suffering from a persistent shortage of healthcare providers. Studies have shown that medical students with rural backgrounds are more likely than their peers to return to rural areas, and yet schools of health professions continue to have low enrollments of students from these regions.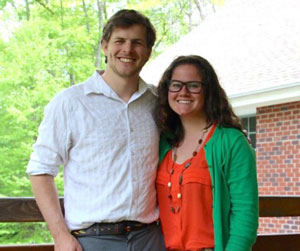 As a result, two UNC School of Medicine students started Project PROMISE (Providing Rural Opportunities in Medicine through Inspiring Service and Education). Based in Spruce Pine, North Carolina, the educational and experiential pipeline program was intended to pique the interest of high school students not only in pursuing a career in medicine, but also in returning to practice in rural North Carolina.
Through an application and interview process, Project PROMISE selects up to 6 high school seniors who have an authentic interest in healthcare. Participating students are from Mitchell High School, McDowell High School, Mountain Heritage High School, and Madison High School. Each student completes a semester-long course that includes weekly sessions taught by medical students, rotations in healthcare facilities throughout Mitchell, Yancey, and McDowell Counties, and several health-related service projects. Through these elements, Project PROMISE provides their students with more than 135 credit hours and exposure to the following healthcare professions: dentistry, anesthesiology, obstetrics and gynecology, pediatrics, palliative care, family medicine, public health, geriatrics, pharmacotherapy, internal medicine, and radiology.
This program is modeled after the Minority Medical Mentoring Program in Asheville and the University of Alabama Rural Health Leaders Pipeline. Project PROMISE is sustained through the help of these organizations:
Project PROMISE was initially pitched to the Albert Schweitzer Foundation who accepted the program founders into their year-long healthcare leadership and community-engagement fellowship. The Foundation helped with strategic planning and initial costs for the launch of Project PROMISE. Funding is now solely supported by MAHEC and state-appropriated money for the Rural Health Initiative.
Services offered
Project PROMISE launched in the Fall of 2014 with their first group of students. Since then, several aspects have changed to further embed the program into the local communities and give the students hands-on training. The program now includes the following main components:
Rotations – Rural medical facilities host students 4 days a week for several hours each day. The regular rotations give students an opportunity to learn first-hand from medical preceptors within a rural healthcare setting.
Health-Related Service Projects – Students coordinate efforts such as pet therapy, peer-to-peer presentations, and Meals on Wheels in order to "give back" to their towns. Such initiatives are meant to foster professional connections and a sense of pride in their rural communities.
Mentorship – UNC School of Medicine students serve as mentors, regularly checking in with Project PROMISE's students to discuss their rotations and answer questions.
MAHEC Electives – Students have the option to attend Mountain Area Health Education Center programs that are focused on academic enrichment, college planning, service learning opportunities, and oral and written communication skills.
Health Careers Academy – This program, added in 2023, is for rural students located in one of the 16 counties (excluding Buncombe) in MAHEC's catchment area. This experience is filled with virtual learning opportunities throughout the Spring semester, several hands-on experiences, and admission into MAHEC's health careers summer camp to tie everything together. The academy was designed to be competitive, and a prestigious accomplishment that students are proud to be a part of.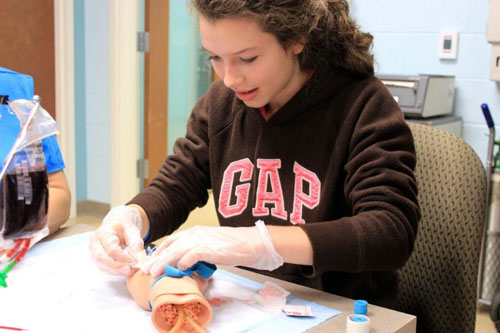 Results
The Spring semester of 2023 marks the 10th semester of Project PROMISE. Since the program's beginning, they have seen the following results:
21 clinicians have participated as preceptors and mentors.
36 high school students have graduated from Project PROMISE.
Summer 2023 will be the third year that MAHEC has hosted a health careers summer camp opportunity for students in Western North Carolina. This camp is a three-day overnight camp that is packed with healthcare-related events and built to give students new knowledge and skills to add to their resume.
Challenges
At the end of the first year, a survey was distributed and exit interviews conducted with the program's graduates. The outcomes were not as prominent as the founders had initially hoped. More defined measurables are being created to better track students' progress and understanding of rural healthcare.
Although a benefit of the participating high schools was their rural location, poor internet connection posed a large problem.
The amount of work required and the necessity to change several aspects of Project PROMISE led the founders to put a hold on the program for the 2015 Fall semester. They reopened the program for the 2016 Spring semester.
Activities like sports, additional classes, and jobs competed with the program for students' commitments. As such, a focus group was conducted with rural providers and educators.
Replication
The following are words from the founders to those interested in launching a similar program:
Capitalize on popular healthcare topics. Because healthcare education and physician retention are currently common discussion points, Project PROMISE has caught the attention and assistance of funders, partners, and medical professionals.
When you come from outside of a rural community, no matter how good your intentions, there will always be some skepticism. The degree of their welcoming your program stands upon your understanding of their culture and town politics, as well as the ability to execute your proposed plan.
Start small. During your first year, it may be all you can do to "shield your flame" so that the fire doesn't burn out. Continue on until you can find the right funding and partnerships that can make your program take flight.
Be open to change and willing to alter your initial plans to allow your program to become more sustainable.
Continue to invest in your program and retain those who were once involved, including your medical school mentors, rural preceptors, and creating opportunities for your program's students to return as interns.
Topics
Children and youth
Health workforce education and training
Health workforce pipeline
Schools

States served
North Carolina
Date added
February 2, 2016
Date updated or reviewed
April 28, 2023
Suggested citation: Rural Health Information Hub, 2023. Project PROMISE [online]. Rural Health Information Hub. Available at: https://www.ruralhealthinfo.org/project-examples/886 [Accessed 29 May 2023]
Please contact the models and innovations contact directly for the most complete and current information about this program. Summaries of models and innovations are provided by RHIhub for your convenience. The programs described are not endorsed by RHIhub or by the Federal Office of Rural Health Policy. Each rural community should consider whether a particular project or approach is a good match for their community's needs and capacity. While it is sometimes possible to adapt program components to match your resources, keep in mind that changes to the program design may impact results.