The Massachusetts Department of Public Health TeleSANE Center
Summary
Need: Clinicians in rural and underserved areas are often unprepared to provide comprehensive medical-forensic examinations for patients who present for care following a sexual assault.
Intervention: The MDPH TeleSANE Center uses secure telehealth software to connect sexual assault nurse examiners to clinicians and patients in hospitals across Massachusetts — including four in rural counties — offering expert clinical guidance and support before, during, and after examinations.
Results: Clinicians report that the service gives them increased confidence throughout the examination process. To date, the MDPH TeleSANE Center has assisted in the care of over 730 patients.
Description
Sexual assault nurse examiners (SANE) are nurses who receive specialized training to provide trauma-informed care, including medical/forensic exams and forensic evidence collection, for patients who have been sexual assaulted. While all states have some level of SANE services, it is a challenge in all states to provide SANE services at all hospitals, especially in rural locations. In 1995, the Massachusetts Department of Public Health (MDPH) started the Massachusetts SANE program, deploying SANEs to care for sexual assault patients. Currently, an in-person SANE response is provided in 28 hospitals across Massachusetts.
From 2012 to 2018, the MDPH received funds from the Department of Justice Department of Justice Office for Victims of Crime (OVC) to develop and pilot the National TeleNursing Center (NTC). Using secure telehealth software, NTC linked expert SANEs to clinicians in rural and underserved areas in three states (Arizona, California, and Massachusetts) to assist with examinations for patients who experienced sexual assault. SANEs who provide these remote services are referred to as TeleSANEs.
The MDPH SANE Program developed a professional TeleSANE practice model based on Dr. Joanne Duffy's Quality Caring Model©. The MDPH TeleSANE practice model consists of three phases — pre-encounter, encounter, and post-encounter — with each phase focused on supporting the patient and the clinician providing care to ensure a quality, trauma-informed patient experience.
When the federal grant funding ended in 2018, the NTC became the MDPH TeleSANE Center. The center is now supported with state funding and provides TeleSANE services to 12 hospitals across Massachusetts — including four in rural counties — with plans to expand over the next few years. The goal of the TeleSANE service is to increase the confidence and competence of clinicians in performing a medical forensic exam, including forensic evidence collection, as well as to ensure a trauma-informed experience for patients. Findings from a medical forensic exam and evidence collection may be used to prosecute offenders if a case proceeds to a criminal trial.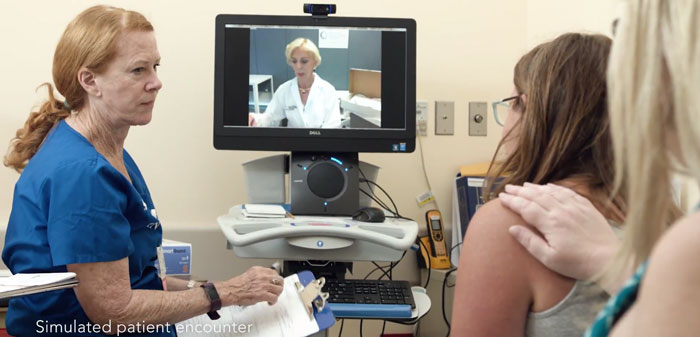 From the center's headquarters at Newton-Wellesley Hospital, 21 TeleSANEs provide 24-7 on-call coverage. When a patient who has been sexually assaulted presents to a partner hospital, the on-call nurse is notified and arrives at Newton-Wellesley Hospital within the hour to provide remote assistance.
MDPH TeleSANE Center staff continue to make a national impact as members of the International Association of Forensic Nurses (IAFN) TeleSAFE Technical Assistance (TA) Team. In this role, they are currently supporting four OVC grantees — Alaska, South Dakota, Texas, and Arkansas — as they work to create their own statewide TeleSANE centers and adapt the MDPH TeleSANE model for their patient populations.
Services offered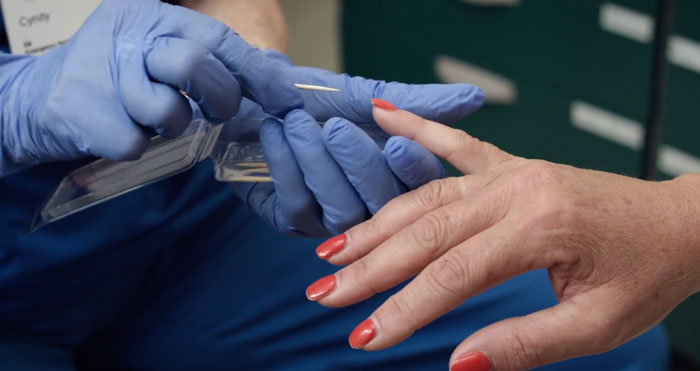 TeleSANEs offer support and guidance to clinicians on the use of Massachusetts sexual assault evidence collection kits. The kits include forms to document a patient's assault history and their physical exam findings, and provide methods to collect forensic evidence.
After the examination, TeleSANEs review documentation, packing of forensic evidence specimens, and chain of custody procedures with the clinician.
TeleSANEs debrief with the clinician to help review and process the experience. Because these situations can be emotionally taxing and rural clinicians may have less experience in conducting such exams, debriefing is key.
Clinicians are offered continued education regarding sexual assault and forensic evidence collection.
Results
As of May 2023, the MDPH TeleSANE Center has assisted in the care of over 730 patients. A majority of clinicians who have used their services say that the support has helped them feel more comfortable throughout the examination process.
Before TeleSANEs engage in patient care, patient consent must be obtained. According to data collected between 2015 and 2018, the overall patient consent rate was 86%. The consent rate for patients at non-U.S.-Navy sites was 97%. During this same time period, 92% of TeleSANE encounters were reported to have involved no significant technology issues.
Publications
Using Telehealth for Pediatric, Adolescent, and Adult Sexual Assault Forensic Medical Examinations: An Integrative Review, by Wendy A. Walsh and Joan Meunier-Sham (Journal of Forensic Nursing, 2020; 16(4):232-239), offers a comprehensive review of recent research examining the effectiveness of TeleSANE services.
Using Telehealth for Sexual Assault Forensic Examinations: A Process Evaluation of a National Pilot Project, by Wendy A. Walsh, Joan Meunier-Sham, and Cheryl Re (Journal of Forensic Nursing, 2019; 15(3): 152–162), summarizes findings from the 2012-2018 NTC pilot project.
Laying the Foundation for the National TeleNursing Center: Integration of the Quality-Caring Model Into TeleSANE Practice, by Joan Meunier-Sham, Rachel M. Preiss, Randi Petricone, Cheryl Re, and Leah Gillen (Journal of Forensic Nursing, 2019; 15(3), 143–151), provides a detailed description of the MDPH TeleSANE Professional Practice Model.
Examples of the MDPH TeleSANE Professional Practice Model are included in Quality Caring in Nursing and Health Systems: Implications for Clinicians, Educators and Leaders, 4th Edition, by Dr. Joanne Duffy (Springer Publishing, 2022).
Challenges
Clinicians at remote sites have varying levels of experience treating patients who have been sexually assaulted. Many have either not been trained or have limited opportunities to use their training due to the many barriers that survivors face in coming forward. This is especially true in remote or rural communities, in which it is difficult to achieve anonymity. It is important for TeleSANEs to assess the skill level and clinical experience of the clinician they are supporting. Providing some baseline training for clinicians at remote hospitals regarding the principles of trauma-informed care and the use of the Commonwealth's evidence collection kits has been extremely helpful. However, expert TeleSANEs are trained to work with clinicians at all experience levels to provide a quality patient experience.
Replication
Start your program with a strong team and continue to build on that foundation. Be selective when hiring new TeleSANEs. Prerequisites of MDPH TeleSANE Center nurses include two years of experience as a practicing SANE, experience in a preceptor/coaching role, and a recommendation from their supervising nurse. The nurses go through an interview process that includes an assessment of their on-camera presence and ability to teach remotely. Once hired, they complete additional training and perform clinical practicums as needed to ensure clinical competence. TeleSANEs are also required to renew their certification as a MDPH SANE on a yearly basis.
Topics
Abuse and violence
Criminal justice system
Nurses
Sexual and reproductive health
Telehealth
Trauma-informed care

States served
Massachusetts
Date added
February 8, 2016
Date updated or reviewed
May 25, 2023
Suggested citation: Rural Health Information Hub, 2023. The Massachusetts Department of Public Health TeleSANE Center [online]. Rural Health Information Hub. Available at: https://www.ruralhealthinfo.org/project-examples/889 [Accessed 29 May 2023]
Please contact the models and innovations contact directly for the most complete and current information about this program. Summaries of models and innovations are provided by RHIhub for your convenience. The programs described are not endorsed by RHIhub or by the Federal Office of Rural Health Policy. Each rural community should consider whether a particular project or approach is a good match for their community's needs and capacity. While it is sometimes possible to adapt program components to match your resources, keep in mind that changes to the program design may impact results.