Kid One Transport
Summary
Need: Transportation to medical appointments for children and expectant mothers living in rural Alabama.
Intervention: Kid One Transport provides rides to medical appointments for clients who otherwise have no other means of transportation.
Results: The program has transported 401,858 children and expectant mothers to and from medical appointments. Children have recovered from life-threatening illnesses and are experiencing a higher quality of life.
Description

The nonprofit Kid One Transport was started in 1997 by Russell Jackson. After seeing the health disparities and destitution just miles from his home, Jackson voluntarily drove children who needed a ride to and from their medical appointments. Since then, the service has grown to become a 23-vehicle team, covering 45 of Alabama's 67 counties.
Of Kid One Transport's clients, 83% of their families make less than $10,000 a year and 91% receive Medicaid. More than 25% of expectant mothers in Alabama do not receive adequate prenatal care. That, and the region's low birth weight and high infant mortality rate, is why Kid One Transport also puts a priority on expectant mothers.
In many of these rural communities, patients have to travel more than 100 miles for specialized healthcare. For families that have no method of transportation or money for fuel, getting medical treatment is problematic. Kid One Transport's purpose is to "bridge the transportation gap that prevents thousands of Alabama's children and expectant mothers from accessing much-needed healthcare services."
Kid One Transport partners with over 700 healthcare organizations, county departments of health, community service agencies, physicians, government agencies, and nonprofits throughout Alabama.
Clients are encouraged to pay what they can for the rides if they are able, but 90% of the program's yearly budget comes from corporate and community partners to help cover transportation costs. Eleven of Kid One Transport's vehicles have been donated by Mercedes-Benz U.S. International, Inc. Other corporate sponsors include Burr & Forman LLP of Birmingham, the Quarterbacking Children's Health Foundation, the Children's Trust Fund of Alabama, and Buffalo Rock.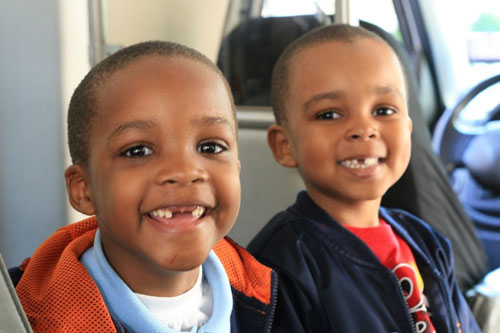 Services offered
The following aspects are part of Kid One Transport's services:
Rides can be scheduled up to 30 days in advance of appointment either by phone or online.
Kid One Transport offers local transportation in 16 counties and provides long-distance transportation to specialty medical care appointments for the other 29 counties. Specialized service destinations include preventive medical and dental care, behavioral counseling, cancer treatment, pediatric dialysis, high-risk prenatal care, and mental health, to name a few.
A bilingual patient coordinator is available for Spanish-speaking clients.
Before being employed with Kid One Transport, drivers go through a vetting process which includes driving and drug testing, CPR, and child/domestic violence training. Drivers not only act as chauffeurs, but also voluntarily provide emotional support for patients and families en route to and from appointments.
Referrals to Kid One Transport can extend beyond a medical facility to family members, friends, schools, local organizations, or the clients themselves.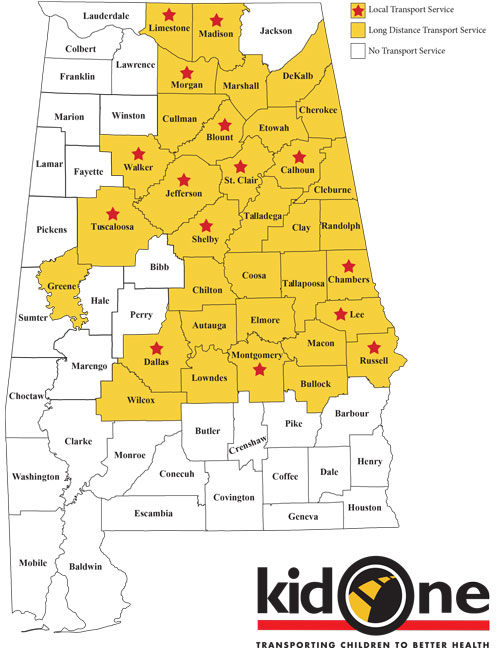 To be eligible for Kid One Transport services, applicants must meet the following criteria:
Reside in a community served by Kid One Transport
Have a permanent or temporary lack of transportation
Children must be under the age of 19
Adults must be expectant mothers in need of prenatal care
Note: The above criteria can be altered as situations are evaluated and clients accepted on a case-by-case basis.
Results
Since the program's launch, 401,858 children and expectant mothers have been transported to and from appointments. Because of Kid One Transport, children have learned to speak and walk, and others have recovered from life-threatening illnesses. In 2019, Kid One Transport provided 23,627 transports to healthcare appointments.
Since their purpose also includes ensuring a higher quality of life for their clients, Kid One Transport has also measured applicable results of clients since they began using the service (current as of 2019):
70% of families reported improvement in their child's behavior at home and a decrease in behavioral problems at school
Over 50% of clients report their child was sick less often and missed fewer days of school
48% of clients reported a decrease in emergency room visits
40% of clients reported an improvement in overall health and well-being
Kid One Transport's Founder Russell Jackson was a CNN Hero in 2008.
Challenges
The following barriers have, at times, slowed Kid One Transport's processes, making it difficult to fulfill their mission:
Fluctuating Medicaid reimbursement rates
The lack of providers as a whole within the state (several counties do not have OBGYNs, pediatricians, or dentists)
Keeping up with the maintenance on all 23 of their vehicles
Acquiring vehicles that are handicap accessible
Replication
The following is advice from current Kid One Transport President and CEO Matt Holdbrooks for those who would like to replicate a similar program:
Like Kid One Transport's founder, start with what you have, and then build on your foundation.
Work to secure a big vendor, like Mercedes-Benz, who can provide you with not only financial support, but needed equipment.
Capitalize on a variety of fundraising opportunities like events and fundraising campaigns.
Secure a fleet of vehicles and secure funding to put drivers in place before you launch your program.
Make it easy for clients to reserve a ride. Providing both a phone number and an email address gives clients several options to get the help they need.
Share helpful tips with clients to make their rides, and your job, easier.
Topics
Access
Children and youth
Maternal health and prenatal care
Specialty care
Transportation

States served
Alabama
Date added
March 14, 2016
Date updated or reviewed
February 22, 2021
Suggested citation: Rural Health Information Hub, 2021. Kid One Transport [online]. Rural Health Information Hub. Available at: https://www.ruralhealthinfo.org/project-examples/896 [Accessed 2 February 2023]
Please contact the models and innovations contact directly for the most complete and current information about this program. Summaries of models and innovations are provided by RHIhub for your convenience. The programs described are not endorsed by RHIhub or by the Federal Office of Rural Health Policy. Each rural community should consider whether a particular project or approach is a good match for their community's needs and capacity. While it is sometimes possible to adapt program components to match your resources, keep in mind that changes to the program design may impact results.