Together for Beaufort County
Summary
Need: A community-wide collaborative process to identify and address specific quality-of-life challenges confronting the citizens of Beaufort County, South Carolina.
Intervention: Together for Beaufort County facilitates the coordination of local and regional coalitions that address economic, social, health, educational, and environmental factors through shared collective impact process.
Results: Out of 46 counties in South Carolina, Beaufort County has reached the top ranking in health outcomes.
Description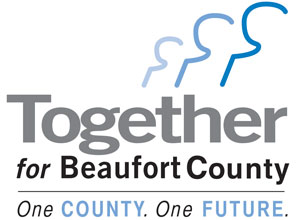 A large economic gap exists in rural Beaufort County, South Carolina, home to 187,000 residents. A popular tourist destination and retirement community, Beaufort County experiences significant disparities in wealth. With this gap comes a variety of economic, social, health, educational, and environmental issues which have impacted quality of life for area residents. For several decades, local service organizations have united to identify and address these challenges.
The Beaufort County Human Service Alliance began in the 1970's as a collaboration of local and state agencies in Beaufort County to address social problems. Though its methods have evolved over time, the mission remains constant: to provide a framework to improve the quality of life for Beaufort County residents by integrating human services.
In 2004, Together for Beaufort County (T4BC) was developed by the Alliance as a way for public and private area agencies to impact the community by contributing to the achievement of shared goals. Originally designed as a community indicators project, T4BC has developed a process for local service agencies to collectively listen to the community's needs and identify ways to address those needs through multi-sector, multidisciplinary partnerships and community collaboratives. There are now nearly two dozen active T4BC coalitions and workgroups that meet on a monthly or quarterly basis. Several of these directly impact health outcomes:
AccessHealth Lowcountry (works with the uninsured)
Pathways to Parenthood (improves access to prenatal care)
Early Childhood Coalition (coordinates services for new mothers and mothers of young children)
The Mental Health Access (improves access to mental and behavioral health services)
T4BC is a collective framework supported by the Beaufort County Human Service Alliance and the Beaufort County government. A new partnership with the College of Charleston's Joseph P. Riley Jr. Center for Livable Communities will allow them to gather, organize, and present data that aids decision-making, strategic planning, and resource prioritization for community leaders.
Over 120 local and state service agencies have joined T4BC coalitions to better Beaufort County, including the South Carolina Department of Juvenile Justice, the Beaufort Housing Authority, and the Beaufort County School District.
The following sources have made it possible for T4BC to provide financial assistance to Alliance member agencies and coalitions:
A Medicaid Administrative Match agreement allows one of the coalitions to double the matchable funds they raise locally. The reallocation of funding streams and county taxes have also boosted T4BC's ability to support its coalitions.
Services offered
Building relationships and communication avenues among local nonprofit organizations has been one of the most beneficial services T4BC offers. With their input, T4BC has identified 5 key performance indicators in which to concentrate their efforts to make a collective impact for community wellness:
Health
Environment
Economy
Education
Social Wellbeing
Below are specific ways T4BC helps partnering agencies carry out their visions:
Facilitates collaboration between organizations with similar missions and helps to build an environment of mutual trust and respect.
Distributes grants received from the Beaufort County Council's Community Service Committee to local agencies.
Designates and pays a facilitator who has a vested interest in the outcome and the coalitions' efforts.
Organizes retreats and other activities to help members and other stakeholders connect outside of regular meetings.
Educates the public, decision makers, and service providers on trends, issues, and needed actions.
Helps connect each coalition to outside funding opportunities, grant writers, and other educational opportunities and resources.
Caters to the community's needs by offering things like relevant trainings for psychological and medical professionals and credential renewals for licensed social workers.
Tracks data to measure improvements in Beaufort County's 5 key areas: economic, social, health, educational, and environmental issues.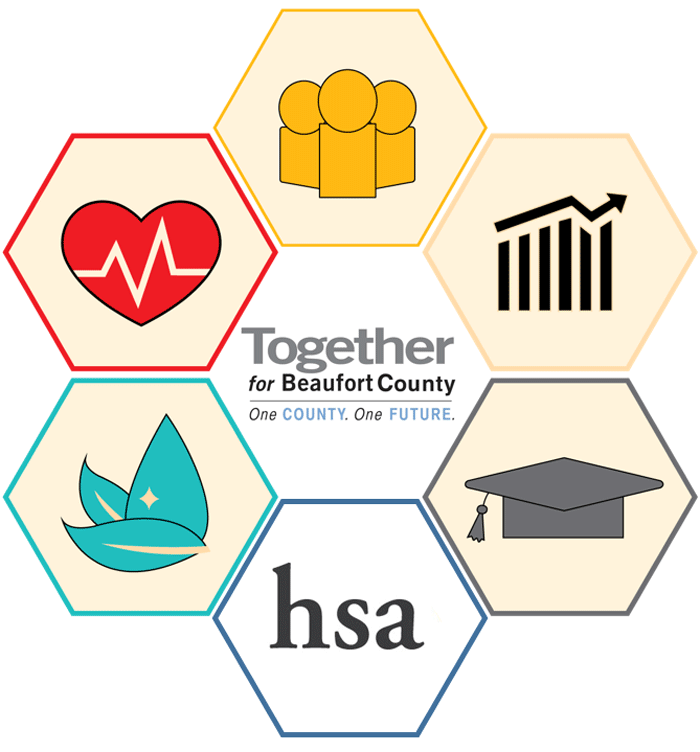 Results
Since the founding of T4BC, change that has previously taken decades have been embraced and initiated at the community level. Communication and collaboration among service agencies has greatly increased as collaborative efforts have led to the following successes:
Out of 46 counties, Beaufort County reached the top ranking in health outcomes in South Carolina's county health rankings.
The number of women receiving prenatal care has risen from being below average to one of the highest ranked in the state.
98% percent of students entering Kindergarten passed the assessment test and entered school ready to learn.
Higher than the state average in 2010, teen birth rates have steadily reduced and are now lower than the state average.
The 2012 Together for Beaufort County Report contains information about Beaufort County that can aid in the focus and goals of local organizations that are trying to make positive changes. New data highlighting T4BC's impact is expected to come out this year.
Challenges
T4BC launched an online web platform which allowed the user to manipulate the data directly by creating charts and graph based on criteria they establish. However, T4BC found that communities served are more interested in receiving data curated specifically to their community and specific needs. T4BC will instead be producing data results in pdf form that will include narratives to explain the importance and impact of the data on a community level. Presentations will be made at community gatherings and broadcasted on local TV stations.
Once T4BC started showing some success, it was approached by national organizations offering significant grant money. However, many of these grants came with stipulations. T4BC turned down these offers fearing that pursuing these grants would cloud their purpose and detract from its ability to perform its mission unhindered.
T4BC has witnessed that a lack of trust among coalition members can lead to individuals backing out when conflict arises. If trust is built, members are more likely to continue with the coalition despite difficulties or disagreements.
Coalitions that approached elected officials with their ideas too early would often be influenced by the officials' political agendas. T4BC then began to train its coalition leaders to first secure a solid strategy and purpose before approaching politicians, so as not to be redirected.
Replication
Get leadership on-board at the start of your coalitions, both from the state and county level. Specifically invite those to the table who can see the big picture and work for the betterment of the entire community.
You cannot force a coalition to happen. If things are not coming together naturally, it can often be a failed effort. Coalitions tend to form more quickly when a community member champions a specific issue and is directed to T4BC.
Resist granting large funds to coalitions immediately. Allow time for the group to build cohesion, decide on a common goal and strategy, and let them find ways to be resourceful. Assist financially only when needed, and then do so sparingly. This promotes creative problem solving and prevents waste.
Ensure that each coalition's facilitator is invested and on neutral ground to offer unbiased assistance.
Identify community champions who are broadly interested in community well-being instead of a specific interest or topic. An unbiased, community-centered approach to problem solving has the potential for a greater impact.
Consider looking for other sources of income besides grants and federal funds. That way, when a grant period ends or reimbursement policies change, you will have other sources of income to rely on.
Topics
Human services
Leadership
Networking and collaboration
Wellness, health promotion, and disease prevention

States served
South Carolina
Date added
June 20, 2016
Date updated or reviewed
October 3, 2022
Suggested citation: Rural Health Information Hub, 2022. Together for Beaufort County [online]. Rural Health Information Hub. Available at: https://www.ruralhealthinfo.org/project-examples/909 [Accessed 29 November 2023]
Please contact the models and innovations contact directly for the most complete and current information about this program. Summaries of models and innovations are provided by RHIhub for your convenience. The programs described are not endorsed by RHIhub or by the Federal Office of Rural Health Policy. Each rural community should consider whether a particular project or approach is a good match for their community's needs and capacity. While it is sometimes possible to adapt program components to match your resources, keep in mind that changes to the program design may impact results.